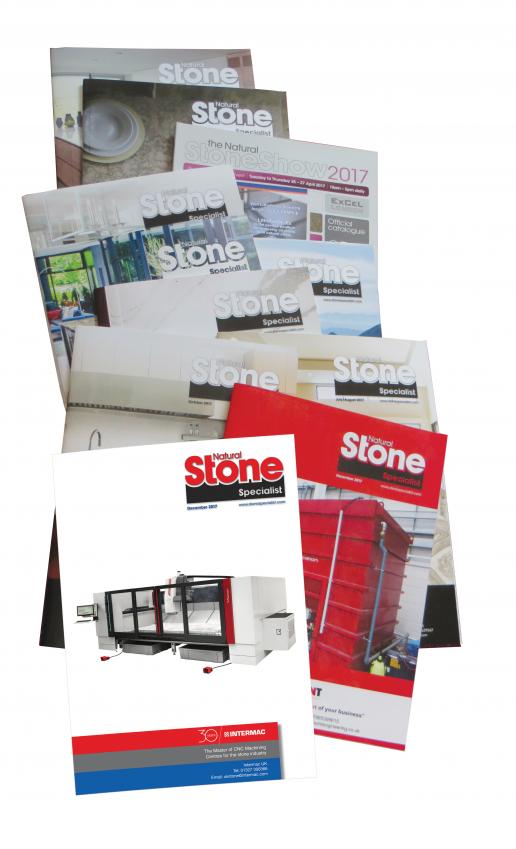 In the time-honoured tradition of this holiday season, we invite you to sit back and spend a few minutes reflecting on the past 12 months in the stone industry as seen through the pages of Natural Stone Specialist.
A year of endless debate about Brexit does not seem to have resulted in any greater clarity about what it will mean. Corporate bureaucracy does not like uncertainty and might well put investment on hold. Not so the nimble entrepreneurs of the stone industry.
For many stone companies, 2017 was another busy year, which has given them the confidence to continue to invest in new premises, plant and equipment to improve their competitiveness for whatever lies ahead.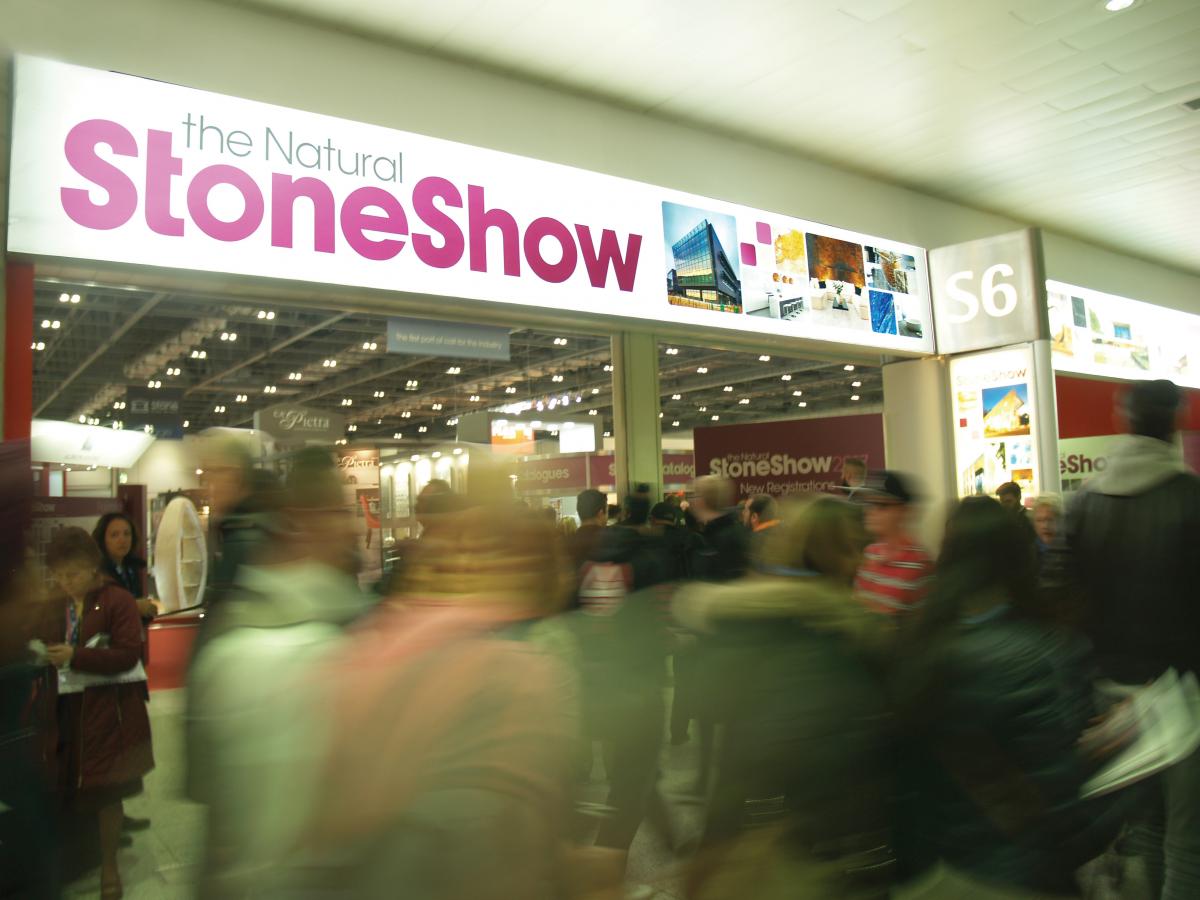 This year, the industry got its regular two-yearly boost from the Natural Stone Show at ExCeL London, with demand for stone in the UK and Ireland now back to the levels that preceded the banking crisis of 2008. The show highlighted changes in the industry, introducing new materials and new ways of working that open countless opportunities for the design and processing of stone.
The memorial sector of the industry also held its own exhibition this year, the second stand-alone event by the National Association of Memorial Masons (NAMM) at Warwickshire Exhibition Centre just outside Leamington Spa. 
And at the end of September at Europe's main stone show, Marmo+Mac in Verona, Italy, the theme for the Italian machinery manufacturers was 'Industry 4.0' (abbreviated to i4.0), the so-called fourth industrial revolution of digital interconnectivity.
But let's go back to the beginning of the year and Israeli engineered quartz company Caesarstone deciding to part company with CR Laurence, the company that had represented it in the UK for the previous decade. Caesarstone claimed second position in the UK quartz market after Cosentino's Silestone, but it said it wanted to be number one. With Amir Reske appointed as Managing Director it opened its own 4,000m2 warehouse inside the M25 at Enfield, North London.
CR Laurence, based in Rochdale, Greater Manchester, responded by launching its own brand of CRL Quartz and an own-brand ceramic under the name of Ceralsio. 
Nigel Smith, the Director of roofing company Claude N Smith, re-opened a Collyweston mine on his land after obtaining planning permission to create a new adit to allow vehicles to drive in and out. 
Collyweston stone is famously used for roofing in the East Midlands, although the stone traditionally required winter frosts to split it into thin 'slates' for roofing. Winters are less severe these days and Collyweston is in short supply. So Nigel Smith bought a 12m refrigerated articulated lorry trailer to use to take Collyweston 'logs' down to -10ºC. All the first year's production of about 150 roofing squares was earmarked for repairs to the roofs of King's College, Cambridge.
There was a newcomer to the stone machinery supply market as Phil Birchall established SMC Stone Machines to sell CMS Brembana CNC workcentres and Montresor edge polishers to stone companies. Phil was already selling Brembanas to the glass industry through The Glass Machinery Company that he established in 2007.
Later in the year, Intermac bought Montresor. Last year Intermac formed a collaboration with bridge saw maker Donatoni, and Montresor completed its line-up of processing machinery. 
The use of natural stone in hard landscaping showed every indication of continuing its double digit growth of the previous two years. 
NSS explored the growth in the number of European stone companies supplying the UK market directly in response to a 635% increase in the use of imported stone in the UK over the past 20 years and a 215% recovery in its use following the crash of 2008/09.
The focus of the stone industry in the UK and Ireland in April was the Natural Stone Show in London, but other news included the publication of a major new guide on how to use stone successfully in swimming pool areas published by Stone Federation Great Britain and written by consultant Barry Hunt. 
And conservator Marta Zurakowska caused considerable interest and some controversy by contradicting Historic Environment Scotland's long-held conviction that cleaning sandstone can considerably accelerate its decay. Research she had carried out for her doctorate led her to believe that leaving a building dirty could be more detrimental to the stone than cleaning it.
In October Marta wrote another article for NSS explaining how non-invasive microscopy could be used to provide 
low-cost on-the-spot stone analysis rather than having to take samples from a building and have them analysed in a laboratory.
Also in the heritage sector, the Building Limes Forum held a seminar In September in Norway called 'Rediscovering Traditional Mortars'. It was about hot lime mortars, which Nidaros Cathedral in Trondheim has been using for conservation work. Lewis Proudfoot of Cliveden Conservation in Taplow, Berkshire, who reported on the event in NSS, said Cliveden had reviewed its working practices as a result of the event.
The Natural Stone Show in April saw the launch of a lot of products, of course, both materials and machinery. Among them was a new porcelain called Sapienstone from Beltrami and its sister company Stoneasy, which also showed BQS engineered quartz and BMC marble composite, as well as natural stone. As you will see from the news in this issue of NSS, Beltrami has now been bought by fellow Belgian stone wholesaler Brachot-Hermant.
A new stone wholesaler, Slab Centre, introduced itself at the Stone Show. It was launched by Carlos Zanarotti, who said he wanted to stock large quantities of a small number of products at highly competitive prices in order to compete with European companies who are selling directly into the UK market.
As the theme of Industry 4.0 gradually developed in the stone industry in 2017, before breaking out in a big way at Marmo+Mac in Verona, NSS spoke to stone processing companies that are integrating digital templating into their production, using 2D and 3D drawings and transferring them from site to factory over the internet. Some like the cable of Prodim templaters, some like lasers. Either way, once companies are used to digital templating few want to return to MDF and Correx.
By the September issue of NSS, with a report on developments in machinery and a preview of what would be on show in Verona at the end of that month, Industry 4.0 was unquestionably on the agenda. As this magazine said: it's changing the way we live and work and it's already here.
In May, Stone Federation launched another publication, its Stone Heritage Register, with the assistance of Loyd Grossman at the Royal College of Surgeons in London. Bernard Burns, from London specialist contractor Szerelmey, who chairs Stone Federation's Heritage Group, said: "As Stone Heritage, we launch a crusade."
Moulton College technician Mark McDonnell won the European Stone Festival in Hungary, beating three times winner Alex Wenham, another British participant, into second place.
Lovell Stone Group announced the winner of the City of Bath College competition it had invited visitors to the Natural Stone Show in London to judge by voting on which Bath Stone carving they liked best. David Lambard's depiction of Pultney Bridge in Bath took the honours.
The Government's introduction of Trailblazer apprenticeships, and its insistence that only Trailblazers should be called apprenticeships, along with a shake-up of the Construction Industry Training Board (CITB), has caused some confusion, but stone still looks like a good career choice with the industry suffering from a shortage of skilled masons.
 There was a major shock in May when stone wholesaler Pisani, at one time one of the UK stone industry's biggest companies, called in the Administrators. It was an indication of how stone distribution has changed. 
Historic England published a report on the use of 3D building information modelling (BIM) in the heritage sector, a debate about which has continued ever since.
In June, Lincoln Cathedral hosted a Heritage Skills weekend in conjunction with the Masons Livery Company. It was supported by 23 other livery companies involved in the heritage sector, such as brickmaking, joinery, plastering, plumbing, stained glass and upholstery.
Health & safety continued to be an issue as newly introduced guidelines on fines for courts saw heftier penalties for those convicted. In September, an Australian stone processor started proceedings claiming compensation from engineered quartz suppliers for not warning him about the high silica content of their products. He says he suffers silicosis and rheumatoid arthritis as a result of breathing respirable crystalline silica (RCS). It was the first case of a claim for rheumatoid arthritis resulting from exposure to RCS.
In October, modern slavery, child labour and unsafe work in Indian quarries raised its head again when three Dutch organisations published a report, The Dark Sites of Granite, showing these practices in the supply chains of European companies, including some in the UK. Retailers John Lewis and Habitat withdrew some of the kitchen worktops they sell.
The publicity in the national press given to the report emphasises the vulnerability of the stone industry to accusations of exploitation in supply chains. Stone Federation is producing an Ethical Stone Register for its members to help them demonstrate their efforts to combat this problem, warning that stone will be replaced by alternative materials if its supply becomes suspect. Many stone industry customers now have to include slavery statements in their annual reports and expect information about it from their suppliers. At its annual Members Event in November the federation unveiled a new Ethical Stone Mark (see page 5).
The stone industry in the UK consists largely of privately-owned, small companies and in September Lee O'Connor, the CEO of specialist contractor Grants Group, which already owns Cadeby Quarry and last year bought Block Stone, offered financial and managerial help to stone companies in trouble or wanting to expand in return for an equity stake in the company.
"The long list of insolvencies is a reasonable indicator that the stone industry struggles to deliver sustained levels of success," Lee said. He felt some consolidation in the sector would strengthen it.
A report commissioned by Historic England put a value of £22billion on the built heritage sector, £9.6billion of which goes to the construction industry.
Memorial wholesaler Robertson Granite held open days to show off the new factory and offices it has opened on the edge of Aberdeen after selling its previous premises for development as student accommodation. "It's almost like having a new business," said Managing Director Graeme Robertson.
Johnston Quarry Group has taken a major stake in Bath limestone production by buying Bath & Portland from Hanson and Bath Stone Group from Elaine Marson. 
Archie Stoke-Faiers won a Silver Medal in architectural stonemasonry at World Skills in Abu Dhabi and Tom Francis was the recipient of this year's Duke of Gloucester Award for Excellence in Stonemasonry.
Christophe Gontier, who has headed Silestone and Dekton company Cosentino in the UK and Ireland for the past decade, has become Vice-President of Cosentino Asia and Oceania with Paul Gidley replacing him in the UK and Mark Burke in Ireland. 
Paul Allison, the Managing Director and owner of Dunhouse Quarries, says existing sources of stone in the UK are running out and if we wish to continue to build in stone we have to open some greenfield sites.
So that was 2017. We hope it was a good year for you and extend our best wishes for 2018 to all our readers.