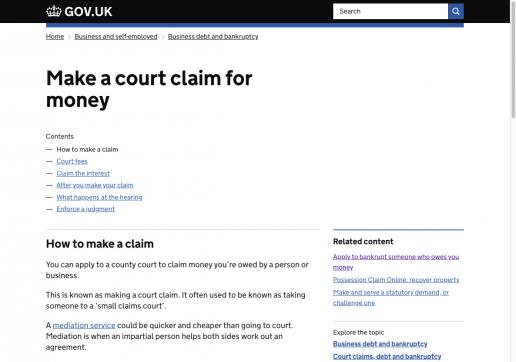 Small claims are getting easier online.
Taking action to get paid is getting easier thanks to a new online service from HM Courts & Tribunals Service (HMCTS). It can be used to start a claim against anyone in England and Wales and offers a potentially quicker, more user-friendly way to get paid amounts owed up to £10,000.
Rather than having to fill in and post a paper form, or use the clunky system online that dates from 2002, this new pilot allows people to issue their County Court claim more easily and settle the dispute online. It even recommends mediation services that can save time, stress, and money. It is still being developed, though, and if you do use it you will be asked for feedback. Even so, more than 1,400 people used a pilot launched in August last year from which the current system has evolved thanks to that feedback.
More than 80% of early user individuals and small businesses report that they found the service 'very good' and easy to use. Early evidence suggests an immediate benefit is that it is more likely to elicit a response from defendants than is a letter in the post, which debtors often ignore.
Launching the new service, Justice Minister Lucy Fraser said: "We know that using the civil courts has been a daunting prospect for some. This innovative, quick and easy online system will enable people and small businesses to get back the money that is rightly owed to them.
"This is an excellent example of the work we are doing under our £1billion plan to transform the courts system, allowing people to access justice online, and around their busy lives."
Justice Birss, who chairs the sub-committee of the Civil Procedure Rules Committee dealing with this Civil Money Claims pilot scheme, said: "This is an important step in the modernisation of our courts and tribunals system. For too long the perceived delays and complexity of the system have put off too many people from using the civil courts to make a small claim. When it is complete, this new online route will give members of the public and small businesses a more user-friendly way to access justice."
The initiative is an important first step in the modernisation of the civil justice system and begins to deliver the vision set out by Lord Briggs in his 2016 report on the structure of civil courts, where he called for claims of up to £25,000 to be solved by an online court.
It is launched after a year of development with members of the judiciary, representatives from the advice and legal community and users. It continues to be piloted while other aspects of an end-to-end online system are developed.