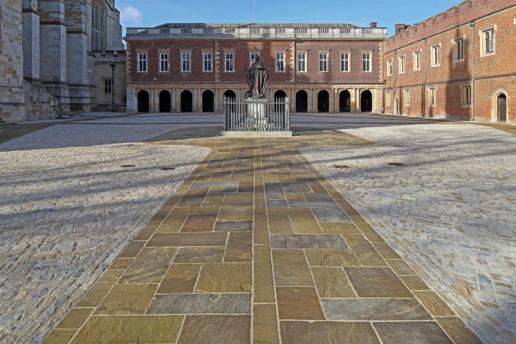 At the Natural Stone Award-winning Eton College school yard, Purbeck limestone setts and inscription panels from Haysom Purbeck Stone contrasted with the sandstone paving supplied by Greens Natural Stone Products.
The soaring temperatures of 2018 were good news for the hard landscaping market as people warmed to the idea of outside living. For garden kitchens, swimming pools and patios, natural stone was a hot favourite.
There is no need to look further than the December 2018 Natural Stone Awards to understand why natural stone is the ideal material for hard landscaping.
The Stone Federation Great Britain Award scheme is judged by a panel that consists mostly of architects, although there are also stone experts looking at the appropriateness of the materials selected and the quality of working and laying the stone.
Understandably, projects entered into the Awards are of the highest standard and the elements that distinguish the winners can involve fine points of design and execution.
But when it came to the hard landscaping category in last year's Awards, the judges admitted defeat in trying to distinguish between three of the projects and gave an Award to all three of them.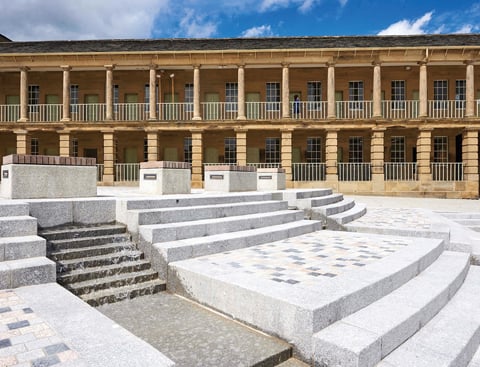 The Piece Hall in Halifax was another Natural Stone Award winner. Here the stone used was predominantly Forest Pennant sandstone from Forest of Dean Stone Firms, with Carlow Blue limestone from Kilkenny Limestone and Portuguese granite from Alpendurada Granite for steps and water features. 
The winning projects were the school yard at Eton College in Windsor, Phase three of the Luas Cross City Project in Dublin and the Central Courtyard of The Piece Hall in Halifax. They pushed the Public Realm project carried out in 2017 as part of Hull's year as the City of Culture into being Highly Commended and the Wilkins Terrace at University College London into a Commended spot. In previous years both might have found themselves winning the Award but the growing use of stone in hard landscaping over the years has raised the bar and the standard in the 2018 Awards was particularly high.
Significantly, all the Award-winning projects included indigenous stones because surely there is nothing more appropriate for creating a sympathetic sense of place than using the stones that help to define that place.
At Eton College, Purbeck setts and inscription panels from Haysom Purbeck Stone contrasted with the Yorkstone paving supplied by Greens Natural Stone Products. At The Piece Hall (featured previously in NSS as it stacks up an impressive list of awards) the stone used was predominantly Forest Pennant sandstone from Forest of Dean Stone Firms, with Carlow Blue limestone from Kilkenny Limestone and Portuguese granite from Alpendurada Granite for steps and water features. In Dublin, Irish granite joined Spanish Azul Platino granite and Chinese basalt to create impressive consistency along a 5.9km route that incorporated 13 tram stops and elements running through the heart of the city, around Trinity College and terminating at Broombridge.
Wilkins Terrace at University College London also used an indigenous stone – Portland limestone supplied by Albion Stone, with distinctively different beds providing interest and contrast. No single material defines London's architecture as comprehensively as does Portland limestone.
Only in Hull was the hard landscaping imported. It involved 45,000m2 of Chinese Magma granite interspersed with Crystal Black granite from India and Prima Porphyry from Italy to add character to interchange areas. The stone was supplied by Hardscape Products, one of the UK's leading importers of stone hard landscaping.
And although they are imported, the stones respond appropriately to the colours of significant buildings in the area, enhancing the overall cityscape. Those who live in and visit the city would seem to agree as footfall is said to have increased 10% since the work was carried out.
All the winning projects in the 11 categories of the Natural Stone Awards were featured in the December issue of this magazine, and all the projects, including those highly commended and commended, are in the Awards Souvenir Brochure, which can be seen on the Stone Federation website at bit.ly/StoneAwards2018.
It is encouraging for companies extracting and supplying British stone that more planners and architects have rediscovered its value. The British Isles have a particularly varied geology that has helped define the different regions – the limestone of the Cotswolds; more limestone in the South of England and into the Midlands; slate, pennant and granite in the West and Wales; sandstone in the North... and so on.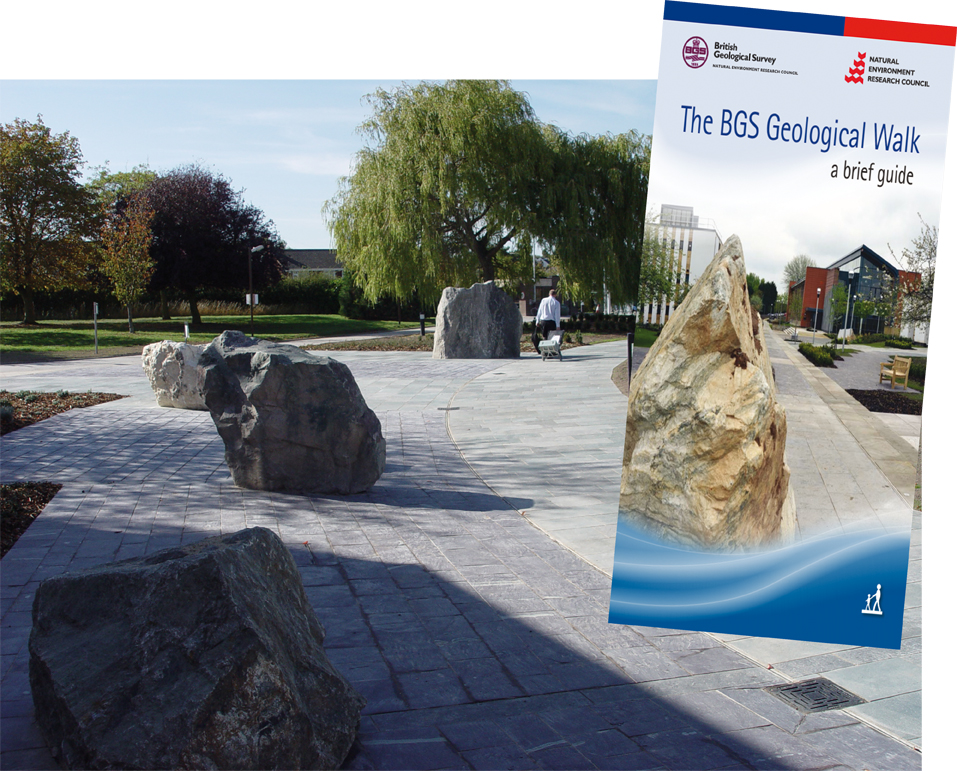 Part of the 130m-long Geological Walk at the British Geological Survey in Nottingham. The path contains the wide variety of stones used for hard landscaping in the British Isles.
An excellent way of viewing the range all in one place is with a visit to the Geological Walk at the British Geological Survey (BGS) in Keyworth, Nottingham. The walk covers 3-4billion years of geology in just 130m. The walk was created with the help of CED, one of the UK's major suppliers of natural stone hard landscaping, which sourced and supplied much of the stone. You can find out more about the walk on the BGS website at bit.ly/GeologyWalk. Any children or teachers interested in taking a look can go to the pages for schools at bit.ly/BGStimeline.
However, there is no doubt that the lower price of sandstone and granite from India and China played a significant role in the renaissance of natural stone in the UK for paving, walling and street furniture. But having had their eyes opened to the benefits of stone, in terms of both its aesthetics and lifetime cost savings, those involved in projects have become more aware of what they want from the stones they use, including that idea of the sense of place.
It is not only indigenous stones that have benefitted. There has also been an increase in the use of stone from Europe in the past few years as well as stone from around the world, as you can see from the graphs on the left. In particular there has been a growing appreciation of the granite and porphyry coming from Spain, Portugal and Italy.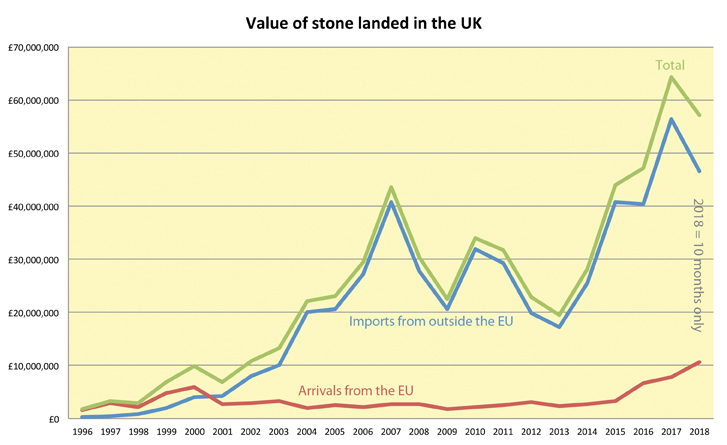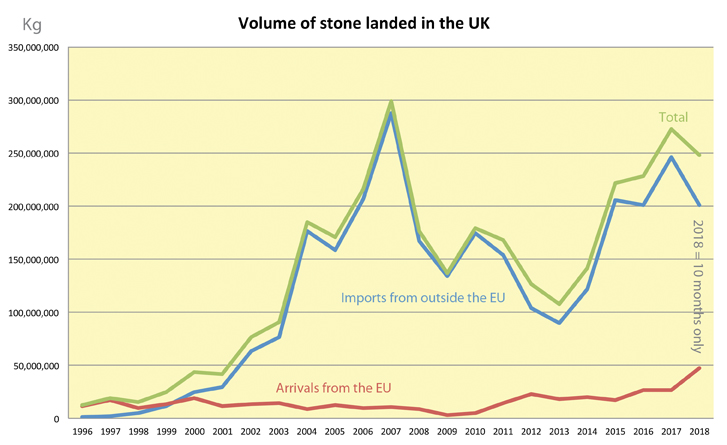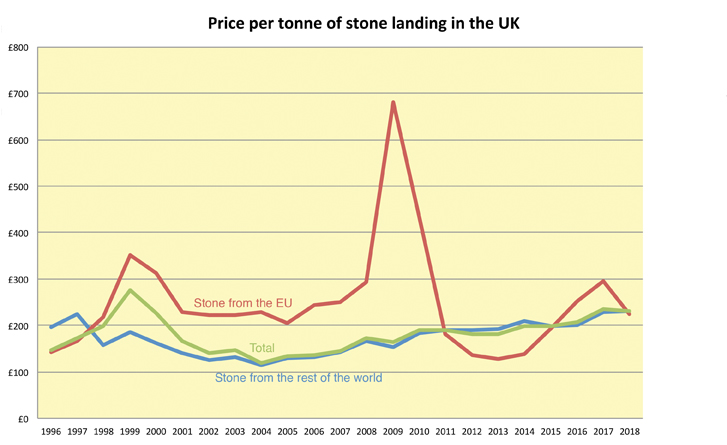 The figures used for the graphs above are compiled by HM Revenue & Customs from taxes and relate to imports only (there are no comparable figures for UK production). Values are in sterling and are not adjusted for inflation or fluctuations in exchange rates. Also, it is still a fairly small market, so one or two major projects more or less, and the choice of stones for them, can have a significant influence on the totals. This accounts for some of the wilder movements in prices, although they also reflect the pricing policies of suppliers and the particular materials selected for projects.
After the economic crisis of 2007-08, Italy in particular tried to offset a loss of earnings from falling demand with higher prices, which exacerbated price increases in the UK already being seen as a result of the weakness of sterling. British importers quickly adjusted their buying decisions and mainland Europeans adjusted prices back down again in the hope of reinvigorating demand.
It should be noted that the figures for 2018 on the graphs relate to 10 months only (to October) and will continue to be adjusted for another six months or so as HMRC adds more data. They also relate to paving, setts and kerbs only, so underestimate the total amount of stone used in hard landscaping. Nevertheless, they provide a snapshot of the market using figures that can legitimately be compared over time.
Major public space projects like some of those honoured in the Natural Stone Awards help create a wider appreciation of stone among the general public, which has a knock-on effect in the garden market. And last year the domestic market also got a significant boost from the weather.
Met Office figures show that 2018 was the hottest summer ever recorded in the UK at an average 15.8ºC, although it says the difference in comparison with 1976 and 2003 is too small for the 'hottest summer' claim to be statistically categorical. In England it was unequivocally the warmest summer on record with an average temperature of 17.1ºC.
The highest temperature ever recorded in the UK was in Faversham, Kent, on 10 August 2003, when it was 38.5°C. The hottest monthly average was in 2006 at 15.78ºC.
Understandably, when the sun shines people want to be outside and they have been spending their money on extending living areas into their gardens. Patios use the same natural or engineered stones as is used for flooring on the interior to create a seamless transition from indoors to out. People have been building outdoor kitchens, where, again, the weather resistance of natural and engineered stone lends itself to such moves. And the desire for swimming pools with stone paving and walls around them only increases.
Talasey, one of the UK's leading independent suppliers of natural stone landscaping products through its Natural Paving business, says it has witnessed a significant rise in the use of its paving flagstones and copings for outdoor swimming pools. It attributes that to them not only looking good and being fun but also adding value to properties.
Natural Paving copings come in a choice of six colours (Pumice, Cornsilk, Promenade, Lakeland, Golden Fossil and Carbon Black) and two different styles, bullnose and natural chiselled, allowing for both modern and more classical designs. Stone is also adaptable and can be used for steps and wall caps as well as pool copings for a continuity of design throughout outdoor living spaces.
The Classicstone collection is a popular surrounding for luxurious pools. Each piece is hand cut and has a naturally riven surface, which creates a warm and rustic look. Natural Paving also has Cragstone, flagstones with a weathered and antique finish, while the Premiastone collection again offers contemporary and modern options.
Talasey imports a lot of Indian sandstone as well as Chinese granite and stone from elsewhere in the world. Its success is founded on its joint venture in India, through which it owns quarries and processing plants in the country.
By being so heavily involved in the production of the stone from India Talasey is in a better position than many stone importers to be able to offer ethical trading assurances about the stones it supplies. And it does offer those assurances, although it is not the only hard landscaping stone importer to do so.
Indian companies in particular have been criticised for the level of modern slavery in their stone supply sector, with bonded labour, including women and children, working without proper reward or consideration for health & safety in high silica content sandstone and granite quarries and workshops.
Bonded labour is illegal in India but is still fairly commonplace. Families effectively sell members into bondage as a way of securing loans, with those sold working to repay the loan. In some cases it is never repaid and slavery can pass from generation to generation.
Of course, most Indian companies do not operate with slave labour and major suppliers of Indian sandstone and granite in the UK, especially in the hard landscaping sector, have made significant efforts to source their stones from verifiably slave-free supply chains.
The UK's Modern Slavery Act, which became law in 2015 and was enacted in 2016, was intended to make it harder for modern slavery to be accepted in supply chains. It requires larger firms to include modern slavery statements in their annual reports and on their websites, showing the steps they are taking to ensure there is no slavery in their supply chains.
Some of the major players supplying imported natural stone to the hard landscaping market had already taken action years before the law was passed, some of them by signing up to the Ethical Training Initiative that was established by the government in 1998.
Last year Stone Federation Great Britain launched its own response to the Modern Slavery Act, the Ethical Stone Register. It is specifically to help its members demonstrate how they are tackling modern slavery in their supply chains. It is an issue because India is the biggest single supplier of stone to the UK market. Not that India is the only country with modern slavery. It exists in the UK construction industry, as arrests of gangmasters in the past couple of years have shown. And who knows how many people in every industry all over the world are involved in domestic slavery and sexual exploitation. Some estimates have put modern slavery in the UK at more than 130,000 people.
The first Indian company, Stone Age Private Ltd, which supplies hard landscaping stone, has just achieved 'Verification' level listing on the Ethical Stone Register.
There are three levels on the Ethical Stone Register, which is intended to be a journey from the entry Declaration level, through Verification to Accreditation. While most of the stone companies on the register will not be large enough to be required to include a modern slavery statement on their annual returns, it will enable them to demonstrate to the larger companies they work for that their stone supply chain is contributing to their anti-slavery efforts. It was feared that if the sources of stone became suspect or discredited and no effort was made to try to show the stone was ethically sourced, clients, developers and contractors might prefer to use alternatives to stone that are easier to verify as ethical than a remote quarry in Rajasthan.
The largest of all the hard landscaping suppliers, Marshalls, with a range of products that include the company's own UK natural stones as well as imported stones, has been another major force in demonstrating both the sustainability of its products and the ethical trading credentials of its supply chains.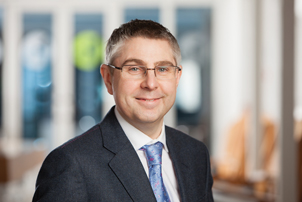 Its ethical and sustainability moves are led by Chris Harrop, the Group Marketing & Sustainability Director, who this year has been made an OBE in the New Year's Honours List for services to the prevention of modern slavery and exploitation.
Marshalls Director Chris Harrop was made an Officer of the Most Excellent Order of the British Empire (OBE) in the New Year's Honours for services to the prevention of modern slavery and exploitation.
Marshalls has done more than most companies to combat modern slavery in its supply chain, especially with its stone from India, China and Vietnam. In India, bonded labour continues even though it is illegal and forced labour of various kinds persists in the Far East, as elsewhere in the world.
Chris Harrop has been championing Marshalls' fight against modern slavery since 2005, a decade before the introduction of the UK's Modern Slavery Act.
He said when he received the honour: "Despite this being a huge personal privilege for me, it is sad that slavery remains a scourge on humanity almost 20 years into the 21st century. Even in the UK there are an estimated 136,000 people trapped in slavery today. One is too many, wherever they are."
Chris says Marshalls leads by example. "Sustainability and ethics are not just ideals to me but essential foundations of market leadership and values that we have instilled in the Marshalls brand and business."
Marshalls is one of the few hard landscaping supply companies large enough to have to produce its own Modern Slavery statement – which it does diligently, not simply as a box-ticking exercise. In its substantial Modern Slavery Disclosure Statement last year Marshalls said in the previous 12 months it had:
Ensured all employees were exposed to modern slavery awareness raising
Developed induction material that included modern slavery awareness
Increased the number of modern slavery ambassadors in the business by 75%
Ensured that 350 employees directly involved in supply and demand chain management receive ongoing updates and notifications that include modern slavery
Continued to roll-out supplier communication and verification platforms so that 95% of suppliers have confirmed acceptance of Marshalls Supplier Code of Conduct, including Modern Slavery
Continued to develop through its modern slavery risk mapping activity supplier education partnership opportunities
Engaged in proactive modern slavery education programmes with suppliers who had raised issues or concerns
Provided intelligence to enforcement officers in the UK as a result of approved installer register modern slavery training
Actively engaged in partnerships and collaborations with GLAA, ETI, UNGC Modern Slavery Working Group, ILO IPEC Child Labour Platform with the sole aim of preventing modern slavery
Undertaken supply chain mapping for 50% of the highest risk supply chains
Actioned an external ethical auditing and modern slavery risk mapping programme
Put in place a process of remediation and support for high risk supply chains.
CED Group MD Giles Heap explains why it could be time to take a second look at indigenous stone
CED is one of the UK's largest suppliers of stone for hard landscaping projects from its six depots in England, Scotland and Northern Ireland. And, according to Group Managing Director Giles Heap, CED is "seeing more and more clients choose European stone over Indian or Chinese stone".
Why? Giles says: "More often than not this is simply because quality European stone from countries like Spain, Portugal, Italy, Germany and France can be imported with quicker lead times."
He quotes the example of the Natural History Museum in London, where Swedish granite, Italian porphyry and Scottish Green Schist has been used for hard landscaping.
However, he worries about the results of Brexit. "Importing from the EU is likely to become more expensive with longer lead times. Increased customs administration, exchange rates and delays at ports will all contribute to a rise in prices. Maybe now is the time to look again at the best of British."
Giles says the UK does not produce enough stone to be fully reliant on indigenous sources and in any case there are good reasons why sometimes imports are the right choice.
"Geologically speaking, the variety and sheer scale of production of many stones available from the Far East often makes them a more economical choice. In the past couple of decades huge investment in production and environmental systems has enabled better production and workmanship capabilities than ever before. However, the size of the industry is leading to more and more 'standard' materials simply being quarried out, with new and supposedly equivalent sources being brought online in a matter of months. Combine this with the influence of local politics on the stone industry (in China specifically) and it becomes almost impossible to specify stone from China for schemes that are likely to run for any length of time." So why not use more stones from the British Isles?
As well as England's sandstones, including Yorkstone and Pennant, its granite from Cornwall, slates from Cornwall, Wales and Cumbria, and even some of its limestones being used for hard landscaping, there are also various stones from Scotland used. There is Caithness from the North with its dark grey and brown tones; Green Schist from the West Coast; Whinstone from the central areas, popular for kerbs and setts due to its dark colours and strength; Grampian granite, ideal for both commercial and domestic projects. And from Ireland, the hard blue limestone is widely used for hard landscaping, including street furniture, as well as its granite.
With concerns growing about the risk of flash floods resulting from impermeable hard landscaping, Giles suggests permeable natural stone provides an ideal solution, at the same time pointing out that permeable does not have to mean using an unbound system.
Giles: "It is possible to have a bound paving system that is highly permeable, just as it is also possible to have an unbound (flexible) system that is impermeable, yet we still tend to associate permeability with unbound, and bound with being impermeable. This need not be the case."
He says with certain permeable bedding and jointing systems it is now possible to design a bound scheme with high levels of permeability. Not that he thinks there is anything wrong with non-permeable paving under the right conditions.
Giles: "With the advent of better engineered proprietary mortars and BS7533, specifications using thinner stone units with longer expected life-spans in heavier traffic are now achievable."
But he says unbound permeable paving does not deserve its reputation for being less robust than bound paving. He gives the example of Fort William, where unbound paving laid about 15 years ago looks as good today as it did when it was new.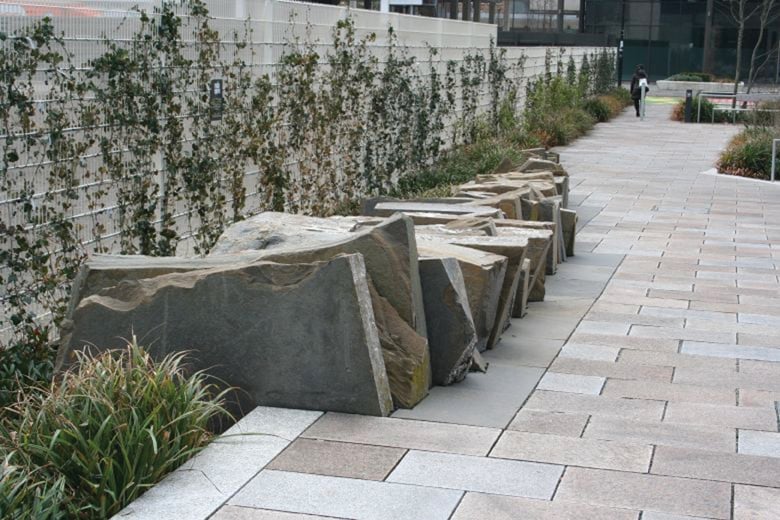 Ruskin Square in London where CED supplied the Grampian granite and Caithness sandstone paving and feature stones for unbound, permeable public space paving.
LTP Director Richard Osborne says sealing stone can maintain that seamless inside / outside look
When people ask for advice about stone sealers it's generally assumed they are talking about an inside installation. After all, who actually seals a patio? It may get the occasional jet wash to blast away slippery algae but outdoor stone is basically left to its own devices… isn't it?
This view is now being reassessed and it is driven to an extent by the popularity of the 'seamless' kitchen-to-garden installation.
When the same stone is used inside for flooring and outside for paving it doesn't take long for the two areas to contrast. This is particularly evident when the installation is flush and continued through bi-fold doors. Generally, the floor is sealed and the paving isn't, so the paving very quickly becomes dirtier and darker.
One reason for a reluctance to contemplate external sealing is that traditional spirit-based products can make outdoor sealing almost impossible – because they are best applied when a surface is bone dry and free of any residual moisture. If they are applied in damp conditions, moisture can become trapped between the stone and the sealer and create a horrible milky appearance. 
But there are water-based sealers on the market, like LTP's Ecoprotec Natural Finish Stone Sealer, that eliminate these issues. They're equal in performance to spirit-based sealers and can be applied over moisture. 
Once applied and cured, water- and spirit-based sealers function in a similar way. They are both tough and durable and provide stain protection. Water and solvents are simply used to facilitate the application of the product. Spirits evaporate into the air, releasing volatile organic compounds (VOCs). They don't contribute to the on-going performance. Water-based treatments carry the product into a stone's pores in the same way, but as they tend to be VOC free they don't have the same negative impact.
One key difference worth mentioning is the appearance. Spirit-based sealers tend to be clear as the sealer polymer and the solvent form a continuous clear solution, whereas water-based sealers appear white. This is because the polymers are present as separate particles and scatter visible light differently to the water in which they are dispersed. However, this original appearance does not create the permanent milky appearance caused by trapped moisture under a spirit-based solvent.
Despite the huge leaps that have been made in water-based technology, many companies remain unconvinced about outdoor sealing. As well as the weather issue, they claim that it's simply a waste of money; that there will be logistical difficulties; that it will change the stone's appearance and create a patchy surface. LTP maintains the following: A quality, natural-finish water-based impregnator is easy to apply, will not change appearance and will not create a patchy surface. It will, however, protect both interior and exterior areas and retain that seamless look.
As well as facilitating treatment in any season, a quality water-based sealer will offer greater protection against the elements. It will provide some UV resistance, offer protection against frost, lichen and algae, and prevent staining from pets (and wildlife in general), plants, leaf matter and BBQs. There are also the numerous ecological and safety benefits of using a spirit-free product.
Where a not-so-seamless floor needs renovating, products like Ecoprotec Paving Cleaner can be used to restore the original aesthetic. There are even products, like Blackstone, that restore the appearance of faded paving slabs. This can be useful where patios have been bleached by the sun to a lighter shade than the stone indoors.
Over the past 12 months LTP has noticed a marked interest and increase in sealing external surfaces. Protecting outdoor stone offers many benefits, visually and in terms of performance. And, having reassessed this area, maybe it's time to look at other external stone surfaces too? Perhaps the current trend in interior / exterior living is altering expectations?