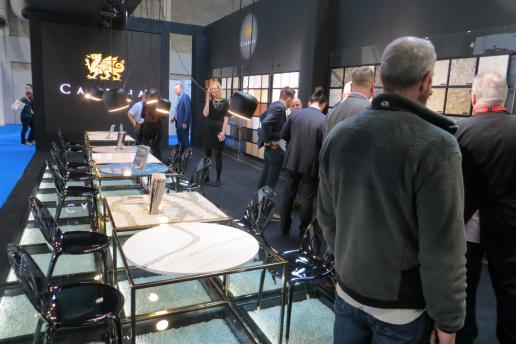 The Cambria stand at KBB this year. While Cambria petitions for an anti-dumping tariff on Chinese quartz, the US plans to add an extra 10% on Chinese stone, quartz and tiles in its escalation of the trade war.
As US President Trump made his way to the UK for a two-day visit with the government and The Queen before going off to play golf at his course in Scotland, the USA announced plans to introduce an additional 10% tariff on its $200billion-worth of imports from China in more than 6,000 product categories - including natural stone, quartz, tiles and an assortment of other hard surfaces.
The new tariff is in addition to current rates – and tariffs ranging from 1.9% to 6% are already collected on stone from China and other countries not exempted by a trade treaty.
The tariffs will also be on top of any punitive duties imposed if the US International Trade Commission accepts the antidumping complaints made by US quartz surface manufacturer Cambria (sold in the UK by Granite Granite) – read more about that here...
The proposed 10% tariff will be the subject of public hearings in August by the Federal Office of the US Trade Representation and could be implemented in the autumn.