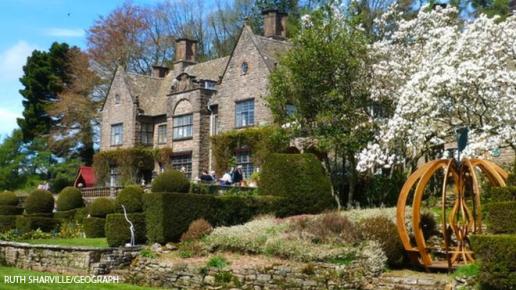 Grade II* listed Wyndcliffe Court. The owners have been told they have to use natural slate rather than man-made alternatives to re-roof the Arts & Crafts mansion. Photo courtesy of Ruth Sharville / Geograph.
The owners of the Grade II* listed Arts & Crafts mansion of Wyndcliffe Court in St Arvans, near Chepstow, have been told by the High Court that they have to use natural slate from Delabole in Cornwall or Westmorland Green Slate to re-roof their property.
Wyndcliffe Court was built in 1922 by Eric Francis of Chepstow for shipping magnate Charles Clay. It overlooks the Severn estuary and is regarded as a prime example of the Arts & Crafts style. Its roof was originally covered in slate from Northamptonshire, which is no longer readily available.
When Anthony and Juliet Clay applied for listed building consent to re-roof Wyndcliffe Court, they proposed to use man-made reproduction slates, but Monmouthshire council rejected the applicationin in March last year. The owners fought the decision all the way to the High Court, being backed by The National Garden Scheme, the Historic Houses Association and the Royal Commission on the Ancient & Historical Monuments of Wales.
Monmouthshire council said natural slate had to be used to honour the Arts & Crafts architectural style, an essential tenet of which is authenticity in design and production. 
Monmouthshire council said the slates from Cornwall or Cumbria would be more in keeping with the spirit of the architectural style and a better solution for the important building's leaky roof. It said manufactured tiles would have "a detrimental impact on the special character" of the building.
A government planning inspector agreed, saying the Arts & Crafts movement was essentially about a return to craftsmanship and a move away from mass production and industrialisation.
Challenging the decision at the High Court, the Clays claimed the inspector had both failed to consider the alternatives properly and to give inadequate reasons for his decision.
However, Judge Jarman, presiding, could detect no flaw in the planning inspector's reasoning. There was, he said, no "positive obligation" on the inspector to weigh the advantages and disadvantages of man-made tiles against natural slate and concluded: "There are no grounds for interfering with the inspector's decision." He dismissed the owners' complaint.