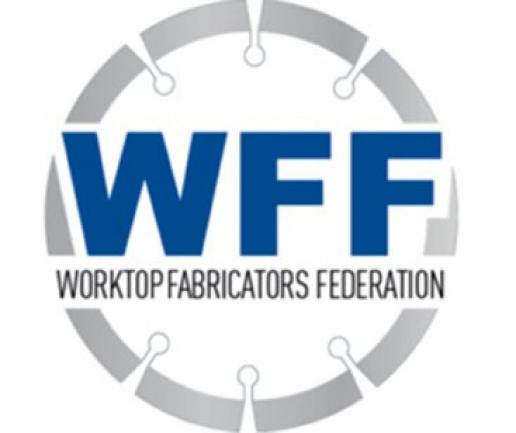 You may be in isolation but you don't have to be alone. This could be a good time to join the Worktop Fabricators Federation.
Building a community of like-minded worktop fabricators to bounce experiences off one another, share best practice and defend the high-quality reputation of the industry seemed like a no-brainer precept for the launch of the industry's newest trade association, the Worktop Fabricators Federation (WFF), just a month ago at the KBB exhibition in the NEC, Birmingham. 
Instead, the Worktop Fabricators Federation's first month in business has been spent sharing stories of mothballed factories, furloughed workers, unhelpful banks, ambiguous government guidance and closed building sites.
"This wasn't quite the kind of networking we'd been planning when we launched the WFF," says General Secretary Chris Pateman. "But desperate times have already proven the value of the member community and the power of a trade association as a source of industry knowledge."
WFF members haven't had to go through the unprecedented turmoil of the Covid-19 crisis alone and unsupported. Thanks to the Association's website, e-mail updates and conference calls. members have been able to compare their own troubles and concerns with the experiences of their peers in other parts of the country. 
And as government announcements have changed emphasis, WFF's own network with other industry bodies – from scaffolders to flooring contractors -- has enabled members to keep up with the very latest market intelligence to inform their own business decisions.
"When you're running a business in isolation, how do you know whether it's just your bank being unhelpful about the business continuity loan scheme?  Or just your customers threatening you with frustration clauses because you're not comfortable their sites will be able to guarantee your workers' safety?" says Chris.  "It's exactly at times like this that a trade association provides both the facts from the wider market and that crucial ability to talk to fellow businesses in the same boat. 
"WFF members are not happy about this uncomfortable and testing trading situation. But at least they all know they are not in it alone."
Since WFF launched at KBB on 1 March, Bath Granite & Marble, Bellagio Stone, Granite Direct and TNC Granite have joined as new fabricator members and another two sponsors – Beltrami and LPE Group – have also come on board in addition to the six founding anchor sponsors:  ASM, Caesarstone, Cosentino, Neolith, Roccia and Stonegate.
If you have not already done so, why not join the community via the WFF website worktopfabricators.org? Or go straight to the 'Register' page here.