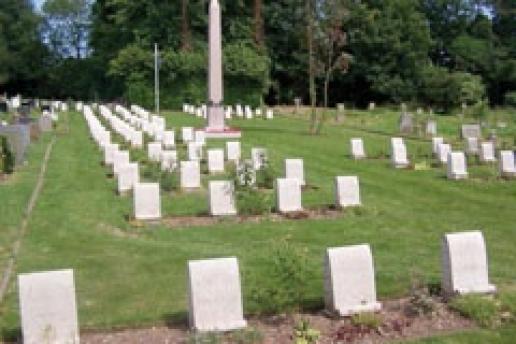 Anzac Day commemorations at St Mary's Churchyard in Harefield, north-west London, were threatened this year by an attack on the cemetery where 100 Australian and New Zealand casualties were buried during World War I and six more during World War II.
Anzac Day was 25 April. It originally commemorated the casualties among the Australian and New Zealand troops involved in the ill-fated landing on Gallipoli in 1915, but these days goes beyond that to commemorate Australian and New Zealand servicemen and women who died in all wars.
This being the centenary of the Gallipoli landings gave the service in the graveyard a particular poignancy this year and the Commonwealth War Graves Commission (CWGC) masons had spent three months recutting the inscriptions on the stones, and cleaning and renovating them ahead of the service.
The memorials have a scroll design that is unique among CWGC memorials because these stones were among the first the Commission ever produced, when the now familiar, standard CWGC memorial had yet to be designed.
The cemetery in Harefield is the primary place of remembrance in the UK for Australian and New Zealand casualties of World War I because Harefield's war hospital (Australian Auxiliary Hospital 1) is where casualties were brought for treatment. The scroll design of the memorials was chosen by the hospital's patients for their comrades who did not survive.
A service is held each year at the cemetery to mark Anzac Day, when local children put flowers on each of the graves.
It is not clear why the cemetery was vandalised ahead of the Anzac Day service. A flagpole with an Australian flag was sawn through and a memorial and a new, interactive visitor information panel due to be unveiled after the service were sprayed with blue paint.
At one point it was thought it might not be possible to go ahead with the service and unveiling on the day after the attack, but the immediate mobilisation of CWGC and Church staff on Friday overcame the effects of the vandalism.
The flagpole was repaired and reinstated, albeit a little shorter than it had originally been, enabling the Australian flag to fly during the service. The spray paint was removed from the panel and a new vinyl cover was applied to protect it. The panel uses smartphone / tablet technology to reveal the personal stories of some of the servicemen buried there.
The site was full to capacity for the service and the visitor information panel was unveiled afterwards as planned by Group Captain Sue McGready, representing the Australian High Commission, and Deirdre Mills, CWGC Director for UK and Northern Ireland.