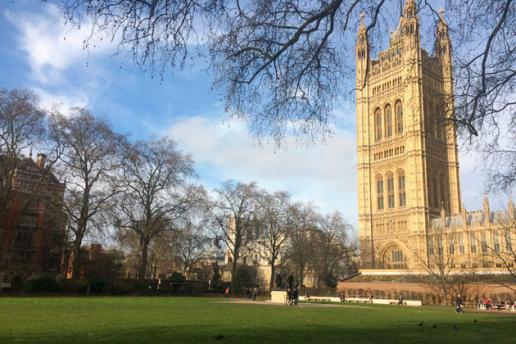 The site next to the Houses of Parliament where the Holocaust memorial will be.
There is to be a competition to find the design for a new Holocaust Memorial to be erected next to the Houses of Parliament.
The site in Victoria Tower Gardens in Westminster was announced last month (27 January) along with a proposal to hold a competition to design it.
The Prime Minister, David Cameron, established the cross-party UK Holocaust Memorial Foundation last year (2015), to create the memorial and an associated centre of learning about the Holocaust. The Foundation is chaired by Sir Peter Bazalgette. Board members include Alex Salmond, Lord Andrew Feldman, Labour's Ed Balls and Liberal Democrat Peer Dominic Addington (Lord Alliance).
The international design competition for the memorial will be launched in the coming weeks. Being a project of the Prime Minister's and publicly funded it is likely to be grand. It has to be built by the end of 2017.
Plans for an associated world-class learning centre to challenge prejudice in all its forms will also be announced in the coming months.
David Cameron announced the competition for the memorial at the start of Prime Minister's Questions on 27 January. He said: "I know the whole House will want to join me in marking Holocaust Memorial Day. It is right our whole country should stand together to remember the darkest hour of humanity. Last year, on the 70th anniversary of the liberation of Auschwitz, I said we would build a striking national memorial in London to show the importance Britain places on preserving the memory of the Holocaust."
Sir Peter Bazalgette, as Chair of the UK Holocaust Memorial Foundation, said: "The task of the Holocaust Memorial Foundation was to find a site that would allow a striking, prominent and iconic memorial to be built. There is nowhere better to achieve this than beside Parliament. I stood there with a Holocaust survivor earlier this week and I will never forget his reaction when I told him of our plans. It demonstrated how we are doing the right thing for Britain's Holocaust survivors in preserving the memory of humanity's darkest hour. But just as importantly, we're doing the right thing for our country by creating a permanent reminder of the need to fight hatred and prejudice in all its forms."
You can follow news about the competition as it is announced on the Holocaust Memorial Foundation's website at www.gov.uk/government/organisations/uk-holocaust-memorial-foundation