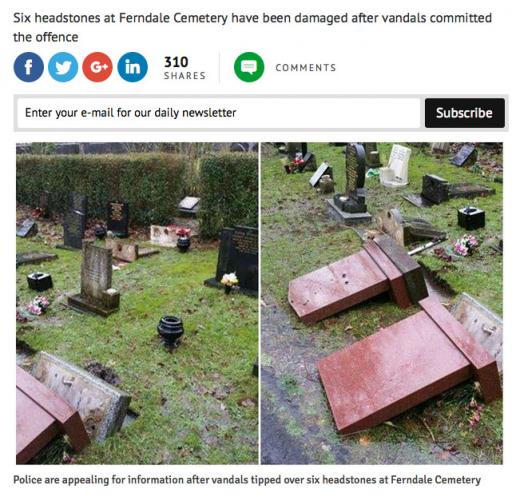 The pictures of the flattened headstones on the Wales Online website clearly show the pin fixings used.
An attack by vandals in a graveyard in the Rhondda Valley, Wales, that has left seven headstones on the ground raises questions once again about the efficacy of pin fixings.
The attack was in Ferndale Cemetery and reports by Wales Online and the local BBC news programme understandably focus on the vandalism that took place and the subsequent efforts by local schoolchildren to clear up. But photographs of the flattened headstones clearly show the pins that were supposed to fasten them have, in one case, not held the stone on to the base and, in another, simply pulled out of the ground.
The conditions in the cemetery look wet. But anchors should stop headstones from toppling even in the poorest ground conditions. It is why BS 8415, the standard for fixing headstones, says the anchors should be tested in sand or gravel.
Obviously there is no indication of the force needed to push the memorials over nor whether they failed catastrophically or gradually. Nevetheless, they clearly were not held up.
The Police ask anyone with information about the vandal attack to call 101 or Crimestoppers anonymously on 0800 555 111.