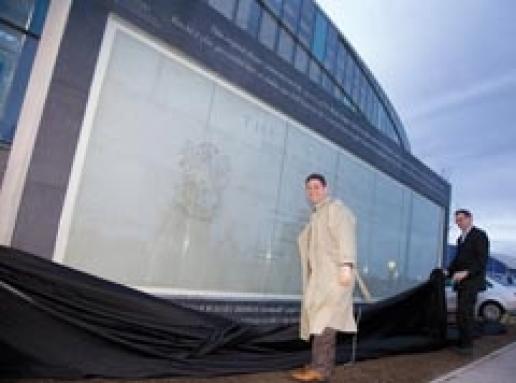 A Nebresina limestone plaque with a Welsh Slate border inscribed in Welsh and English was unveiled last month outside the Millennium Stadium in Cardiff Bay. The plaque was originally hand engraved by Wilson Phillip Morgan for the Empire Pool when the Empire Games (now the Commonwealth Games) were staged there in 1958. Its restoration and reinstatement on the building that has replaced the Empire Pool has been carried out by his grandson, Simon.
Simon told NSS: "When the old pool was demolished it was thought that this commemorative wall plaque was lost. However, it came to light in a storage room looking a little worse for wear. The Council thought it would be a nice feature for the new pool to reflect the history of the former and contacted our sign business (Morgan Signs) to see if we could help.
"When I saw the plaque I immediately realised the connection as my grandfather had often taken us as children to the Empire Pool to swim and admire his craftsmanship."
The plaque needed extensive restorative work, repairing several broken slabs. The lettering and carvings all needed re-painting by hand and the sections needed careful restorative cleaning and re-polishing. Some of the slabs had even bowed as they had been stored for many years on uneven ground. They were carefully bent back over a period of several weeks so they would line up when reassembled. The work was carried out in conjunction with the Morgan family memorial masonry business, Mossfords.
The plaque has been reinstated in a new, render-finished, concrete block wall that mirrors the architecture of the new building. A recessed front accommodates the refurbished plaque, which is secured behind 12mm glass. The silver enamelled lettering cut into the border of slate explains the history and significance of the plaque.
Simon says: "From a purely personal point of view it was immensely satisfying to be able to play a part in restoring craftsmanship produced by my grandfather more than 50 years ago and be able to present it to future generations to appreciate."