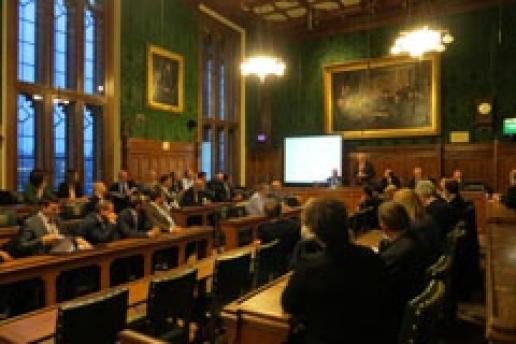 There was forceful opposition expressed to the Localism Act that has allowed local authorities to sell headstones directly to the bereaved when memorial masonry organisations MAB and NAMM led a debate in a Committee Room of the House of Commons, Westminster, on Thursday (12 March).
The meeting was debating the motion that: This House believes that Local Authorities should not compete commercially against their council tax and rate payers.
Rob Critchley, Director of memorial masons S Critchley & Sons and materials suppliers The Blast Shop in Manchester forcefully presented the motion while Professor Douglas Davies from the University of Durham spoke against it.
Professor Davies' main point seemed to be that memorial masons formed only a tiny part of the rate-paying public, so their pain did not matter if it benefitted the larger majority. One person in the audience described his opposition to the motion as "eloquent sophistry" that missed the wider point about the Localism Act allowing councils to compete against any legitimate local business.
Mike Dewar, Dirctor of One, the agency that heads the Memorial Awareness Board (MAB) campaign that fights for stone memorialisation, said he had asked 18 councils to speak against the motion and all had refused to do so.
Championing the move by councils to sell headstones is North East Lincolnshire, which is now also considering offering a funeral directing service and flowers and has been given £100,000 by the Government to present its experiences as a case study to other councils.
Other local authortities have already formed their own housing development companies as a way of borrowing money that they would not otherwise have access to and some councils have started promoting cheap MoT tests they offer for vehicles.
As Central Government money filtering down to local authorities is being continually reduced, councils will look at more of these services, currently offered by private enterprise, as a way of fillng their income gap rather than shrinking down. Doing so is specifically allowed in the Localism Act that came into force in 2011.
As was pointed out by one of those who attended the meeting in the House of Commons, the Localism Act looks remarkably like satisfying the desires of old-style 20th century socialists who wanted the supply of all goods and services to be publically owned – which is extraordinary coming from a Conservative Government.
Councils do not have to establish separate companies to trade or supply 'services' that do not make a profit, but they can price the 'services' to pay for staff and other facilties. And as the high 'administration' charges and salaries paid by many not-for-profit organisations demonstrate, the concept of profit can be a moveable feast.
If councils are offering a 'service' they do not have to pay corporation or capital gains taxes, although they do have to pay and charge VAT on products such as headstones. Staff and premises can be paid for from rates. The ability to adjust overheads in this way means councils will always be able to undercut local businesses, which could leave them with a monopoly on any sector they decide to compete in – and monopolies are not usually considered the best way to give consumers the greatest choice or lowest prices.
You can read more about the MAB debate in the April issue of Natural Stone Specialist magazine, which will also be the Official Catalogue of the Natural Stone Show that is taking place at ExCeL London, 28-30 April.