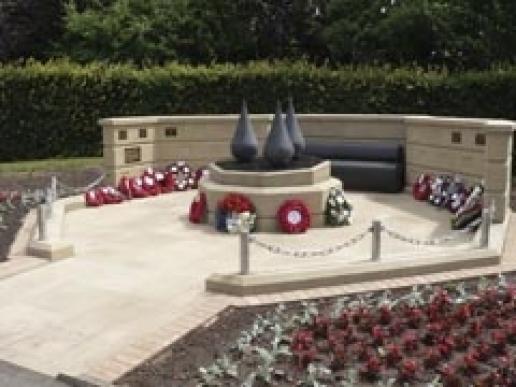 The town of Mansfield in Nottinghamshire has unveiled a new war memorial to service men and women who have died in action since the end of World War II.
Called the Mansfield Heroes Memorial, it is made from Bretton Moor sandstone from Derbyshire, sawn by Capital Stone Masonry in Sheffield, with the top and three 'teardrops' that represent the three armed services in Angola Black Granite.
The name, rank and regiment of the casualties will be inscribed in black granite plaques fixed into recesses in the Bretton Moor walls – the first seven were installed at the opening ceremony attended by representatives of the armed forces and local dignitaries on Armed Forces Day, 25 June.
The creation of the memorial was a truly local effort, from the design through the fund raising to the building.
Hundreds, if not thousands of people from pubs, businesses and local organisations contributed to the £70,000 raised since 2009 when the appeal began. Nottinghamshire County Council gave a £30,000 grant.
The design was conceived by six members of the Mansfield Heroes Memorial Fund. The architects' department of Mansfield District Council turned the ideas into proper planning drawings while the CAD drawings needed to produce the individual stones were generated by students of Mansfield's Portland College under the supervision of Jim Bookey from Welbeck Project Management Services, who gave all his time free. The memorial was erected by Sellors Stone Masonry from nearby Bakewell, Derbyshire.
The bench is the only part that is not natural stone. It is composite concrete and was ordered from Marshalls without involving the masons.
When the construction was finished the memorial was coated with Hydron's anti-graffiti treatment – which was just as well because within days of the opening ceremony graffiti had been daubed on it, although the five girls responsible were caught.