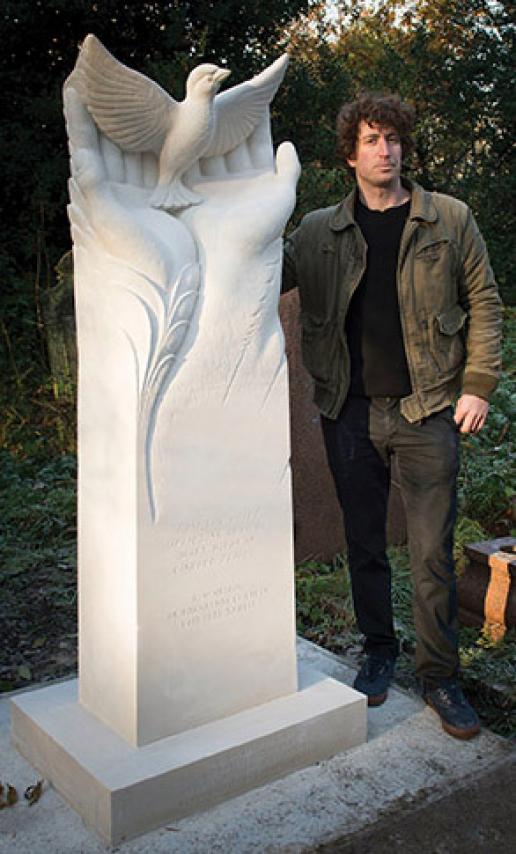 Tom Nicholls with the memorial he carved for the Barnardo's children.
"I AM THE SWIFT
UPLIFTING RUSH OF
QUIET BIRDS IN
CIRCLED FLIGHT"
The quote above is from a sonnet by Mary Elizabeth Frye, the only poem for which she is generally remembered. It has been inscribed on the memorial pictured here, erected in Tower Hamlets Cemetery in London to commemorate 513 Barnardo's children who were buried there in unmarked graves.
It is Portland limestone and was carved by Tom Nicholls, one of the four mason-carvers  of London Stone Carving  in Ossery Road, SE1.
He says he was approached by the charity and given pretty much an open brief of how to commemorate the children. After some research he came up with the idea of a symbolic cockney sparrow being set free, because the Barnardo's children in London were known as cockney sparrows.
Tom produced a half-size maquette in clay for approval by the charity before he started carving the Portland stone.
The finished work was erected as part of the children's charity Barnardo's commemorations last year of its 150th anniversary. In particular, it commemorates the children buried in unmarked graves in Tower Hamlets Cemetery. They include three of Dr Thomas Barnardo's own children; Dr Barnardo being the man who founded the charity to look after children who had been left to their own devices after being orphaned or abandoned on the streets of London.
The children at last commemorated were buried at the cemetery between 1876 and 1924. Although they were given proper funerals, their graves were not marked by headstones because the charity survived on a shoestring of donations from those willing to help these vulnerable children who had ended up at Bernardo's.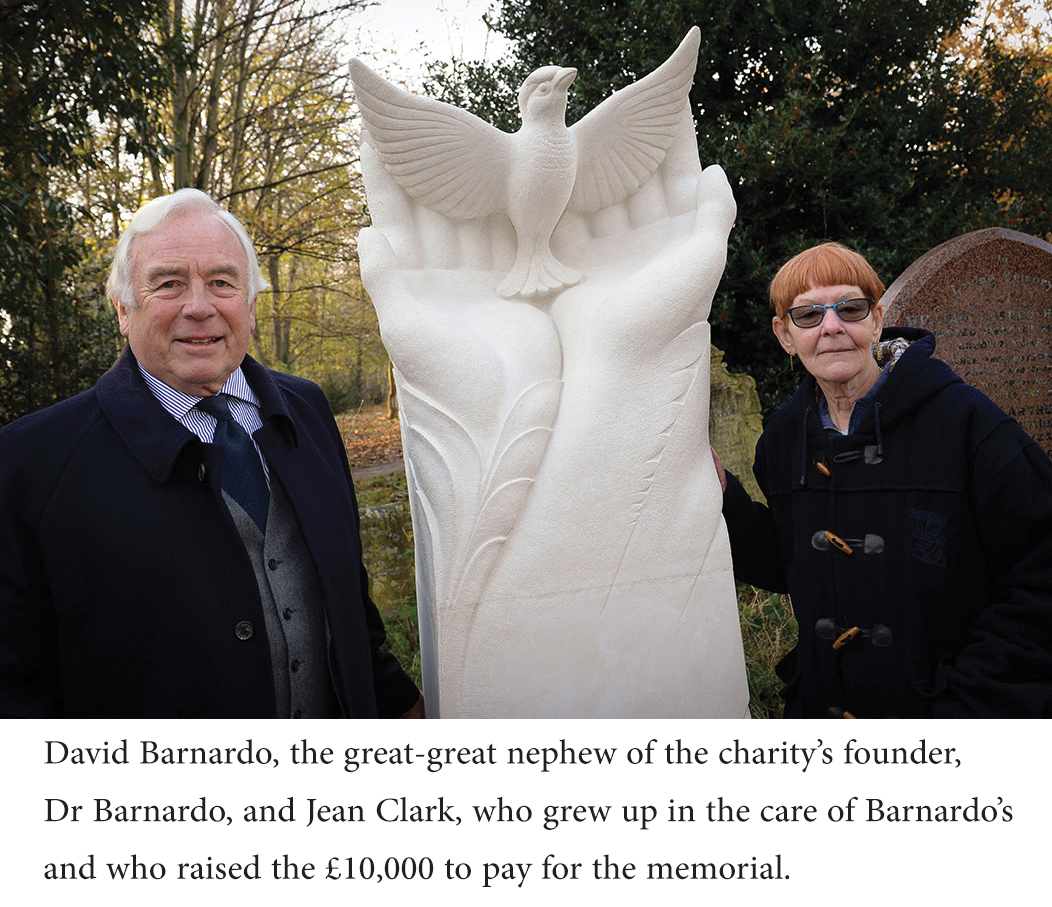 Raising the £10,000 necessary to pay for the memorial was no walk-over, either. It was a task undertaken single-handedly by Jean Clark, who now lives in Birmingham and, when a child, was herself looked after at Barnardo's. She is now a member of the charity's national council of old boys and girls.
Jean says: "It's been a labour of love to give these children the recognition they deserve. As someone who grew up in Barnardo's care, I regard them as my brothers and sisters and wanted to ensure their lives are recognised."
All the names of the children who died and were buried in Tower Hamlets Cemetery were discovered and recorded thanks to thousands of hours of painstaking research by volunteers from the Friends of Tower Hamlets Cemetery Park heritage team.
Today's Chief Executive of Barnardo's, Javed Khan, says: "This remarkable project has been made possible by a group of dedicated, passionate volunteers, particularly Jean Clark, who has single-handedly raised the funds required to bring Tom Nicholls's beautiful creation to life.
"The incredible work of the volunteer heritage team is also to be commended. They have spent several years searching through burial records for the names of the children concerned, so that they can have a fitting memorial in the form of this stunning sculpture." 
The memorial was unveiled by Jean Clark and David Barnardo, the great-great nephew of the charity's founder, on 5 December, closing a year of commemoration of 150 years of helping vulnerable youngsters. And although the anniversary is over, the work of the charity is certainly not.
Thomas Barnardo's vision was that no child who needed help would be turned away. During its 150-year history the charity has helped transform the lives of millions of disadvantaged children in the UK and continues to help families to build a better future.
Now, 248,000 children, young people and families a year are being supported by Barnardo's services across the UK – services such as foster carers and adoptive parents, training, skills and parenting classes.