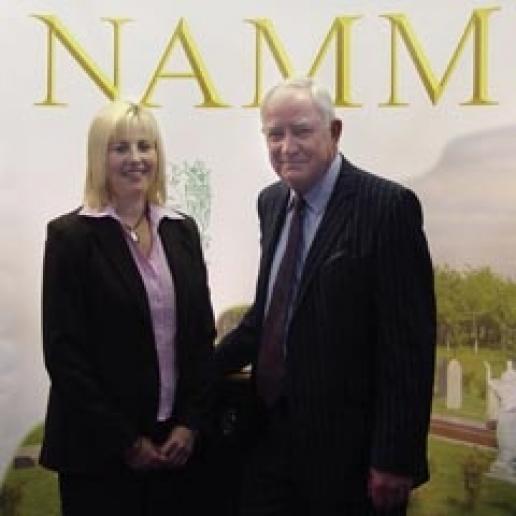 NAMM (the National Association of Memorial Masons) has suspended its active involvement in BRAMM, the register of accredited masons established to help cemetery authorities ensure memorials are fixed safely.
NAMM, which was instrumental in the formation of BRAMM, intends to establish another register that can be freely accessed on-line by anyone, which BRAMM cannot.
The decisions were reached at a general meeting last month (June) in Rugby, where NAMM has its offices. The meeting was called in response to what NAMM felt was a move by BRAMM that could have led to it becoming a rival trade association. BRAMM was proposing to create its own constitution and would not accept new rules proposed by NAMM that included giving NAMM a deciding vote on the BRAMM board.
Ian Gostling, NAMM's National Executive Officer, says the turn out of members for the meeting in Rugby at just over 30 was disappointing, but adds that there were more than 100 postal votes with around 90% in favour of the resolutions.
Ian told NSS that after five years of fairly heavy promotion, BRAMM had only signed up 100-plus of the 2,500 local government burial authorities in the country. "It speaks for itself," he said. "It isn't working."
The 1,200 masonry companies that are on BRAMM would automatically qualify for the NAMM register and others could join it if they had the necessary qualifications – and NAMM are working with City & Guilds to create a national qualification in memorial masonry.
Ian Hale of Fine Memorials in Bridgewater, Somerset, who is chairman of BRAMM and not a member of NAMM, says he is disappointed at NAMM's decision.
He said the board of BRAMM consisted 50:50 of burial authority representatives and memorial masonry representatives and it was not acceptable to have the masons dictating to the others.
He did not feel NAMM's stance was the general feeling among all monumental masons. "No matter what you do in this world there will always be someone who doesn't like it," he said.