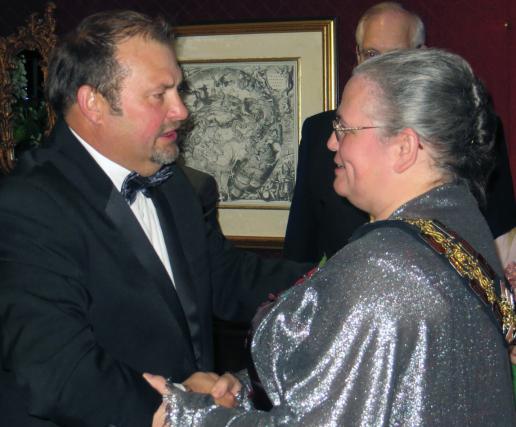 Johan Else passes on the Presidential responsibility for NAMM to Sharon Green at the annual banquet in Coombe Abbey, Coventry.
The new President of the National Association of Memorial Masons (NAMM) is Sharon Green of family memorial masons H A Green & Sons in Ripon.  She was sworn in to her new role at the NAMM annual banquet in the palacial setting of Coombe Abbey, Coventry, on 28 October. She succeeds Johan Else, who handed over the Presidential chain of office to her during the event. In her turn, she placed the Past-President's chain around Johan's neck.
Sharon says: "NAMM has always been in the forefront to support and promote its members to the public and highlighting the benefits of choosing a NAMM member. We are proud to be a NAMM member and I am proud to be working with other masons on General Council to move NAMM forward for future generations."