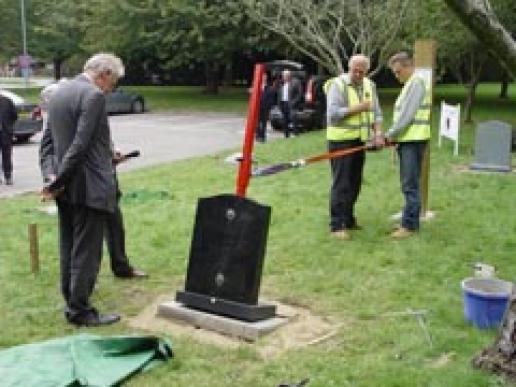 The spat between Anton Matthews, the proprietor of the StoneSafe memorial fixing system, and the National Association of Memorial Masons (NAMM) continues. The latest is that NAMM's solicitors have this month (February) sent Anton Matthews a letter demanding the withdrawal of claims in an advertisement for his Stone-Safe memorial fixing system that he inserted in magazines read by cemetery authorities.
Anton Matthews maintains that the ground anchor fixing system of the type approved by NAMM cannot prevent a headstone from being toppled in the soil conditions required by British Standard 8415 (medium sand or gravel) when exposed to the loads required by the Standard*. NAMM disputes this and points out that there has been no failure of a memorial fixed using a ground anchor it has approved.
The Stone-Safe advertisement states that "the only single precast concrete base / stability system that complies with the above British Standard and satisfies the British Standards Institute [sic] is the Stone-Safe bolted headstone solution".
Anton bases his assertion on a public demonstration he carried out last year that compared his fixing system with a NAMM-approved ground anchor. NSS magazine was among the witnesses of that demonstration. You can watch our video of it here.
Anton dug pits that he filled with sand to create reproducible test conditions. His system supported a memorial up to 150kg, hardly moving, while the ground anchor-supported headstone reached a maximum load of 63kg before being pulled over.
NAMM says the pits are not required in the British Standard and maintains that the soil conditions where it has carried out its tests in a Northampton cemetery satisfy the requirements of BS8415.
So Anton gained permission from the cemetery authorities at Northampton to test the soil conditions in the area NAMM had carried out its tests.
According to BS8415, the ground conditions can be tested using a sharp, pointed wooden stake 50mm square. To satisfy the conditions, it should be possible to drive the stake into the ground, with some difficulty, using a 5kg hammer. So Anton tried, after digging a shallow hole to remove the top soil. You can watch his efforts on the video here.
Believing he had demonstrated that the soil conditions where NAMM had carried out its tests did not comply with the requirements of the British Standard, he published his advertisement.
NAMM has responded on a section of its website dedicated to burial authorities. You can read the entire document here. It explains why NAMM does not agree with Anton's conclusions and points out what it says are errors in the advertisement.
It sums up by saying: "The National Association of Memorial Masons' (NAMM) advice is to disregard this false propaganda as Stone-Safe are continuing to undermine current legislation in favour of their own commercial interests by trying to discredit other ground anchor manufacturers."
Not about to let it rest at that, Anton has responded in a letter to NSS. He says he is trying to get the British Standards Institution committee that deals with various standards relating to natural stone, BS8415 among them, to require fixing systems to be tested in pits dug and filled for the purpose, so that the test conditions can be standardised.
In the meantime, he says he does not believe he has anything to apologise for in placing his advertisement and will contend the allegations made in the letter from NAMM's solicitors.
*BS8415 requires fixing systems to be tested to withstand a loading of 150kg, although a memorial is only required to withstand a loading of 70kg when the memorial mason walks away from it after fixing it. The Ministry of Justice told cemetery authorities in 2007 to stop toppling and staking memorials and to assess the risks sensibly up to 35kg. In 2009 it issued more guidance on what it considers sensible risk assessment in a publication called Managing the Safety of Burial Ground Memorials – Practical advice for dealing with unstable memorials. No loading weights are included in that document, which says visual inspections will often surfice, supported if necessary by hand testing to see if they wobble.