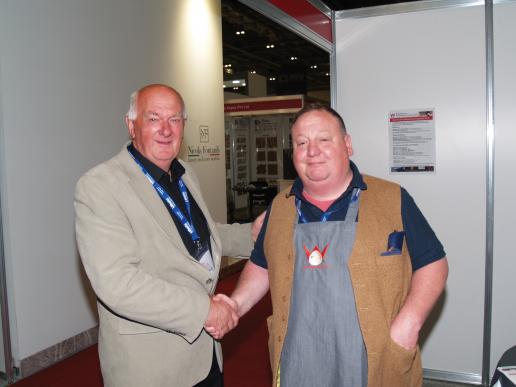 Anton Matthews (left) with Lee Saunders from the stonemasonry department of Weymouth College, which is at Poundbury. There will be a demonstration of the Stone-Safe memorial fixing system at the College on 19 June. If you would like to attend, email Lee on [email protected]
Stone-Safe, the memorial fixing system, plans to complain to the Competition & Markets Authority after being told by NAMM (the National Association of Memorial Masons) that Stone-Safe is to be removed from the NAMM approved list of fixing systems available on its website.
The Stone-Safe fixing system was approved by NAMM after assessment (for which it charged £800) in 2005. It has been on the NAMM list of approved systems since then.
But Phil Potts, the NAMM National Executive Officer who retired in March, wrote to Anton Matthews, owner of Stone-Safe, to tell him he was being removed from the list because he had failed to submit the system for maintenance inspection and had failed to submit a signed annual declaration.
Phil Potts also said the Stone-Safe system was not considered a fixing system but a foundation and NAMM does not  test or approve foundations.
Anton Matthews says he was not aware he was required to submit his system for inspection nor that he had to sign a declaration. He says he has never done so before and was not aware of being asked to do so.
He believes the de-listing is because he has criticised NAMM's tests and wants fixings to be assessed by independent UKAS-accredited centres rather than the trade association.
In a letter, Phil Potts accused Anton of "attempting (unsuccessfully) to discredit the NAMM ground anchor accreditation process and denigrating other ground anchor manufacturers' devices in an attempt to promote your own system".
Both Anton Matthews and a representative of NAMM sit on the committee that is currently reviewing the British Standard for memorial fixing, BS8415. The latest meeting of that committee was on 8 May.