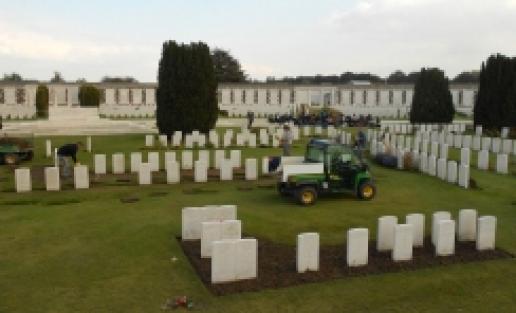 Tyne Cot Cemetery near Ypres.
The Commonwealth War Graves Commission (CWGC), which looks after the memorials of 1.7million servicemen and women who died during the two world wars in more than 23,000 locations in 150 countries worldwide, is offering four-month internships at its sites in France and Belgium in 2017.
It is looking for people aged between 18 and 25 to join its new CWGC Centenary Interns Programme.
The CWGC Centenary Interns will join the Commission for four months in France and Belgium. They will welcome visitors to some of the CWGC's best-known sites –including Tyne Cot Cemetery near Ypres, which will be the focus of the UK Government commemorations of the centenary of the World War I Battle of Passchendaele, the third battle of Ypres, in July 2017.
The CWGC Centenary Interns will welcome visitors to and guide them around the Commission's cemeteries and memorials. They will undertake research and help offer context and a clearer understanding of both the CWGC and the First World War. And the CWGC wants 18-25-year-olds because that was the age range of most of those who died in the war.
UK Government funding for the new programme was announced by former Chancellor George Osborne on the centenary of the Battle of the Somme in July 2016. Over the next two years the CWGC expects to bring more than 40 interns to what was the Western Front in WWI. The programme is funded by a £600,000 LIBOR grant.
Victoria Wallace, the CWGC Director General, says: "This is a fantastic opportunity for young people interested in the First World War to help others gain a real insight into the workings of the Commonwealth War Graves Commission, which has done such wonderful work in commemorating the fallen of the two World Wars for 100 years.
"The CWGC Centenary Interns will be able to welcome and help visitors, and share with them the stories of so many of those we commemorate. It is a chance to be right at the heart of the UK and Commonwealth commemorations in France and Belgium in 2017 and 2018."
Dr Andrew Murrison MP, the Prime Minister's Special Representative for the Centenary Commemorations of the Great War, adds: "Centenary Internships are an exciting, high quality opportunity for young people and an appropriate and enduring way to remember and reflect on the Great War.
"I anticipate a great deal of competition for the places announced today and that participation will have a lasting impact on successful applicants."
You can read more about the programme on the CWGC blog at blog.cwgc.org/interns2017. To email your interest in taking part, click here.