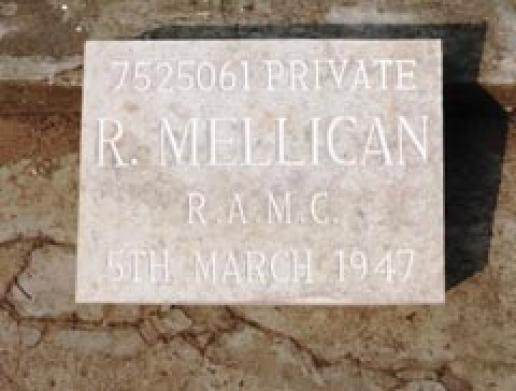 A medic who died in Burma (now Myanmar) during World War II has received fitting commemoration at his Mawlamyine (Moulmein) grave 68 years later, thanks to the intervention of the Commonwealth War Graves Commission (CWGC).
The CWGC has installed a personalised pedestal marker in local lmestone at the grave of Private Rupert Mellican, who is buried with relatives at a family vault at Mawlamyine St Patricks Roman Catholic Cemetery.
Mellican, who served with the British Royal Army Medical Corps, could not be commemorated at the time of his burial due to a shortage of stonemasons in the country during the war.
Until now, he had only been commemorated by name on the Taukkyan Memorial at the war cemetery in the city.
The CWGC will now ensure the grave is maintained and looked after in perpetuity, along with those of the other 1.7million Commonwealth servicemen and women in its care.
This is the first time "alternative commemoration" has been reversed in Myanmar since the democratic reforms of 2011-2012. The CWGC always tries to commemorate world war casualties where they fell, or where their remains are, whenever possible.
Thet Mon, the CWGC Manager in Myanmar, says: "It is deeply rewarding that our efforts to commemorate this brave serviceman at his grave have reached fruition. The grave will be regularly inspected and cared for and will ensure his sacrifice, and those of other Commonwealth servicemen and women in Myanmar, is never forgotten."
In Burma and Thailand it is possible to visit the graves and memorials commemorating the lives of 10,000 British, Dutch, Australian and New Zealand soldiers who had been held prisoner by the Japanese during the War.
Digital artefacts and stories of the prisoners-of-war who died building the infamous Thai-Burma railway for the Japanese are now made available by the CWGC to smartphone users at war cemeteries in the Burmese city of Thanbyuzayat and the Thai cities of Kanchanaburi and Chungkai.