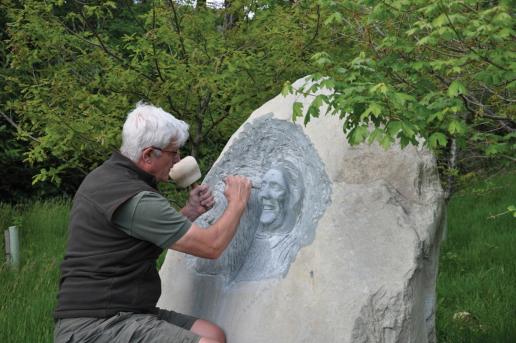 Shawn Williamson is pictured here working on the sculpture of Michael Berry, who founded English Lakes Hotels, and whose sons, Simon and Ben, commissioned Shawn to produce 10 sculptures to form a trail around the grounds of one of their hotels, Low Wood, in Windemere. The works are carved from glacial boulders, which Shawn says are a lot harder than the commercial slates of Cumbria.

Photo: Maggie Dickinson maggiebdickinson.wordpress.com/
There's a new sculpture trail at the Low Wood Hotel in Windemere, Cumbria.
The hotel has commissioned 10 carvings from local sculptor Shawn Williamson. Most of them feature the area's wildlife, carved into glacial boulders of Cumbrian slate. But the final piece, which John is just finishing, is of Michael Berry, who created the chain of five English Lakes Hotels that includes Low Wood. The chain is now run by his sons, Simon and Ben.
They commissioned Shawn Williamson to produce sculptures carved into random boulders of slate deposited in the landscape by Ice Age glaciers. Each one weighs more than a tonne and Shawn says the glacial hardening of the stone over millions of years has made it dense and hard, quite distinct from the Elterwater and Kirkstone slates that are still freshly cut from the hills of the Lake District.
Shawn Williamson started his career in stone by training as a banker mason under Johns Garland and Sellman at Weymouth College, still one of the UK's major stonemasonry training centres. He worked as a mason for John Laing in Carlisle but always especially liked carving and when the opportunity arose to work for Josefina de Vasconcellos in the Lake District he jumped at it.
Josefina de Vasconcellos was then in her mid-80s and still working. Her provenance reached back to Rodin through Antoine Bourdelle and she had many highly acclaimed sculptures to her name. Shawn helped Josefina with some of her later larger stone commissions and also began accepting commissions of his own.
He has been recognised by the Royal Society of Arts for training disadvantaged youngsters and is a member of the Artworkers Guild. Much of his work has a spiritual nature – like John 1 v29 carved on the side of the Herdwick sheep. The Bible reference is: "Behold the lamb of God."