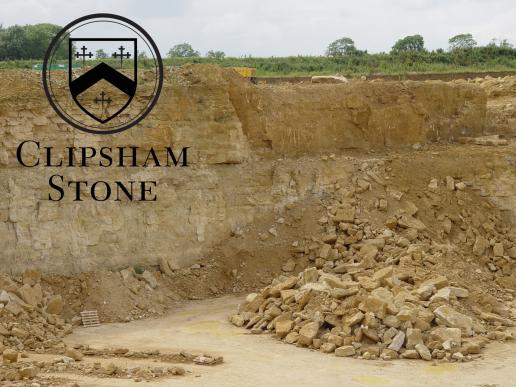 Stamford Stone has bought Clipsham Quarry Company, making it the exclusive supplier of Clipsham stone.
Stamford Stone, which produces Clipsham limestone from Medwells Quarry in Rutland, has taken over neighbouring producer Clipsham Quarry Company.
Clipsham Quarry Company will continue to trade under its existing name alongside Stamford Stone Company under the ownership of Stamford Stone Holdings Ltd.
The two companies have co-operated in the past, notably on the 2013 RIBA Stirling Prize shortlisted Bishop Edward King Chapel in Oxford, where the stone came from Clipsham Quarry Company and was supplied to the project by Stamford Stone, which has a well-equiped, substantial processing site in nearby Barnack.
Clipsham Quarry Company has been run by Sue Thomas, who took over the business from her father, the late Sir David Davenport-Handley, when she married Alan Thomas in 2004. She became the fourth generation of her family to extract the stone. The quarry came into her family's ownership when it bought the estate of which it is a part in 1885.
Alan Thomas died in 2015 and Sue says since then she has just kept the business ticking over. She celebrated her 70th birthday last year and felt handing the business on was "a logical step forward". Her children have successful careers of their own and did not want to take over the business.
She says when Daniel Wilson and Laura Green, Directors of Stamford Stone, approached her "the time just felt right to sell". She says: "It will be good to have some younger people running the business."
Stamford Stone's Medwells Quarry, is, at its closest, no more than 300m from the Clipsham Quarry Company's quarry at Bidwell Lane. Stamford Stone also operates Greetham Quarry, another source of stone from the famous Lincolnshore limestone belt.
Daniel Wilson says the acquisition makes Stamford Stone Company the sole supplier of Clipsham limestone worldwide and guarantees its reserves for generations to come.
The Bidwell Lane quarry has permitted reserves on 28acres. A planning application for an extension will shortly be submitted to Rutland County Council.
Laura Green says: "As a family business, we are passionate about the future of Clipsham limestone in the UK market and share the same values as Sue, who sees her family's legacy carrying on through our business as a positive move.
"Last year we celebrated 20 successful years of supplying local stone so we are very excited about the future, which now includes Clipsham Quarry Company."
Daniel Wilson says the negotiations to take over the business lasted eight months and it was difficult not telling anyone.
He adds: "As we are now the sole supplier of this precious commodity, we can push forward with confidence, knowing we have control over the quality and specification of the supply."
Lately, Clipsham Quarry Company has concentrated on supplying building stone for houses but Daniel Wilson says he plans to have block stone back in production by the summer.
Clipsham stone has been used by the colleges in Oxford and Cambridge for some particularly prestigious developments and conservation projects. Recent uses have included the renovation of the University Arms Hotel in Cambridge, the new orangery at Grade I listed Rushton Hall in Northamptonshire. But it is also specified further afield, notably for the Houses of Parliament.