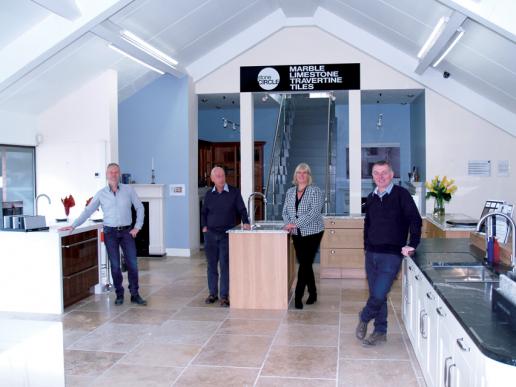 The Vanhinsbergh family in part of the stoneCIRCLE showroom at Basingstoke. They are (left to right) Jeff, Bernie, Valerie and Steve.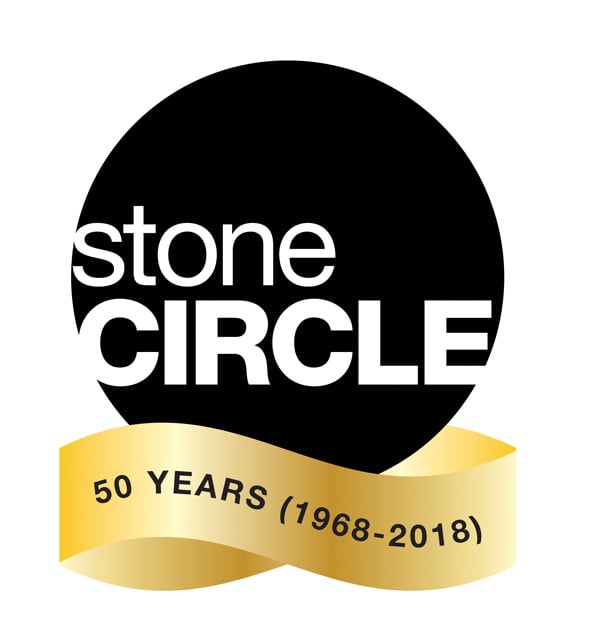 Solutions. No ifs or buts or hows or whys... just answers. That's what Director Steve Vanhinsbergh says has given stoneCIRCLE its longevity as it celebrates its 50th anniversary.
Steve Vanhinsbergh, who, with his brother Jeff, runs stoneCIRCLE, is an engineer. He considers stoneCIRCLE to be an engineering company. The material it uses just happens to be stone... most of the time.
Machinery and technology tend to drive engineering and stoneCIRCLE has one of the best equipped factories in the South of England, with its CNC saws, waterjet and workcentres.
It even bought the American Slabsmith before Carl Sharkey's LPE Group introduced it to the UK.
Slabsmith produces highly accurate (in both dimensions and colour) digital representations from physical slabs using a sophisticated camera and advanced digital technology. It is an important tool for integrating marketing, design and manufacture in what these days is called 'Industry 4.0'. The company also uses Prodim digital templating. "You need a digital shop," says Steve. "It's all computerised here."
Steve describes himself as a habitual internet surfer of everything to do with the stone industry and came across Slabsmith one day on the internet.
He could see its benefits immediately for an industry where every slab of stone is unique and every job different, so he telephoned Slabsmith in America. He bought the system and now uses it on a daily basis. It supports the 330 years of experience that the 42 people at stoneCIRCLE have between them, including Jeff's 38 and Steve's 27. Steve says that level of knowledge is a comfort. "Someone will know the answer or have a sensible suggestion to anything that comes our way."
The Slabsmith can even help explain to customers what is not possible, "because a lot of people do want the impossible," says Steve.
Using technology goes back to the early days, when Steve's father, Bernie Vanhinsbergh, started the business in 1968.
And one of the ways stoneCIRCLE is celebrating this year's 50th anniversary is by publishing a cook book with recipes from around the world, representing the countries from which the stones the company uses come.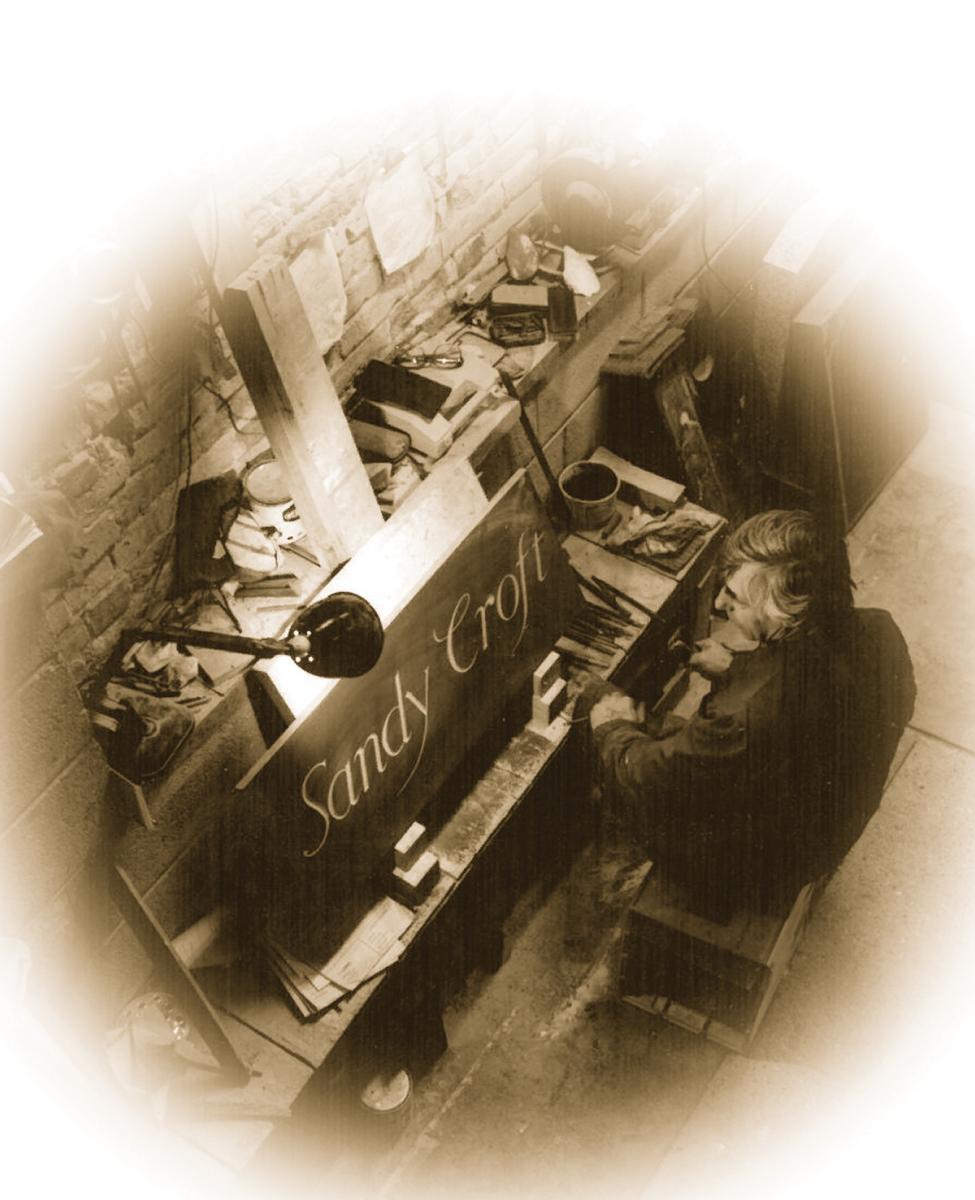 Bernie originally worked in memorial masonry, letter cutting memorials and house signs for other companies. At first he worked in the kitchen of his home, but as the work increased his wife, Valerie, objected and he built a concrete shed in the garden. It was not long before he realised his productivity could be enhanced and life would be easier if he bought an Incimar letter cutting machine.
The lesson was cemented in Steve Vanhinsbergh's mind when the company bought a second-hand Terzago. It was hydraulic with a digital readout showing the measurement for the width of each cut. It replaced a manually operated saw that stone had to be wound through with a big handle. It significantly improved productivity. "I knew then we should always buy the best technology we could afford."
The original saw had been added at Jeff's instigation. He had joined his father in the memorial business when he left school in 1981. Much of the lettering was still hand cut using pneumatic chisels. After a few winters of having his arms coated in ice, Jeff suggested that the firm might move into the production of granite worktops.
This was at a time when most stone companies did not want to touch granite because of the cost of diamond tools and the difficulty of working such a hard material. But Bernie encouraged his son and they bought the saw, the make of which is now forgotten.
Youngsters these days would be amazed at the production process then, with 3m slabs of granite being man-handled on to a buggy and transferred and positioned on to the saw bed using muscle power.

The slab had to be forced through the saw, which had neither a turning head nor a turning table, so to make cuts at right angles to the originals, the slab had to be turned on the table by hand.
The sink cut-out was produced and polished using an angle grinder and the tap holes drilled with a power tool. Today the Health & Safety Executive would have a field day.
B&V Masonry, which is the company behind the trading name of stoneCIRCLE, has now pulled out of memorial masonry all together. The industry has changed. It is easy to buy memorials from the Far East and people prefer cremations to burials, while crematoria insist customers buy memorials from them. In the end, the return on investment in time and stock did not justify remaining in the sector.
Steve discussed it with his family over a period of 18 months. "It was a difficult decision to make because of our roots," he says. "But it was the right decision." The space being taken up by the memorial showroom has been put to more productive use.
There are two stoneCIRCLE showrooms. One with the factory at Basingstoke, on a site that Bernie Vanhinsbergh bought from Queen's College, Oxford, in 1984, just before the company bought that first saw. The other showroom is in Newbury.
The showrooms display stone for the retail market, which accounts for about 40% of stoneCIRCLE's turnover. The rest comes from supplying the trade, often for major projects, which is the side of the business run by Jeff from the Newbury showroom.
Supplying the trade has always been an important part of the stoneCIRCLE mix. Major contracts are often supplied from abroad, usually Italy, but stoneCIRCLE says it is capable of doing anything the Italians can do and, being closer to the market and speaking English as a native tongue, it can usually respond more quickly and be easier to deal with than a company overseas supplying a variety of international markets.
Significantly, it would not expect its work to cost any more than Italian production and could even work out less expensive.
It has supplied 300-400 companies, about 100 of which it works with on an ad-hoc but fairly frequent basis, mostly in London and the South East.
Lately its customers have included artist Julian Opie, a leading light of the New British Sculpture movement. His work has included LED displays and paintings on shaped metal. With stoneCIRCLE he wanted bronze set into Portland limestone for Citizen M Hotel at Tower Hill, London.
Julian took photographs of people going about their daily lives and wanted bronze outlines of them inset into Portland limestone. The bronze was cut on the stoneCIRCLE waterjet and the recess for it to be set into in the Portland stone was cut using the Omag Blade 5 CNC machining centre that stoneCIRCLE bought last year.
Following the successful completion of the Citizen M project, stoneCIRCLE is now making another artwork for Julian in the same way for a project in Bermuda.
One of the first artistic projects was the Susanna Heron frieze for Henslow's Walk at the 2012 Stirling Prize-winning Sainsbury Laboratory in Cambridge. The 104 pieces of 75mm thick Jaumont limestone form a backdrop to the Laboratory's lecture theatre. There are organic forms inspired by the university's collection of plant drawings by John Stevens Henslow (hence the name) carved into the stone in shallow relief.
Another work of Susanna Heron's made with the help of stoneCIRCLE is currently being installed at St John's College, Oxford. It is another relief carving, this time 17.4m long and 3.7m high. It is produced from 772 pieces of Clipsham limestone, each about 600 x 450mm in depths ranging from 100mm to 160mm. Each level has been cut, again on the Omag, in steps from 60mm to just 1mm, with the 3mm joints pointed to follow the line.
Another spectacular artwork, this time in various marbles, is Tom Phillips' Tyburn Gallows wall at Westminster Cathedral, made by stoneCIRCLE and installed by Taylor Pearce.
There is stoneCIRCLE work in the Airbus A380, including 'J' shaped bar tops in first class. To keep the weight down, the white onyx used is on honeycomb backing, but for an aeroplane it has to be glued up in a vacuum otherwise any air pockets would expand and break the stone as the aeroplane rose to cruising altitude. Before stoneCIRCLE took over the work it was being carried out in Italy.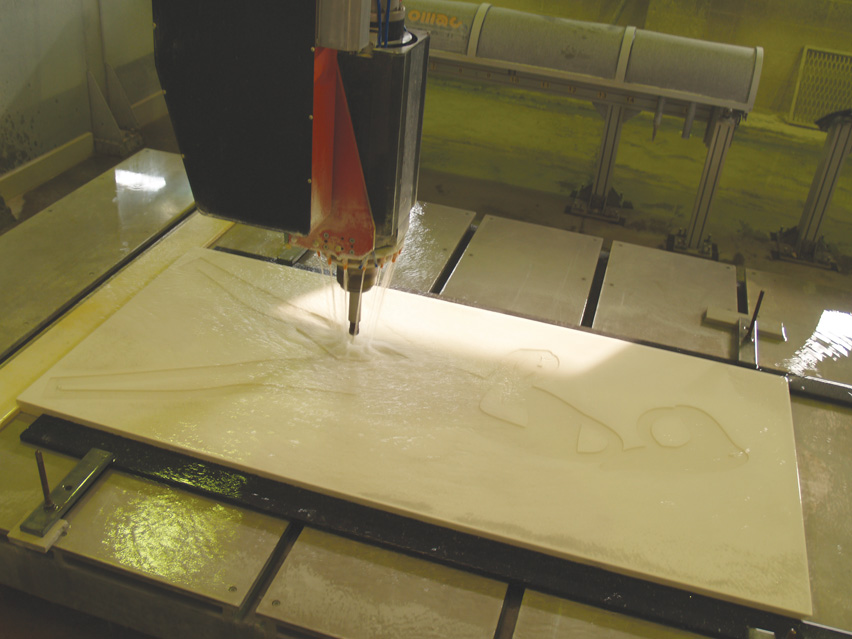 The company has also just refitted the bathrooms on a yacht called the Haida, which featured in the film Mama Mia. The bathrooms were fitted while the boat was in dry dock, which was interesting for the fitters as there was no guarantee the horizon would be the same when it was floating. That meant spirit levels and plumb lines could not be used. There was nothing for it but to use boundaries as data points. "We were scratching our heads for a bit," says Steve.
The company helped produce the Afghanistan war memorial built by PAYE Stone. It has just made a new staircase for Harrods in Crema Tirrena and Crema Marfil. It recently completed the bathrooms at the Mandrake Hotel in a variety of stones. And it made the award-winning 8m high x 30m long Portland stone feature wall at New Ludgate.
When architects and designers work abroad, they sometimes take stoneCIRCLE with them. As a result, the company's work can be seen in various parts of Europe, America, Russia... it supplied complex curved and twisted string courses for a project in Shanghai that flummoxed the locals.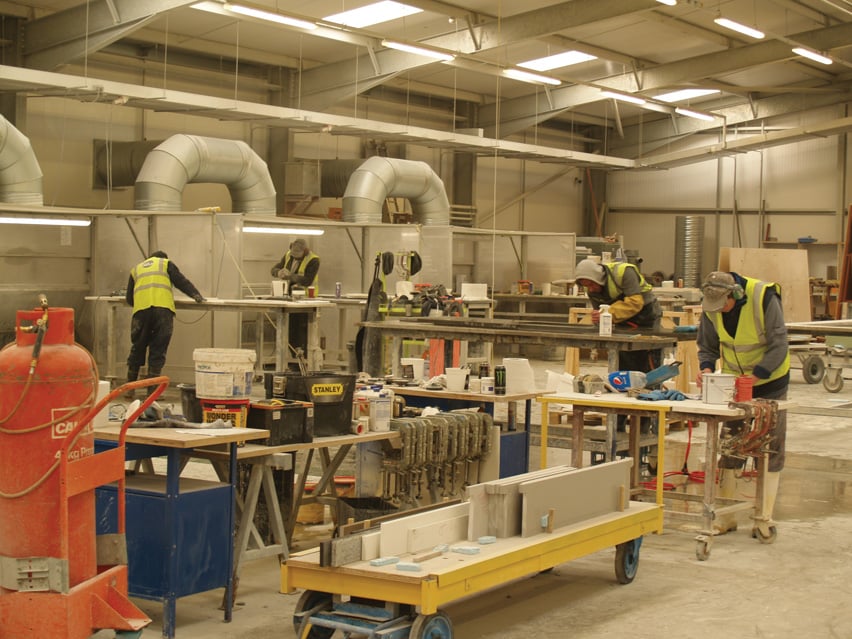 The latest development is to supply watch faces from stone cores that it used to throw away. These are cut and polished into 1mm thick discs for a new company called Cloak Watches (see www.cloakwatches.com).
It is a small contribution, but stoneCIRCLE does make an effort to minimise waste and keep the encapsulated carbon content of its work as low as possible.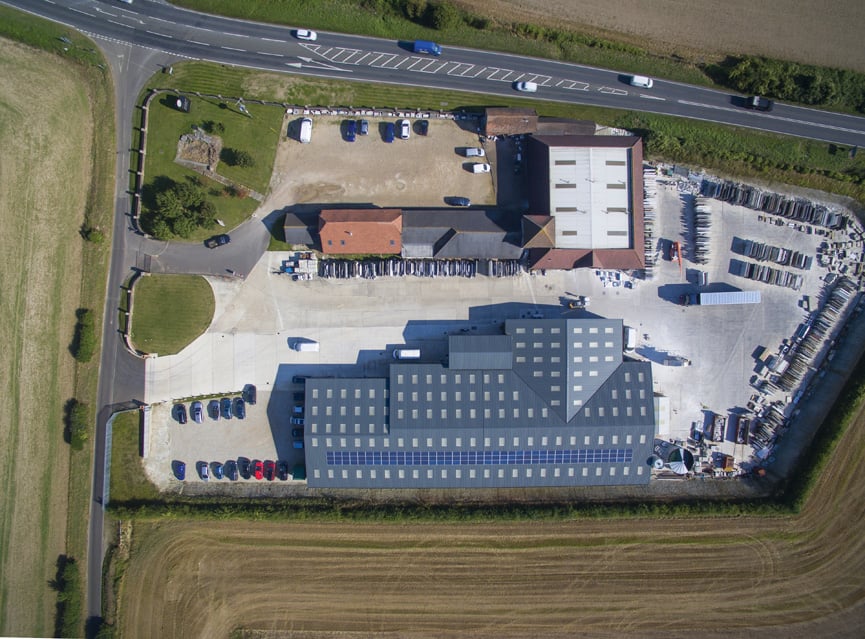 The modern, 2,500m2 factory the company built on land behind its previous factory in 2015 is well insulated and uses its roofs both for the collection of rainwater and the generation of electricity from solar panels (which earn it about £2,000 a year from the feed-in tariff as well as cutting its electricity bill from its utility supplier).
When it built the new factory it extended its stock yard to 3,000m2, which is where it stores the stone slabs it uses.
It does not generate all the electricity it needs from the solar panels and had to install a new electricity substation onsite in order to secure enough three-phase for the extra machines it installed in the new factory, although they are all set up so they only use as much water and electricity as absolutely necessary. When the machines are not working, both electricity and water are automatically turned off, which reduces waste, especially as the machines are left working overnight.
Neither could the rain be relied upon to supply all the water the machines needed, so last year a 100m borehole was sunk to keep the 72,000 litre water tank topped up. The only water the site uses from the mains now is for drinking, which has reduced the water bill from £5,000 a year to £500.
Steve believes that as stoneCIRCLE celebrates its first half-century, it is in a strong position to survive whatever the future brings – and he is not optimistic about post-Brexit Britain. "The politicians will mess it up," he says.