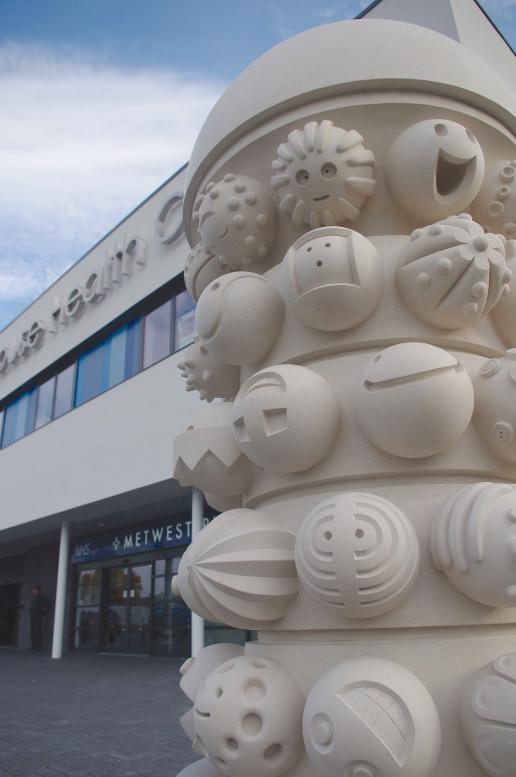 Tim Shutter's Magic Jumping Bean.
I have just completed this sculpture, called MJB (Magic Jumping Bean), for Lister House Health Centre on Abercrombie Way, Harlow. Although I have been working in public art for more than two decades, this still represented quite a challenge. I initially went to art school before training in masonry at Weymouth then developing my skills with Szerelmey and Bysouth in London.
The sculpture was commissioned by Harlow Health Care Trust following an open competition. My design was for a capsule of 50 'happy spheres', intended to promote a sense of wellbeing.
The sculpture was carved from Jordans Basebed Portland Stone, supplied to me by APS in Oxford. The stone was delivered to my railway arch studio in Corbridge Crescent, Hackney, in five slabs and turned top and base hemispheres.
It took me about seven months to complete, including making at least a hundred small clay models of the spheres then selecting the best arrangement for 50 of them.
The roughing out of 10 closely packed spheres protruding from a central cylinder in each slab was surprisingly tricky, especially as each sphere was slightly different to allow for the various protrusions in the designs. I used angle grinders, pneumatic tools and hand tools, with the intention of making the heads and spheres appear like effortless doodles in stone. But the simpler they were the more precise the carving had to be.
I installed the sculpture myself with the help of the Hiab operating skills of Dan Phelps of GNS Logistics and the support of Adrian Wright of Hutton Construction. I hope the sculpture will be considered a focus of detail and a counterpoint to the clean lines of the building designed by Paul Young of Camm Architects as well as raising a responsive smile from the people who visit the new health centre.
You can see more of Tim's work on his website.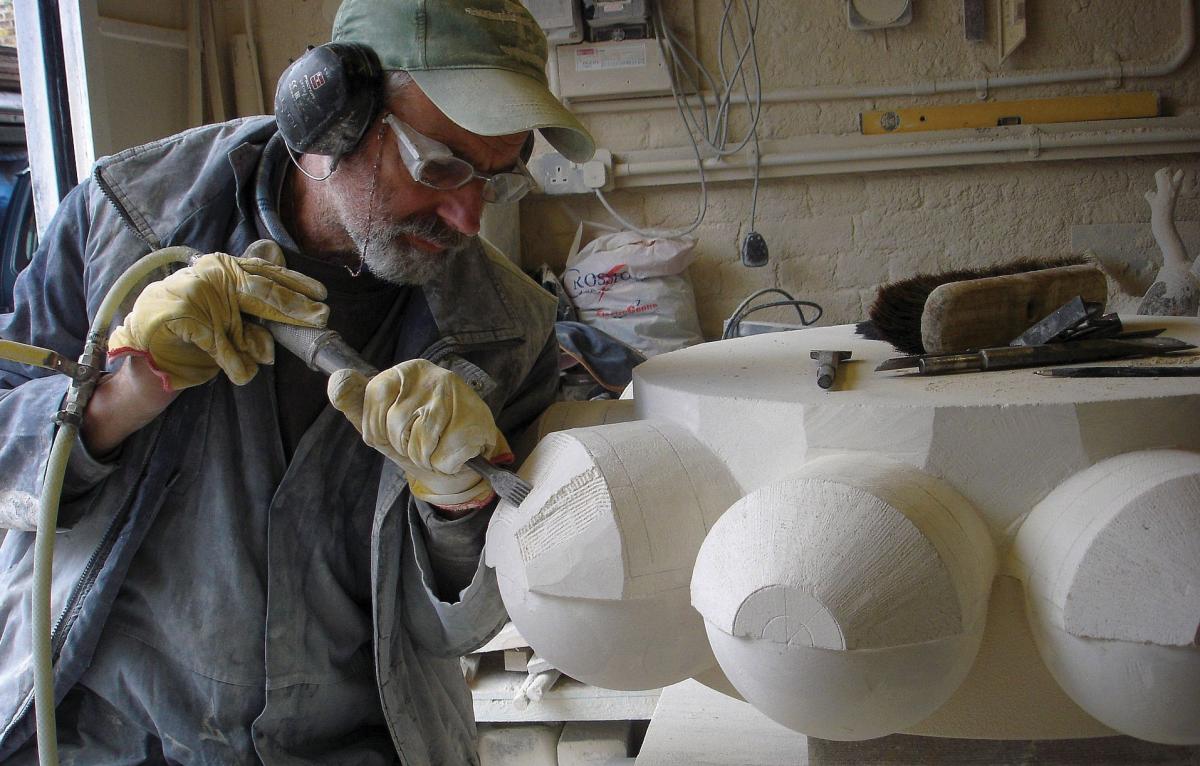 Tim Shutter working on his Magic Jumping Bean.