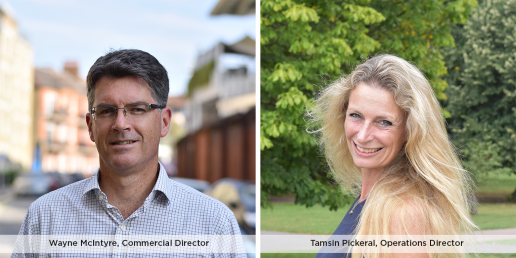 Szerelmey's new directors: Wayne McIntyre and Tamsin Pickeral.
London-based specialist contractor Szerelmey has appointed two new Directors who it says start an exciting new chapter for the Company.
Wayne McIntyre joins to head the firm's commercial management. He has 25 years of construction industry experience in the UK and overseas.
Tamsin Pickeral, Szerelmey's first female Director, will lead the company's business growth, developing the Group's status and culture in its client market and among its own people and companies.
The company says the appointments will introduce a new dynamic and perspective to complement the current board's stonemasonry knowledge and experience. 
Szerelmey has built its longstanding reputation on the excellence of its stonemasonry and restoration and its experienced design and management teams. The company has grown and evolved over the years, expanding its specialisms to include other materials such as faience, terrazzo, glazed brick and pyrolave.
At root, Szerelmey sees itself as a people business fuelled by a passion for the industry.