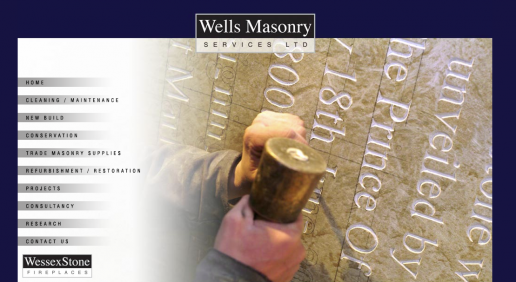 Jeremy Wells and his wife, Pam, have decided to retire, although Jeremy will still be available for consultancy.
Wells Masonry Services, based at Cotswold Hill Quarry near Cheltenham in Gloucestershire, plans to close before the end of this year.
Jeremy Wells, who established the business in 1988 and employs 15 people, says at 67 he is ready to retire from the everyday work, although he will continue to offer his services as a consultant. If you want to call on his considerable experience you can contact him for now at [email protected] / Tel: 01386 585700.
Jeremy says: "I have always done consultancy and a couple of architects and surveyors have already asked me to do work for them."
Jeremy's wife, Pam, runs the associated business of Wessex Stone Fireplaces, which will also close.
Jeremy established his business involved in all kinds of traditional masonry, including cleaning, restoration and conservation, building extensions, maintenance, repair and renovation, after working for a decade with South West Stone Cleaning & Restoration, which became Stonewest Cox, of which Jeremy was a Director.
Wells Masonry Services always prided itself on the quality of its work and the people it has employed.
Jeremy had hoped the business could be transferred to new owners, but says a potential trade buyer pulled out. His workforce consists of young people and others almost as old as him, and none of them wanted to buy the business. His daughters, who have worked in the business at one time or another, did not want to take it over, either. So he has decided to finish off current contracts and not except any more.
Pam will also be closing the fireplace business, although as soon as she announced the closure she received six orders from people who wanted to get in quickly before the company disappears.
Over the years Wells Masonry Services has been involved with many prestigious projects, including The Queen Mother's Commemorative Gates at Hyde Park, extensive works at Balliol College, Marlborough College and Cheltenham Boys College, various contracts at the Houses of Parliament and work on many churches, including Horsley, Lechlade, Abingdon and Cirencester.
There is not much machinery to sell – just an ancient Anderson Grice saw that Jeremy bought from John Bysouth's masonry company in London when it closed 20-odd years ago.
It has been maintained and the electrical operating system added and upgraded but it is probably at least 50 years old. The hand and power tools will mostly stay with the masons who use them. The premises will probably be taken back by Cotswold Hill Quarry, which Jeremy says is busy and needs the extra space for itself.
Jeremy and his wife now want to spend more time together taking some of the holidays they have never had without interruptions from the business.
Jeremy says: "I very much do my own thing in my own area. I've had a nice little niche market but I'm 67 next month and you sort of think: well, I have to stop sometime. I've enjoyed being in the industry.... most of the time."