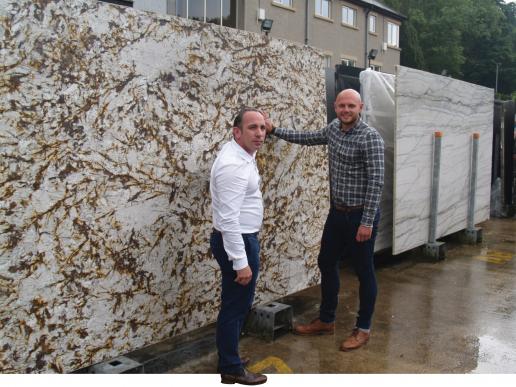 Director Sebastian Harris (left) inspects some of the latest arrivals at Pisani Wholesale in Matlock with General Manager Matt English, who says he is taking the business forward by giving customers the level of service and support they need and deserve.
For 80 years the Pisani name has been synonymous with stone in the UK. And it still is.
Like a regenerated Dr Who, the Pisani name lives on even though the company bears little resemblance to its predecessor. It is a slimmed down, more entrepreneurial version of its earlier self.
And just as the Tardis remains the constant backdrop to the regenerated Time Lord, so the site near Matlock in Derbyshire remains the home of Pisani.
Behind the Pisani regeneration is Sebastian Harris, one of whose companies, Medusa Stone in Basildon, Essex, was a customer of Pisani. He joined the wholesaler in a leading managerial position in 2013 to try to bring about the changes necessary to see it through the changed market that followed the credit crunch of 2008/'09. Sebastian describes himself as a 'ghost' working behind the scenes.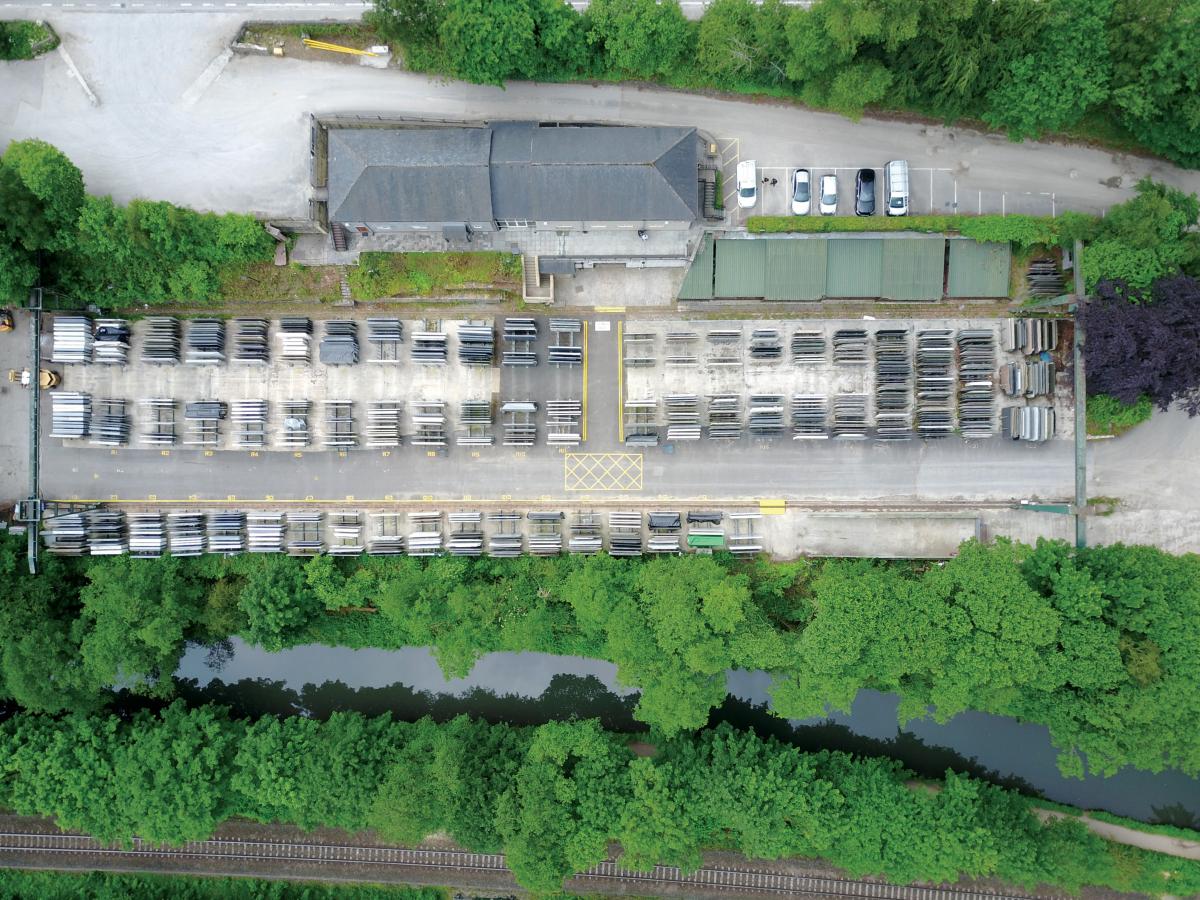 In the end, Administrators were appointed last year. But by then the debts had been reduced from £28million to £5million. If Pisani had folded in 2009, when its problems began, it would have created a bigger storm, says Sebastian, who is now keeping the name of Pisani alive. But the world has continued to change and the new Pisani Wholesale has a different focus from the old Pisani PLC.
The world has shrunk. It is not difficult for anyone to import directly from China, India or many other parts of the world, and plenty of stone processors have grown large enough to be able to do so.
Wholesalers with stock in the UK still have a role in the distribution chain, but it is not the same role that it used to be. Sebastian is not less ambitious than Costas Sakellarious, the Managing Director and major shareholder of Pisani PLC, but he has a different idea of the direction to take to make Pisani Wholesale successful.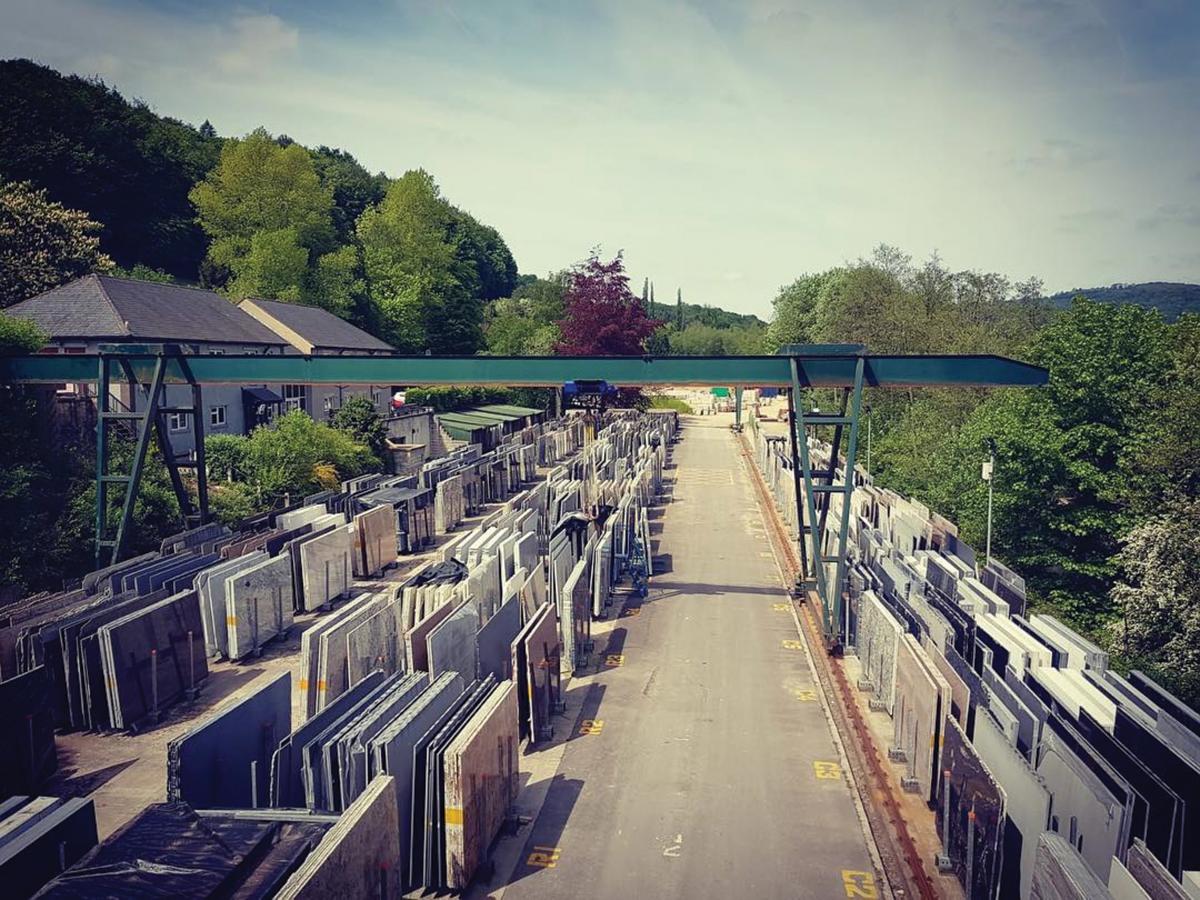 At one time Pisani had an ambition to become a major stone wholesaler across Europe. It set itself up as a public limited company (PLC) with the intention of raising money on the stock exchange to finance the expansion. The depot it opened in Feltham, near Heathrow airport, was to improve international communications. In 2007 it had a turnover of £26.5million and pre-tax profits of £1.2million.
But then came the credit crunch of 2008/'09 – and you can read about the problems faced by Pisani in the years after that at bit.ly/Pisani2.
On 8 June last year Administrators were appointed and 64 people lost their jobs. Pisani Wholesale now employs just eight people with Sebastian as sole Director.
Sebastian still lives in Essex, where his other interests are based, making General Manager Matthew English a vital element of the success of the business in Matlock. Working with Matt are Danielle Woodley and Bob King, with Dave Hunt in the Yard.
The Midlands base is ideal for servicing the whole of the UK, north and south, east and west, and to help it reach all markets there is Mike Doube representing the company in the South of England with Harris Tsimirlis working alongside clients in the projects department.
And Sebastian makes no apologies for having a projects department. He says wholesalers have had to move with the times and deliver any service a customer needs. "If that means we are cutting to size and delivering to site then that's what we'll do. We are proud to do projects."
The people mentioned above were all with the old Pisani, because one aspect of the business Sebastian thinks was right was the people it employed. The only person with Pisani Wholesale who was not with Pisani PLC is Michelle Hill. She joined nine months ago to manage the accounts.
Another of Sebastian's enterprises is called C's & B's Ltd (for various family reasons). He wants to use that as a parent company for other interests in stone, with Pisani Wholesale playing a major role in the structure. He plans to change the name to Oceanis, because C's & B's lends itself to deliberate misinterpretation.
Sebastian believes there are opportunities for stone – from developments such as off-site manufacture, for example. So far, bathroom pods dropped into hotel developments (mainly) have tended to be fairly basic, but they could just as easily contain marble vanities, floors and shower cubicles. "It could be done," says Sebastian. And if it is going to be done, Oceanis and Pisani want to be doing it.
But more about Oceanis in the future. It is sufficient here to say it is part of Sebastian's plans for vertical expansion and diversification, both through companies owned by Oceanis directly and through collaboration with other companies.
One opportunity Sebastian has already spotted was with Inside Digital Ltd, a company that employs and develops switched-on apprentices to manage businesses' social media requirements. Inside Digital offers an affordable and effective solution to boost businesses online.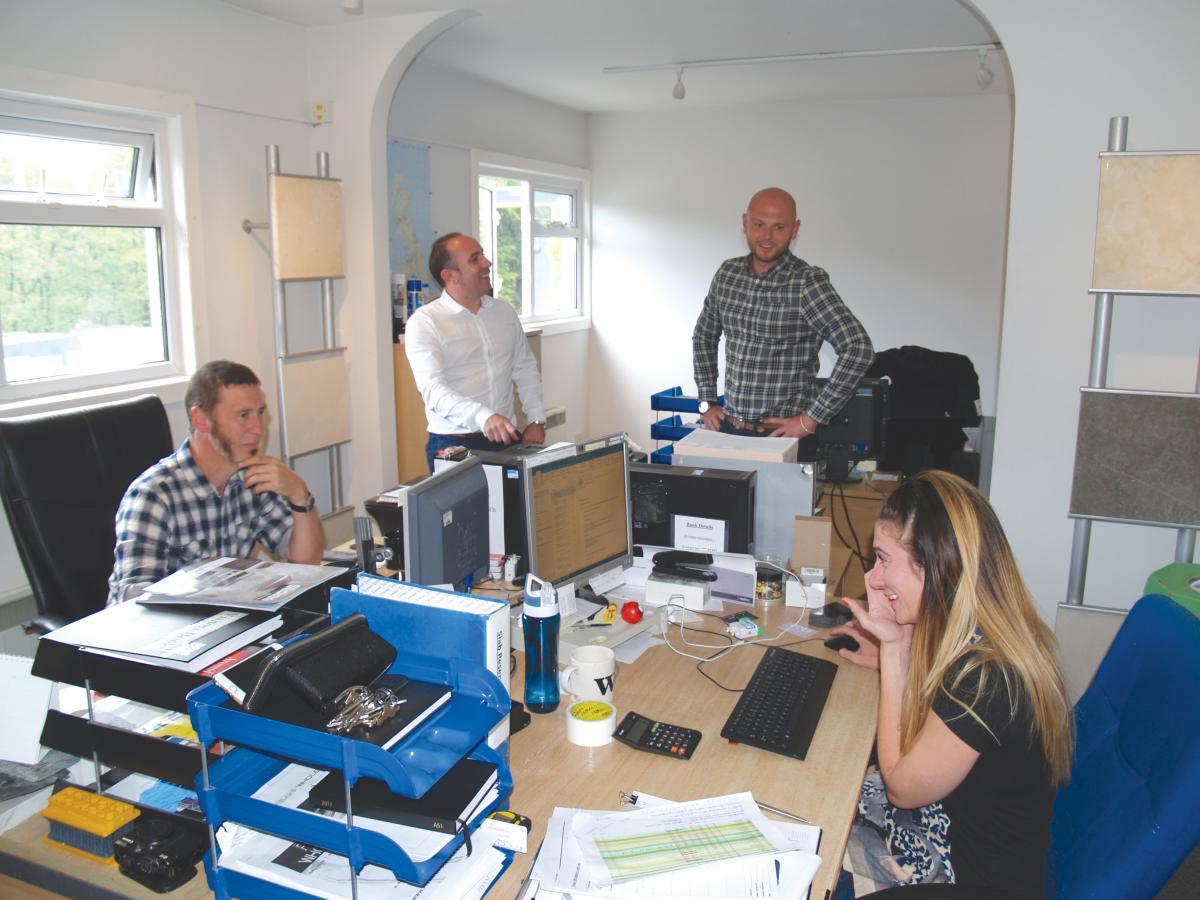 At the Pisani offices in Buxton are (left to right) Bob King, Sebastian Harris, Matthew English and Danielle Woodley in the Pisani Wholesale offices in Matlock, Derbyshire.
Pisani Wholesale has itself benefited from Inside Digital's imaginative campaigns and content creation, raising its profile and doubling its customer base in the three months to June since the new company officially went live.
Pisani Wholesale's customers have already included major processors such as PWS, Granite & Marble Manufacturing and F Jones, all of which buy directly from overseas but from time to time need the support of wholesalers with depots in the UK.
Pisani Wholesale has supplied Berkley Homes, Sir Robert McAlpine, Earls Court and others. And has even had a visit from football superstar Bryan Robson looking for stone for his home.
Although Pisani Wholesale has only lately been launched officially, the business had been trading before that and in its first year sold £1.5million-worth of stone.
During the year Sebastian travelled the world establishing supply chains and ensuring suppliers understand the high quality of material Pisani wants, because Sebastian believes Pisani has always been right to insist on high quality stone.
Re-establishing the supply chain turned out to be fairly straight forward. "People wanted to see me. We have been inundated with people wanting to supply us," says Sebastian. That has been helped, no doubt, by the good standing in which the name of Pisani and Costas Sakellarious is held.
Sebastian clearly admires the integrity and honesty he saw in Costas. "I learnt so much from him," he says.
Costas understood stone wholesaling was changing and Pisani PLC had sought to become part of the studio world of top design, which was reflected in its stylish Feltham depot in London with its meeting rooms and room-set displays.
And it might have worked but for the timing. Feltham opened just as the banks realised the error of their lending policy and stripped trillions of pounds from the world's economies.
Pisani Wholesale has a simpler approach to selling stone. It has not even re-opened the showroom at Matlock. Most of the space there that used to house the Pisani staff is empty. Pisani Wholesale is in just one small office and hopes to lease the rest of the space to other businesses.
The site in Matlock (and the Feltham premises) had been sold to reduce debt and leased back. The Matlock site is owned by local minerals company Slinter, which is currently building Pisani Wholesale a new warehouse on the site to store more marbles.
Pisani Wholesale believes it already has more marble than other suppliers in the North of the country but its stock is crammed into a shed with two polishing machines used to re-finish slabs if required.
There are some 6,000 slabs at Matlock, mostly granite and quartzite stored in the open, including exotics like those pictured on the right. Sebastian believed that if the Pisani name was to be preserved, the quantity and quality of stock had to live up to the expectations created by the name.
There are also a few slabs of Chinese engineered quartz. They are jumbo size in 12 colours, but with the major quartz brands fighting it out for market share it is not a battle Pisani Wholesale wants to engage in just at the moment.
"There's a hunger from quarries around the world to challenge quartz," says Sebastian. "In their minds, supporting Pisani is good for them. We are serious people and always were."
It certainly has not been an easy year for the team carrying on the Pisani legacy and it is not one that Sebastian would like to live through again. But like any good Time Lord, Pisani has forgotten its previous incarnations as it embarks on a new adventure.