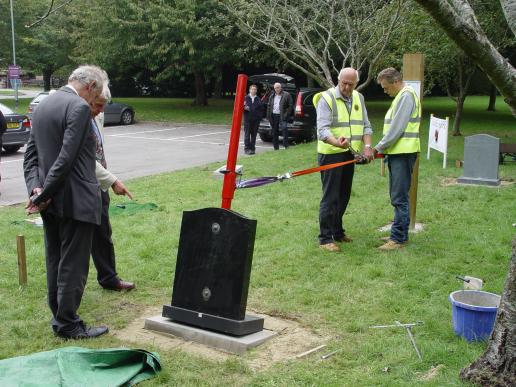 This method of testing memorial stability is being incorporated into the revised BS 8415, the stone memorial standard, expected to be published in June.
The sub-committee of the British Standards Institution up-dating BS 8415, the standard for stone memorials, this week (5 March) finally concluded its revisions to the standard. The changes still have to be ratified by the full committee, but that is not expected to produce further alterations. The revised standard is expected to be published in about three months.
One of the reasons it has taken longer than might have been expected to revise the standard is because it has included some significant changes, some of which have been hotly debated by the reviewing committee, notably to the testing regime for memorial securing systems (mostly ground anchors). The standard now says fixing or stability systems should be tested in a dug pit filled with washed sand that has been tamped down.
The test can be carried out by any qualified testing centre that will issue a certificate of compliance. But to comply with the new standard, fixing sytems that have already been tested and approved by NAMM will, apparently, need to be tested again.
It is expected that some of the less commonly used products will disappear from the market. Rob Critchley at The Blast Shop in Manchester, which supplies ground anchors for fixing memorials, says some of the 10 products he supplies might be discontinued. He says The Blast Shop paid NAMM £800-£900 to have each fixing system tested and expects that having them re-tested will cost a similar amount. Rob believes those he has re-tested will pass because he has carried out the tests himself to see if they will - and they do.
The dug pit filled with sand method of testing has long been advocated by Anton Matthews, who makes the Stone-Safe memorial fixing system and who is a member of the sub-committee reviewing BS 8415. He has used dug pits to demonstrate the effectiveness of his fixing system compared with simple steel pin fixing systems approved by NAMM (you can watch a video of a Stone-Safe demonstration here).
NAMM has previously resisted the change to the test method, maintaining that its tests of fixing systems in a cemetery in Northamptonshire met the criteria of the standard as it stood. NAMM has representatives on the sub-committee reviewing the standard. It has declined to comment on the changes to BS 8415, saying that the revisions have not yet been officially ratified.
These and other changes proposed attracted more than 160 responses from the public consultation, which ended in January. It took the sub-committee two days to work its way through all those comments in its final deliberations.