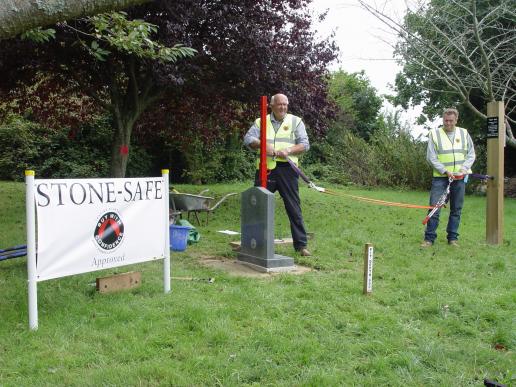 Anton Matthews demonstrates the effectiveness of his Stone-Safe memorial fixing system using a dug pit filled with sand.
Anton Matthews, who makes the Stone-Safe memorial fixing system, here responds to a comment by David Francis in his 'Grave Concerns' column in Natural Stone Specialst magazine, May 2018 issue.
Both men are part of the sub-committee that has been reviewing the standard for memorials, BS 8415. That sub-committee met for the last time on 23 May, when changes to the standard were finalised. Exactly what the revised version will look like will be revealed when the standard is published, probably in July. It would be sensible for cemetery authorities to require fixing of their memorials to the revised standard, BS 8415-2018, using products tested as specified in the standard. The sub-committee members are sworn to secrecy about the new standard until it is published, but Anton has responded to the comments made by David Francis in the magazine.
Anton writes:
In the 'Grave Concerns' column by David Francis in the May issue of Natural Stone Specialist (click here to read David's column), reference is made to a big change proposed in the revised British Standard for memorials, BS 8415. The big change is the testing of ground anchors in a pit filled with sand which, in David's opinion, does not represent any realistic soil condition.
The reason this method of testing is being included in the standard is because it is repeatable. It is a means of obtaining identical test conditions so that all systems will be tested under the same conditions, whereas up to now they have been tested in undisturbed ground in a cemetery in Northamptonshire.
It must be evident that if a test method is to show the difference in the stability of various systems that a consistent test method is adopted. The reason for using medium coarse sand in a pit or trench has been basic engineering practice for a number of years. NAMM [the National Association of Memorial Masons, which represents memorial masons in the UK] has argued that there are no such soil conditions within the British Isles.
The test has never been about the intention to show stability in various soil conditions, but to create a universal test method that can be used anywhere by anyone that a memorial stone stability system must comply with. In other words, the test simply formulates a basis which the resistance to failure of any system must comply to. That does not seem unreasonable.