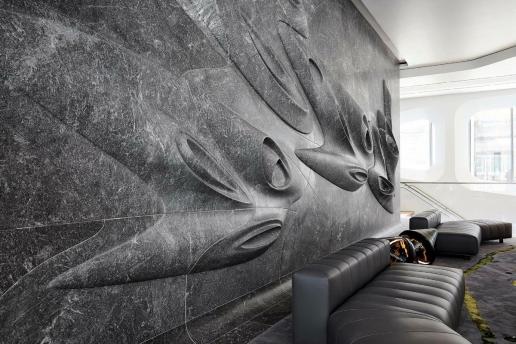 That's what you call a feature wall.
Posted on LinkedIn (and no doubt many other social media) is this picture of a feature wall installed in the public lobby of an apartment block in The Bronx, New York. Made from Grigio Brasile from Samfet, and supplied in America by Santucci Armando, the concept is the work of Zaha Hadid, brought to reality by Ismael Layva Architects and Port Morris Tile & Marble, who made and installed it.
It has won the Grande Pinnacle Award of Excellence in the Natural Stone Institute Awards.
The judges commented: "In addition to being a beautiful design, the project's flawless execution and the careful celebration of the stone's natural characteristic represented a very high level of achievement. The feature wall in this residential building lobby is art. The characteristics of the marble used are a big part of the sucess of the execution.
"One of a kind."