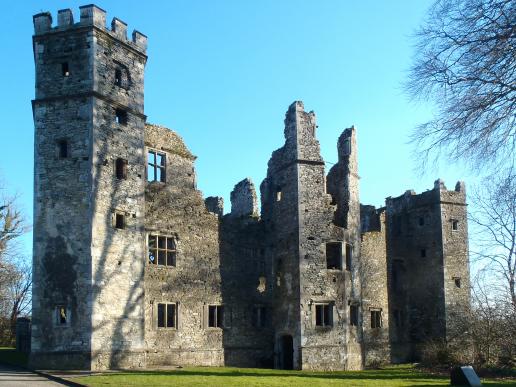 At Risk. Mallow Castle is one of 76 buildings receiving support from Ireland's Structures at Risk Fund this year.

Photo: Wikimedia Commons
Ireland has announced a budget of €2million for the Built Heritage Investment Scheme (BHIS) this year, which it has allocated to help with the repair and conservation of 370 heritage buildings.
A further €1.3million has been put into the Structures at Risk Fund to carry out urgent repairs on 76 heritage buildings.
Of the 370 structures awarded BHIS funding, many are historic places of worship and residences. A number of the grants are for re-thatching of buildings of special interest and others are for repairs to follies, cathedrals, mills and forges.
These grants have been awarded following assessments by local authorities, which accept applications from members of the public and put recommended projects forward to the Minister for approval.
To download the full list of projects being supported this year, click here.
The Minister for Culture, Heritage and the Gaeltacht, Josepha Madigan TD, says grants awarded range from €2,500 to €15,000 per project. She said: "This investment will support the owners and custodians of protected structures in every local authority area across the country as they carry out small-scale, labour-intensive projects to repair and conserve our historic built environment.
"Our heritage is a vital part of our cultural landscape. I am delighted to be able to continue our investment in protecting it for the future."
The Structures at Risk Fund (SRF) supports conservation work to private and public historic structures that are at significant risk of deterioration. The Fund encourages the regeneration and re-use of heritage properties and helps to secure protected structures that might otherwise be lost.
Again, the Structures at Risk Fund receives money from the Department of Culture, Heritage and the Gaeltacht and is administered by local authorities.
In accordance with the Government's commitments under the Action Plan for the Sustainable Future of the Irish Historic House, a portion of the funding this year was reserved for historic houses in private ownership, with 10 projects being supported under this element of the scheme.
Josepha Madigan said: "Heritage buildings and protected structures are at the historic heart of our communities. Investing in our built heritage is not just good for the individual properties concerned, it can also provide a real boost to local communities and support jobs in traditional building skills, conservation and tourism."
She says the investment plays an important role in the regeneration of areas.
Significant buildings and monuments receiving support this year include Mallow Castle in Co Cork and Rathmullan Abbey in Donegal. There are also cottages and castles, weirs, lock houses, gates and stables.
You can download a full list of the projects being supported by the SRF this year here.