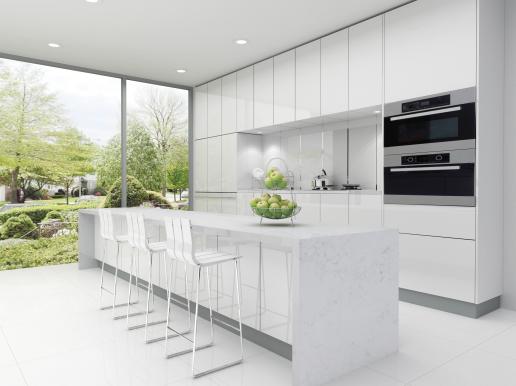 Composite materials such as quartz have many advantages over natural stone counterparts, particularly in reference to interior design. While materials such as marble and stone have aesthetic appeal for the kitchen and bathroom, it is engineered stones including quartz that are increasingly being chosen for these areas of the home. The reason for this trend is that quartz has all the visual appeal of natural stone, combined with a far superior level of durability and ease of maintenance. 
Created to meet the demands of modern living CRL Stone has launched a new range of engineered quartz surfaces. The engineered material is created by mixing natural quartz with polymer resins. The result is a durable, low-maintenance, natural stone-look surface that is extraordinarily hard and resilient. These characteristics combine to create a practical surface for kitchen countertops, bathrooms, flooring and wall siding.
The reasons for its resilience can be traced back to the manufacturing process, which begins with a thorough inspection of all the raw materials, to ensure they are 100% suitable. While the main ingredient is predominantly natural quartz, pigments and polymer resins are also added. Once blended together, the raw materials are poured into a mould to form slabs which are pressed and cured to make them strong and solid. Once cured the slabs are calibrated and polished to the required finish, passing through quality control before being packed ready for distribution.
 Hard wearing and easy to care for, CRL Quartz is ideal for the kitchen and bathroom where durability and flexible design are paramount. Scratch, heat and stain resistant, unlike natural stones such as marble, CRL Quartz does not need to be sealed and requires minimalmaintenance. The non-porous surface makes cleaning simple, with soap and water or a mild detergent all that is needed.
In thicknesses of 20mm and 30mm, the surface comes in an extra-large format slab measuring 3200m x 1600 metres, allowing for greater consistency in design over large spaces, such as kitchen worktops. CRL Quartz offers greatest versatility than marble or granite, being available in 32 colours. The breadth within this colour range is important, as it enables designers to respond to key trends and to co-ordinate with other fixtures and fittings, such as kitchen and bathroom furniture, appliances and flooring.
One such trend is the inclusion of white, particularly in the kitchen where a white surface offers striking contrast to coloured cabinetry beneath. Not all quartz suppliers can offer white in its purest form, however, due to the way the composite stone is engineered. CRL Quartz is different, offering the whitest white on the market due, among others reasons, to the manufacturing plant being located close to the site of a natural white quartz quarry. The secret also lies in the blending, as the quartz has to be ground down into a very fine powder to achieve a solid white colour with no pockets of resin.  The result is CRL Quartz Ultra White, the whitest of a choice of six shades of white offered by CRL Stone.
For more information call CRL Stone on 01706 863600 or visit  www.crlstone.co.uk