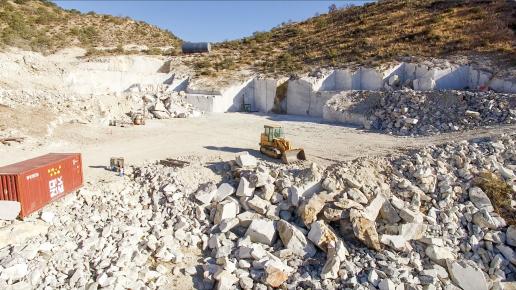 Three beds of distinctive marble are now available from Arizon in the USA.
The USA has not traditionally quarried a lot more marble than the British Isles. But it is producing considerably more now that a 110-year-old quarry in Arizona has been re-opened after more than 75 years.
Tucked away in south-east Arizona's Chiricahua Mountains in Cochise County,  the old Arizona Marble Company quarry has been re-opened by the Klump family, who bought it in 2002. And there's a lot of marble there – more than 320 acres of it, they reckon.
The quarry was established in 1908 and thrived for many years but closed in 1937. In 2013, modern quarrying techniques were used to break new ground and get the quarry back into production. Now the company is launching the marble internationally.
It produces three marbles that are sold as white Arizona Statuario australian online casinos 2018, grey Arizona Ash, and blue Apache Blue. It is being sold as block – some more than 275 cubic feet (7.8m3) – as well as slabs and tiles in various finishes.

Chemical analysis of the marble shows that it is 99.9% calcium carbonate. Absorption is 0.1% and its compressive strength is 14,000 PSI (96.5MPa). Full ASTM Test Results are available on the company website (address below).
If you are interested in bringing the stone into the UK, either to sell on or for a specific project, email Matt Klump at [email protected]. Or visit the website at the address below to find out more.