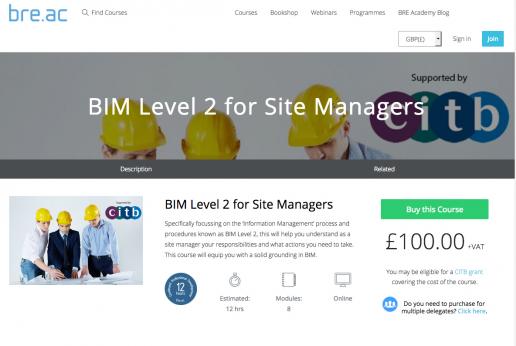 A new BIM course for site managers from BRE and CITB.
A new online training course, BIM for Site Managers, has been launched by BRE Academy and the CITB (Construction Industry Training Board) to equip site managers with a solid grounding in BIM (Building Information Modelling).
BIM is about the generation and management of 3D digital representations of buildings. It is rapidly changing the way people work and collaborate on construction projects. Well implemented, it delivers faster, more efficient construction with fewer mistakes and lower costs over the lifetime of a building. It's about far more than simply adopting software. Site managers at the sharp end are increasingly being required to adopt and apply BIM procedures.
This online course (price £100) has been specifically developed to support site managers. It discusses the key principles of digital modelling and will enable site managers to understand their responsibilities and the actions they need to take.
It is one of the first of a series of refreshed format courses to be release by BRE Academy since Darren Ardeman was appointed as the new head of eLearning. The Academy has invested heavily in new software technologies for a continuously improved learning experience.
Delivered online, site managers will be able to undertake 'BIM for Site Managers' at their own convenience.  It is built on a platform that allows them to start and stop the course, redo parts if they wish, and to refer to it as a point of reference.
The course covers:
Defining the process known as BIM Level 2, definitions and terminology
An understanding of how to improve workflows
How to limit liabilities
How to reduce risk on deliverables
How BIM can reduce costly waste and improve accuracy (and increase profit margins)
Director of BRE Academy Pauline Traetto says: "BIM is all about Information Management process and procedures and the common data environment (CDE). Our mission is to ensure that the whole supply chain is competent in BIM Level 2 and that both individuals and employers within the architecture, engineering and construction industries fit into the BIM Level 2 process. The CITB has highlighted how key site managers are in delivering BIM projects and we are delighted to have been their partner of choice for creating this course."
Ben Lever, CITB Future Skills Manager, says: "We hope this course has a big impact and helps our industry raise its performance." 
This course has been developed by BRE's BIM experts.