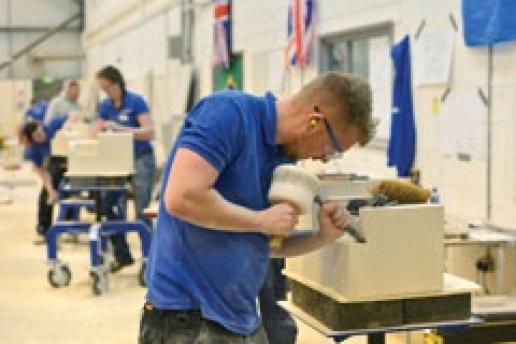 Inevitably the economic downturn has seen the number of skilled stonemasons fall. But with the workload of stone specialists already increasing and huge projects looming – notably the refurbishment of the Houses of Parliament, where an initial budget of £3billion has already been allocated – there is a danger there will not be the skills available to meet demand.
The skills shortage that follow recessions are apparently as inevitable as the recessions themselves seem to be – and are occurring again. Although work has picked up and confidence has increased, many companies are reluctant to employ more people – or cannot find the skills they are looking for. They are finding they are too busy to be able to be able to send people away for training.
But with rapidly diminishing spare capacity to carry out the work already coming through, the prospect of the biggest single stonemasonry project of the century coming on stream in 2020 – the £3billion refurbishment of the Anston and Clipsham limestones of the Houses of Parliament – has raised the prospect of their being more serious skills shortages in the years ahead.
That could make it a good time to train to become a stonemason, both for school-leavers and those wanting a career change.
But how do you find out about training to become a stonemason?
A good starting point is the Natural Stone Industry Training Group (NSITG), the National Heritage Training Group, or one of the colleges. Telephone numbers and websites are listed below.
Ian Major, the Training Officer of the NSITG and Manager of Stone Federation Great Britain's training arm, StoneTrain, says: "The natural stone industry offers anyone and everyone a wide and varied range of rewarding employment opportunities.
"Whether you like working as part of a team or prefer to be on your own, inside or outside; whether you are academic or prefer working with your hands; and whether you are just starting out or looking for a new path in life, natural stone can offer you a stimulating and fulfilling career."
This magazine's training columnist, Mark Priestman of Priestman Associates, who runs some of the courses for the NSITG and CITB, can also help.
A course just being introduced by NSITG is Stone Industry Professional Practice. CITB is backing a pilot currently taking place that will enable managers in the industry to upskill and obtain Gold CSCS Cards, providing a route to development and promotion in the stone industry.
Anyone thinking of taking up stonemasonry but would like to experience it hands-on before committing would do well to take a course at Orton Trust in Northamptonshire.
The courses are all held Friday to Sunday to cause minimum disruption to the working week, both to the trainees and the tutors, who all make a living from the skills they are teaching. The courses cover a range of skills levels. Many stonemasons have learnt and honed their skills with the Orton Trust and praise it highly.
The courses are subsidised by the Trust's fundraising activities and are still only £150, not having increased for five years.
Most stonemasonry companies that want to employ people as apprentices will find the grants available from the government through CITB will more than cover the training costs. For example, the basic grant for the Specialist Apprentice Programme is £7,650, which can easily become £9,333 just by fulfilling CITB criteria such as submitting training plans. The training costs £6,000 for the apprenticeship.
Those preferring to take a full-time further education route into stonemasonry or conservation should visit the websites of the colleges listed. The courses range from Level 1 to Level 6, catering for all requirements, both trade and professional.
For many of the stonemasonry courses the colleges will endeavour to provide genuinely useful work experience with a masonry company as well as including college visits to events such as the Natural Stone Show in London in April and will take part in skills competitions that can lead to competing for the ultimate accolade of representing stonemasonry at WorldSkills (see the panel on the left).
Emma Dexter, who was appointed head of the stonemasonry department at Moulton College earlier this year, says she wants to introduce students to the world of work in the stone industry from an early stage of their training.
She has developed relationships with stonemasonry departments of the colleges at Bath and York, both highly regarded for their stonemasonry courses (as is Moulton), to
co-operate with them.
Moulton has specialist draughtsman Mark Hancock on its team and fixer Andrew Taylor, so students do not work exclusively on the banker during their courses.
"It's going really well," says Emma. "The department is going from strength to strength with students experiencing a good range of work to prepare them for the real world of work."
And you do not have to be in the first flush of youth to become a stonemason. In fact, stonemasonry students are often not school-leavers but are making a career change. At the Building Crafts College in London Nigel Gilkison, who heads stonemasonry, says the current students' ages range from 15 to 58.
This is a very brief summary of some of the opportunities to train in stonemasonry and stone conservation to try to provide some guidance to those thinking of a career in this specialist sector. Stonemasonry is an ancient craft still very much alive and contributing to the built environment today.
For more information...
Training Groups
Natural Stone Industry Training Group
Tel: 07851 063938
www.nsitg.org.uk
National Heritage Training Group
Tel: 01246 252363
www.the-nhtg.org.uk
Colleges
City of Bath College, Bath
Tel: 01225 312191
www.citybathcoll.ac.uk
Building Crafts College, London
Tel: 0208 522 1705
www.thecarpenterscompany.co.uk
City & Guilds of London Art School
Tel: 0207 735 2306
www.cityandguildsartschool.ac.uk
Edinburgh's Telford College
Tel: 0131 559 4000
www.ed-coll.ac.uk
Elgin Stonemasonry Training Facility
Tel: 0131 221 6272
www.stoneproject.org
Glasgow Metropolitan College
Tel: 0141 566 6222
www.glasgowmet.ac.uk
Henley Business School, University of Reading
Tel: 01491 571454
www.henley.ac.uk
Moulton College, Northampton
Tel: 01604 491131
www.moulton.ac.uk
West Dean College
Tel: 01243 811301
www.westdean.org.uk
Weymouth College
Tel: 01305 764744
www.weymouth.ac.uk
York College
Tel: 01904 770400
www.yorkcollege.ac.uk
York University
Tel: 01904 430000
www.york.ac.uk
Others:
Crawshaws (floors and worktops)
Tel: 0208 686 7997
www.crawshaws.co.uk
NAMM (memorial fixing)
Tel: 01788 542264
www.namm.org.uk
National Stone Centre
Tel: 01629 824833
www.nationalstonecentre.org.uk
The Orton Trust (weekend courses)
Tel: 01536 711600
www.ortontrust.org.uk
Priestman Associates
Tel: 0115 975 1880
www.priestmanweb.com
Scottish Lime Centre (lime mortars)
Tel: 01383 872722
www.scotlime.org
Society for the Protection of Ancient Buildings
Tel: 0207 377 1644
www.spab.org.uk
StoneTrain, Stone Federation GB
Tel: 01303 856103
www.stonetrain.org.uk