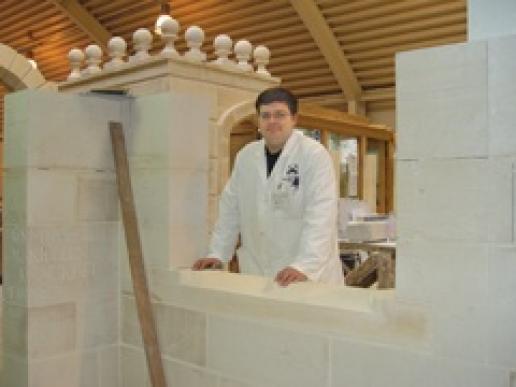 As the industry breaths a sigh of relief that NVQs have survived the new Qualifications & Credit Framework that had threatened to end them, training providers introduce new courses to keep numbers up as the cuts bite.
So far in this economic downturn training has not suffered too much, especially on stonemasonry courses. Stone companies have not forgotten how difficult it was in the recent past to recruit skilled craftsmen and have taken the opportunity of a lighter workload to train those people they have.
But can it continue? ConstructionSkills, the Sector Skills Council, which had in January predicted job losses in construction of 38,000, has warned that the new government's austerity measures could remove a further 68,000 jobs. And that comes on top of job losses in construction last year of 144,000.
With fewer people in the industry it might be reasonable to expect fewer people from the industry will be training, which might be a relief to grant provider CITB-Construction-Skills. It has had to cut its grant allocations following a £20million over allocation in 2008-9, when the recession hit its levy income but the number of companies seeking grants for training increased.
As a result, grants are not now as readily available as they used to be, which is why the Natural Stone Industry Training Group (NSITG), run in conjunction with the Stone Federation, is now trying to draw in more apprentices to the stone sector – apprenticeships being still fully funded whereas it is a bit hit and miss with NVQs.
At least NVQs look as if they are here to stay. The Government had been set to replace them as part of a new Qualifications & Credit Framework (QCF), but the industry, which is generally happy with NVQs, managed to fight off the move. Some adaptations will have to be made to NVQs to make them fit into the new QCF, which comes into effect in September, but generally the qualifications under the new scheme will be equivalent to the old NVQs and will retain the same relevance to employers. There are many in the industry who have criticised any changes as unnecessary.
Under QCF every unit and qualification now has a credit value (one credit is supposed to take 10 hours to complete) at a level of difficulty between Entry and the top Level Eight.
There are three categories of qualification under QCF: Awards (1 to 12 credits), Certificates (13 to 36 credits) and Diplomas (37 credits or more).
People can accumulate credits throughout their working lives (or at least until the next framework changes), building them up from any discipline, which some have complained does not help an employer determine what the individual is good at. If you end up with an Award having taken classes in brick-laying, plumbing and plastering, what do you have an Award in?
Nevertheless, in almost every area of construction NVQs have been converted successfully to match this new structure.
The NVQs developed by the NSITG and made available through Stone Federation's training arm, StoneTrain, are among those that survive.
NVQs on offer from StoneTrain are:
Level 2: Facade Preservation, Cleaning & Restoration; Stone Fixer; Banker Mason
Level 3: Stone Fixer; Banker Mason; Work Supervision; Heritage Skills
Level 4: Site Management.
Others are being developed, such as Stone Cutting, Machining & Sawing and Masonry Draftsperson. Masonry Draftsperson was one of the first NVQs the NSITG intended to launch, but is proving more difficult to put together than had been expected.
The Level 1 Masons Mate NVQ introduced last year is about to be scrapped, but not because of the QCF changes. It is simply that nobody in the industry has put anyone forward for it.
Companies asked for the qualification, but with no grants available for it employers have not been prepared to pay the £500-600 cost likely to be involved in getting an operative through the qualification. As there is a cost involved in keeping an NVQ live, if they are not used they are scrapped.
StoneTrain have 55 trainees on their books currently, including 24 Polish, Portuguese, Ukrainian and other nationals who did not take part in the exodus that accompanied the recession.
StoneTrain currently have two apprenticeship courses running with six trainees on each. The training has to include 20 days at off-site courses, with venues arranged as near as possible to where the apprentices work.
The apprentices also have supervised training on-site and David Priestman, who manages StoneTrain for the Stone Federation, and his son, Mark, who works with him, make on-site assessment visits. The ConstructionSkills Apprentices Officer visits the apprentices every 12 weeks.
The National Heritage Training Group (NHTG), meanwhile, has been awarded the largest single amount of funding of the 54 successful projects in the new £17million Heritage Lottery Fund 'Skills for the Future' programme.
NHTG has been allocated £932,000, which will be used to offer 60 traditional building craft skills placements in conjunction with English Heritage, The National Trust, ConstructionSkills and regional partners in England.
There will be a range of training – taster courses, Heritage Specialist Apprenticeship Programmes and mentoring – leading to recognised heritage skills qualifications.
Training and live, site-based work experience will be available for new entrants, career changers and those looking to develop existing mainstream construction skills into the specialist requirements of the conservation sector
Moulton masonry courses expand in conservation
The masonry courses at Moulton in Northamptonshire only started five years ago but already Craig Murphy, who developed them, has gained the college recognition as one of the country's leading stonemasonry training centres.
The fact was recognised by the Masons Livery Company this year, when it presented awards for the first time to students outside the City of London. The Awards recognise not just excellence in the work itself, but also a wider contribution the students have made to their courses and colleges.
Moulton were in distinguished company as a recipient of the Award – the other colleges that received them were the Building Crafts College in London, the City & Guilds of London Art School, Weymouth, York, and Bath.
Luke Tovey, 19, was Moulton's winner. He finished his course work two months ahead of schedule and got started straight away on his Level Three assignment for the coming year. "It's been an exceptional contribution from him," says his tutor.
Craig Murphy started the masonry courses at Moulton with an intake of seven students. He is expecting 100 to enrol for the coming year.
And the courses on offer will include the new Level 3 NVQ in conservation developed by the National Heritage Training Group as well as a Diploma equivalent for those who want the training but are not employed.
Craig has also been developing with the Higher Education part of the college a heritage foundation degree. At the moment, if masonry students want to progress they have to go on management courses, but this would provide an alternative.
That has been out to industry for comments. The fact that it has is, says Craig, one of the points that differentiates Moulton. "I'm always out in the industry – I'm not that long away from it myself."
Maintaining those ties, as well as the quality of the education, helps the college achieve a high success rate in finding jobs for its masonry students who enrol on the courses before working in the industry.
NAMM introduces City & Guilds
The National Association of Memorial Masons (NAMM) is now an Approved City & Guilds Centre offering, for the first time, nationally recognised City & Guilds (C&G) qualifications for memorial masons.
With the safe fixing of memorials paramount to cemetery operators, it was decided to create a NAMM C&G Certificate of Competence for the Fixing of Monolith & Lawn Type Memorials. This requires masons to demonstrate an ability to fix to the NAMM Code of Working Practice.
To back up the Ministry of Justice guidelines to local authorities on memorial testing, NAMM also gained C&G accreditation for its current qualification in this area, which is based entirely on meeting the requirements of the Ministry guidelines.
The qualification is now called the NAMM City & Guilds Certificate of Competence for the Safety, Inspection & Assessment of Memorials. It is already being widely accepted by burial authorities, says NAMM.
Currently, NAMM has 12 further qualifications that will be processed for accreditation over the next year or so. They will form the foundation against which, with the help of C&G, NAMM will structure its proposed Diploma in Memorial Masonry, a distinction long awaited by the trade to recognise the skills of professional memorial masons.
Ian Gostling, who has developed the training for NAMM, told NSS: "As the trade is primarily of a manual rather than academic nature we wished to avoid qualifications involving the widespread use of written examinations, preferring an on-the-job assessment process. We wanted to maintain control of our training and assessment process, at least for now. And we required flexibility – we have plans to expand our portfolio of qualifications rapidly. As a result, it was agreed that NAMM would opt for the 'Customer Awards' approach with NAMM headquarters becoming a City & Guilds Approved Centre.
"The standards are high and to achieve City & Guilds Approved Centre status is a long and thorough process. However, with the very close and professional support of the experienced staff at City & Guilds the objectives have been achieved and 18 experienced NAMM members have successfully completed C&G assessor training. They form the nucleus of NAMM assessment."
The aim is to establish an on-going and expanding programme of skills development through qualifications available to all memorial masons, not just NAMM members.
NAMM has also established a national Register of Qualified Memorial Fixers (RQMF). The prime purpose of the RQMF is to provide an on-line register (www.nammregister.org.uk) of those masons qualified to fix memorials safely according to the NAMM Code of Working Practice. The register is already being used by burial authorities as a reference tool when checking masons' credentials.
Innovative new courses at the National Stone Centre
Next month (September) a new 350m2 Derbyshire Eco Centre will be officially opening at the 50-acre National Stone Centre in Wirksworth, Derbyshire.
The curved building is impressive, with its limestone walls, sandstone dressings and grass roof, all of which it is hoped will help it achieve a BREEAM 'Excellent' rating.
The new building will enable the Stone centre to extend its range of courses. As well as masonry, carving, lettercutting and dry stone walling, innovatory courses in traditional street masonry, delving (small scale quarrying) and minerals planning are being introduced. More will follow. The existing buildings at the Stone Centre are also being improved and the permanent exhibition there is being updated.
www.nationalstonecentre.org.uk
Building Crafts College builds 'ruin' for conservation
As it is difficult to train conservation students in stonemasonry on an actual historic building, the Building Crafts College in Stratford, London, decided to build their own ruin for the students on their foundation degree in conservation course to practice on.
Nigel Gilkison, who heads the stonemasonry department at the college, gave the students the idea for building the ruin, but they then had to produce it, like all the major projects undertaken by students on the masonry course. The approach has given the masonry workshops its own gatehouse and archway at the entrance.
The students even have to split blocks of stone with plugs and feathers, although sawing it after it has been split is easier now the college has a new Gisbert CP50, supplied by D Zambelis earlier in the year. Once sawn, the masonry students work the stone by hand and fix it.
College Principal Len Conway said the £65,000 the new masonry saw cost represented quite a commitment to stonemasonry from the Carpenters Company, one of London's Livery Companies, who run the college, even though the Learning & Skills Council helped pay for it.
The idea for the ruin for conservation students came from Nigel when the conservation foundation course started two years ago. He then left the students to develop it. It incorporates a genuinely old window that has been in the masonry shop at the college for at least 20 years. Nigel knows: he can remember it being there when he was a student at the college, then in Great Titchfield Street.
The Building Crafts College moved to its present location nine years ago and Nigel returned to head the masonry department four years ago. Then the annual intake of students was 20. Now it is around 100.
On the conservation foundation course and the college's Advanced Diploma in Stonemasonry course, the work includes field studies abroad to see how stone has been used in architecture elsewhere. The Diploma students have spent four days in Italy visiting Florence and Carrara, taking in visits to a quarry and workshops, while the foundation degree students went to Venice.
There are now also 12 NVQs in masonry on offer from the college. The latest was added this year. It is a Level 4 NVQ in site management. Nigel Gilkison used to be the only assessor for masonry at the college, but now there are five of them because demand has grown so much.
QEST helps masons continue to improve their skills
Two more stonemasons received Queen Elizabeth Scholarships in June to help them continue their studies. James Kirby (pictured right) received £5,000 to complete a two year post graduate diploma in historic stone carving and Reuben Marsh received £8,750 to complete a Diploma course in Historic Stone Carving and develop his architectural and figurative stone carving. Both of them are studying at the City & Guilds of London Art School in Kennington.
The Queen Elizabeth Scholarship Trust (QEST) was endowed by the Royal Warrant Holders Association to advance education in modern and traditional crafts and trades in the UK. Scholarships of up to £15,000 are open to craftsmen and women of all ages. The Scholarships are awarded twice a year and, since 1991 when the Trust was established, nearly £1.5million has been given to 218 craftsmen and women aged between 17 and more than 50. At the latest awards the two sonemasons were among 10 craftspeople receiving a Scholarship.
Anyone can apply for a QEST Scholarship. You have to make a written case for receiving it and the Trustees, who award the money, look for well thought out projects that will contribute to the pool of talent in the UK and reflect the excellence of British craftsmanship as symbolised by the Royal Warrant of Appointment.
Jim Kirby, who is 41, trained as a banker stonemason and went on to work as a draughtsman and workshop foreman for a small restoration company. Recently he produced carvings of two of the staff at Westminster Abbey as part of the latest phase of restoration there. One of them is featured on a Channel 4 'Time Team' special about the Abbey.
The QEST scholarship will enable Jim to complete his two year post graduate diploma in historic stone carving and help him fulfil his earliest ambition to become a full time carver.
Reuben Marsh is 35 with an interest in art and architecture nurtured by his parents – his father a sculptor and his mother a painter. As a child, Reuben enjoyed accompanying his father in the sculpture workshops of Wells Cathedral Stonemasons. Reuben later joined the British Trust for Conservation Volunteers, undertaking environmental conservation as well as practising dry stone walling for the National Trust. He joined Westminster Stone Restoration in Bristol and credits them with encouraging him in his chosen profession, as he felt that it was from them that he learned most. With them, he worked on most aspects of masonry and building, including architectural carving, stone redressing, conservation and stone walling.