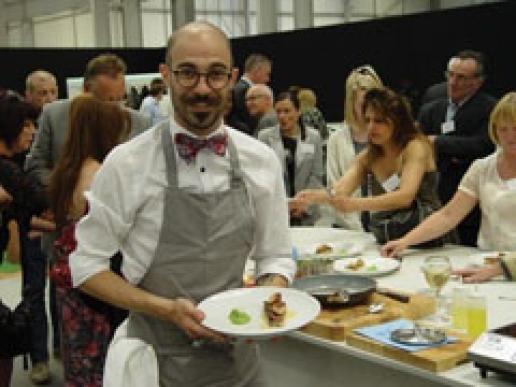 The market for natural and engineered stone is dividing. At one end is a commodity competing on price. At the other is a premium, branded product highly desirable to the wealthiest clients.
Brands are not the exclusive province of product manufacturers. They might apply to a product but they can apply equally well to companies further along the supply chain, such as wholesalers and retailers. After all, who does not know Harrods or Fortnum & Mason?
In the stone sector, the engineered quartz makers realised early on that to command a premium for their products and stop them becoming the commodities that many natural stones were, they needed to establish the brands in the minds of designers and the public and have put a lot of effort into doing that, signing up celebrities and putting advertising and PR into lifestyle magazines so that their message is continually reinforced.
Some have also tried to brand stone – Cosentino, which has been highly successful in branding its quartz under the Silestone name, also brands the natural stone it sells from its five UK depots under the name of Scalea. Although Cosentino is now a Spanish company, the family originated in Scalea, Italy – hence the name. Fearing quartz was on a slippery slope to commoditization, Cosentino has introduced a product in the next generation of engineered stone, the sintered slab called Dekton. Lately, Norwegian quarry company Lundhs has also been branding its Larvikite as Lundhs Antique, Lundhs Blue, Lundhs Emerald and Lundhs Royal, all in two finishes, polished and silk, and in 20 and 30mm thicknesses.
Some processors have also been particularly successful in creating their own brands – Lapicida and J Rotherham spring to mind.
Although clients and their designers like to think of themselves as imaginative, they tend to follow trends and when something keeps appearing in front of them – such as granite or quartz worktops – it influences their decisions. Otherwise there would not be trends.
Many people are particularly influenced by what their friends and neighbours are choosing and even when they do not have access to their neighbours' homes, 20% of householders now admit to being secret snoopers online, using property websites such as Zoopla and RightMove to look into other people's homes for their own decorating inspiration, according to research from bathroom specialist Heritage Bathrooms.
The company's survey also found that 41% of travellers head home from their summer holidays with their sights firmly set on home improvement inspired by the interiors they have seen during their overseas sojourns.
Interior designer Charlotte Conway even provides some tips on using hotel bathroom interior schemes effectively in your own home on her Bathroom Inspiration video on YouTube (youtu.be/G8-fFs6dN9Q).
Here and on the next few pages NSS looks at some of the moves in the stone sector that are setting the trends.
CR Laurence rolled out the red carpet for its customers when it opened the doors of its warehouse at Rochdale this month to launch five new top-of-the-range designs of the Caesarstone quartz it supplies exclusively in the UK.
The newcomers are: Statuario, Raw Concrete, Urban Safari, Symphony Grey and Vanilla Noir, which just about covers the range of what is currently most popular – a natural marble look and grey concrete.
Caesarstone has established itself at the discretionary purchase end of the market. Its Calacatta Nuvo is one of its most popular products and it costs £2,500 a slab. The sort of people who buy it have accepted they are going to spend £60,000 to £100,000 on the kitchen. If the worktops are £10,000 of that, so be it.
The new Statuario will be in the same sort of price bracket but CR Laurence and Caesarstone know it will also be one of the best sellers, especially in the main markets of London and the South East.
The UK is currently the biggest market in Europe for Caesarstone, says Ofir Aidelman, the International Sales Manager of the Israeli manufacturer of Caesarstone. "In Italy they talk only about price," he complains.
Between them, CR Laurence and Caesarstone have avoided the utility end of the market and created a brand at the designer end of 32 colours in the UK.
As Ofir said at the CR Laurence open day: "When we present products like those we are launching here today, we open people's minds to new ideas. It breaks the boundaries."
It was why the open day for designers and kitchen studios, as well as fabricators, was about more than just the five new colourways. There were swings designed by Canadian Philippe Malouin with Caesarstone flooring around them that had been unveiled at Milan's Fuori Salone. Tony Rodd, the charismatic runner-up in TV's Masterchef competition was giving cooking demonstrations. In the centre of the room was a 15m long table manufactured from 20 slabs of Caesarstone by one of CR Laurence's best customers, MBP. There was table tennis on tables made from Caesarstone and a new complementary range of sinks made from a material similar to Caesarstone and carrying the Caesarstone name. In the background, the music of professional songwriter and DJ Lazy Hammock played.
Steve Boocock, one of the Directors who made the decision to take on the distributorship of Caesarstone in the UK, says sales did not fall during the downturn and are now growing strongly again. He says the brand is worth three times more in the UK now than it was a decade ago.
One of the new Caesarstone colours, Vanilla Noir, is black with light vein marbling, which seems to go against current trends. But perhaps not.
Levantina, one of the biggest stone companies in the world with two warehouses in the UK, one in South Yorkshire to cover the North and one in Basingstoke for the South, says black has become a fashionable colour that creates distinguished, modern and daring settings.
Its exclusive Canfranc marble, a deep black tinged with delicate white veins and a dazzling shine does not go unnoticed.
UK company Lapicida also sees black as one of the biggest emerging trends for walls and floors.
Levantina's launch of Canfranc follows the introduction of a number of exotic granites at the Vitoria Stone Fair in Brazil in February. The star products on its stand were Lennon, extracted from the company's quarry in Goiás State in Brazil, and Cheyenne, its main new product for 2015.
Cheyenne has veining in shades of black and green that certainly would create a distinguished kitchen. Other exotic granites on show included Palomino, Ice White, Delicatus and Normandy, as well as the quartzites the company recently introduced to the market: Perla Venata, Victoria Falls, Ice Flake and Amarula.
Whether or not engineered quartz is becoming commodertized, it does not seem to have yet reached the height of its popularity. And stone wholesaler Granite Granite in Wickford, Essex, which has exclusivity in Quarella quartz, says there is a distinct differentiation in the minds of the end user between branded products and the cheaper end of the market. Quarella is at the branded end.
Granite Granite was successfully launched in Essex 15 years ago and is now set on establishing itself as a brand nationwide. To that end it will be opening a new depot in South Yorkshire in August. It will, of course, be headlining the Quarella quartz, which often gives it the introduction it needs to new customers, as well as emphasising the comprehensive range of granite and marble it has, so fabricators do not need to go anywhere else for the whole range of materials they need.
Granite Granite says Quarella accounts for about half its sales these days and the full range of 26 colours in the Quarella range will be maintained in stock at both the Essex and Yorkshire depots.
Quarella has always been supplied across the country but sales have been greatest in the South where the depot is based, which is what has prompted the decision to open the new depot in the North.
The expansion follows Granite Granite's most successful trading period ever in its financial year to April, with slab sales complemented by further growth in the project field, when it takes responsibility for supplying cut-to-size stone to a contractor on site.
Granite Granite supplies materials and nothing else, but can organise the processing of those materials and the supply of them directly to site. It has done so for both exterior cladding and interior fit-outs and it is a service of increasing interest to specialist contractors, especially now the market has picked up again and it is not as easy to find processors with time to carry out such work.
And even though last year was Granite Granite's best ever, all the signs are that this year would have been better still, even without a second depot. And as there will be a second depot, expectations are even higher.
To make sure the growth in demand does not diminish the service, investment is logistics is continuing and this month alone the company has added two more Hyab-equipped 12tonne Mercedes to its fleet.
Compac quartz is available not only from the company's own two depots but also from London stone wholesaler MGLW, which, in the 20 years or so since it was established by Joao Moutinho (joined shortly afterwards by his brother Rogerio) has established itself among many designers, architects and stone contractors in London as the first stop for stone because the company is good to deal with and provides reliable answers – even if, on occasions, those answers do not help it sell its considerable range of materials.
MGLW does not have a fancy showroom but people put a lot of faith in the company and the advice that comes from it, which, as brand strengths go, is not a bad one to have.
The latest collection from Compac is aimed at the affluent end of the market in the New York Worksurface Collection, inspired by America's New York loft culture, that explores an industrial urban aesthetic. The names give you a clue about them: Ice Concrete, Beige Concrete and Dark Concrete, which have a textured matt finish, and Beige Zement with what is called a Glacé finish, which is a particularly smooth matt.
The project that has resulted in Lapitec, a new generation of sintered engineered stone, began as long ago as 1989, according to Michele Ballarin, the Director of Sales & Marketing of the Italian manufacturer.
Speaking during a visit to the Marble & Granite Centre, the UK distributor of the material, Michele Ballarin told NSS that the aim had been to produce a product that would fill a niche.
Of course, there are other products on the market that are described as sintered stones – Cosentina's Dekton and Neolith by the Size among them. But Michele Ballarin says: "We just say they are different products."
Sintered stone makers like to emphasise that their materials are made entirely of natural minerals that are transformed into slabs using pressure and heat in an accelerated version of the processes that create natural stone. Most notably, they do not involve the resins that hold engineered quartz together.
Michele says Lapitec was always intended to be processed by stone companies and to avoid the material suffering any damage to its reputation by being badly worked or installed, processors that want to use it are required to become 'Approved' – and there are now more than 100 Approved Lapitec processors in the UK.
There are currently 12 colours of Lapitec in four finishes: Lux (polished), Satin (eggshell), Vesuvio (a fine textured tactile but smooth surface, similar to a Satinato finish on a fine grained granite) and Fossil (a coarser, textured finish similar to the 'split face' surface of a natural stone).
The 3.4m x 1.5m slabs come in 12, 20 and 30mm thicknesses, with the company having intentionally chosen the thicker gauges to distinguish the material from the more tile oriented porcelain products that are thinner. It is a high end product that the UK stone processors who have encompassed it regard as offering the same sort of opportunity for market expansion as quartz has given them over the past 20 years.
Michele Ballarin says: "When something is sold just on price you will always find something of the same nature that's cheaper. That's not the philosophy behind Lapitec."
Lapitec will be exhibited at the Marmomacc stone exhibition (30 September – 3 October) in Verona, Italy, for the first time this year, fully supported on its stand by the Marble & Granite Centre.
Although the Marble & Granite Centre is now established as the source of Lapitec in the UK, it is better known for its natural stones and says the big growth there currently is for light coloured marbles and natural quartzites, which has resulted in it stocking many more choices of white Carrara, Statuario and Arabescato marbles.
A half way house between marble and granite is Quartzite, with Taj Mahal and Bianca Eclipsia proving especially popular. And, of course, the current love of greys means the company now stocks Tundra Grey and Emperador Silver and is on the lookout for more new materials of this kind to offer.
Cosentino is one of the most brand conscious suppliers of stone (Scalea), quartz (Silestone) and sintered stone (Dekton) there is. But it is not only its own brands it wants recognised but also the brands of the studios that use its products.
So for the first time this year it has introduced an award scheme called Elite Studios to recognise the designs created from Cosentino's Dekton in the world of architecture and design.
The Cosentino Group will announce its first Elite Honours List of studios in the UK and Ireland on 24 September, when the 18 winners, along with their guests, will be treated to a lavish evening's celebrations at Raymond Blanc's two Michelin Star restaurant and hotel, Le Manoir aux Quat'Saisons, where they will also stay the night.
The event provides Cosentino with an opportunity to recognise studios that embrace the spirit of the Elite programme. This includes loyalty to the brand, unique Dekton installations and projects, promotions, sales and warranties, along with enthusiasm and a genuine commitment to Cosentino products, business methods and relationships with client managers.
Christophe Gontier, Managing Director for Cosentino UK and Ireland, says: "Our Elite Honours List is a great way to show our appreciation to our most supportive and loyal customers; studios that are committed to our brands, that strive for excellence and always go above and beyond what is expected of them." The plan is to make this an annual event that studios will go the extra mile in order to win.
On the product front, Cosentino has introduced a process of inkjet printing on Dekton that it introduced at the National Day of Spain during the Expo Milan this year. It was the idea of architecture studio b720 to print the entire tomato genome series of A, C, G, Ts on to 20mm Zenith colour Dekton slabs. If you want to see what it look like go to bit.ly/tomato-genome.