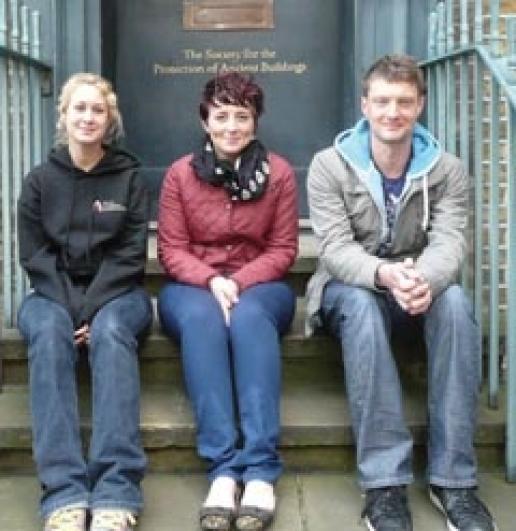 Two stonemasons and a bricklayer have been chosen as SPAB's 2012 William Morris Craft Fellows.
Since 1987 The Society for the Protection of Ancient Buildings (SPAB) has organised the unique training scheme, The William Morris Craft Fellowship, to foster a new generation of outstanding craftsmen and women with the knowledge and expertise to pass on the skills that are essential when working with the historic fabric of buildings. The scheme runs in parallel with SPAB's Scholarship for architectural and building professionals.
Stonemasons Samantha Peacock, who is on the left of the picture at the top, and Callum Plews join bricklayer Emily Hale on the six-month programme of visits to projects and workshops in all parts of the country, paid for by SPAB.
They will learn about traditional building techniques from skilled craftsmen and women who have already established their careers. You can follow their progress at SPAB's new dedicated blog: spabscholarsandfellows.wordpress.com.
The aim is for Fellows to gain broad, hands-on experience and knowledge to enable them to bring a strong awareness of craft diversity to their future roles. The Fellowship also equips them with the skills necessary to lead and manage historic building contracts, while deepening their understanding of the importance of gentle repair.
Craftsmen and women from any trade employed in the repair of historic buildings may apply for a William Morris Fellowship. Candidates must have completed their apprenticeships and be able to demonstrate a high degree of competence – they are usually in their 20s or 30s but older candidates are not excluded and some have been in their 50s.
You can find out more at www.spab.org.uk/education-training/fellowship