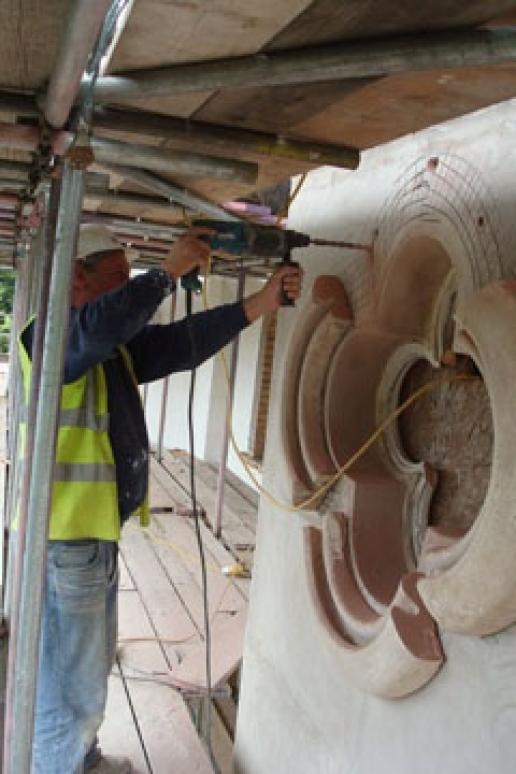 Repair of Old Buildings Course (October)
Historic Finished Masterclass (September)
Timber Repairs Masterclass (April)
From Rock to Roof: slate roofing masterclass (June)
Stitching Communities Together: Textile Workshop (June)
Britain's longest established conservation body, SPAB (Society for the Protection of Ancient Buildings), is again offering a variety of courses to provide information and first-hand practical experience for those working with older buildings, including architects, surveyors, engineers, builders and conservation officers.
The majority of courses are recognised by IHBC for CPD.
You can find details of the courses on the SPAB website, but if you want more details to help you assess whether a course fits your requirements email [email protected] or call 020 7456 0915.
The courses

Repair of Old Buildings Course
Date: 5-9 October 2015
Venue: St Andrew Holborn, London
Fee: £795
This popular short course has been delivered by the SPAB since the 1950s. Run over five days, it delivers an intensive programme of lectures and site visits, all underpinned by the SPAB practical philosophy of maintenance and repair. The SPAB has a small fund to allow it to award bursaries to individuals who might not otherwise be able to afford a place on the Repair Course. Includes one night accommodation (Wednesday), meals, transport and insurance during site visits only. The fee also includes one year individual membership to the SPAB.
Historic Finishes Masterclass
Date: 16 September 2015
Venue: Hampton Court Palace, Surrey
Fee: £175
Back by popular demand (for a second time this year!), this masterclass is delivered by experts in historic interiors and paint analysis. Delegates will be engaged in case studies and workshop activities to learn about traditional pigments and paint schemes, the craft of traditional wallpapers and how analysis of both mediums can reveal the history of repair and decorative hierarchy in historical buildings.
Timber Repairs Masterclass
Date: 28 April 2015
Venue: Tower of London, London
Fee: £175
Delegates will gain exclusive insight to two timber repair projects currently underway at the Tower of London – The White Tower staircase, involving a Norman inspired new build on the same footprint as the old, and the Queen's House - a 16th century rare, surviving timber-framed house identified for roof repairs. Presented by experts in the field of conservation, architecture and carpentry, delegates will share in their knowledge of this rich traditional craft through theory and practical demonstration.
From Rock to Roof: slate roofing masterclass
Date: 4 June 2015
Venue: Tibshelf, Derbyshire
Fee: £180
This one-day masterclass will provide a unique opportunity to learn about the process and practice of working with slate - from the quarry to the finished roof - and to gain hands-on experience guided by an expert tutor. This masterclass will be presented by Richard Jordan at his workshop at Tibshelf, Derbyshire. Richard is a highly experienced traditional roofing specialist and tutor, and is a Liveryman of the Worshipful Company of Tylers and Brickmaskers. This masterclass is suitable for home owners, architecture and conservation professionals, as well as roofers seeking to develop their skills and gain experience working with natural slate. No prior experience is necessary.
Stitching Communities Together Workshop - Huguenot Summer Festival 2015
Date: 13 June 2015
Venue: SPAB HQ, Spitalfields, London
Fee: £75
As part of the 2015 Huguenot Summer Festival, the SPAB will be hosting a textile workshop at the our headquarters in London - a house which dates from around 1740 and originally belonged to a Huguenot silk merchant. Led by textile artist Susie Vickery, you will be able to choose a Huguenot silk weaving design and resources pack of fabrics and information and create an appliquéd and embroidered panel to take home. The workshop will combine history and craft skills, with textile techniques and influences from India, to explore the history and culture of Spitalfields and parallels between the area's Huguenot and present-day communities.
Bespoke Training
If none of the courses above fit your training requirements, we may be able to organise tailored training for your organisation on the topic of your choice. You can find out more about this here or email [email protected].
For more information or to book a place on any of the courses described, contact the education department at [email protected] or 020 7456 0915.
To find out more about SPAB's services, courses and events for building professionals, go to www.spab.org.uk/builders-professionals.