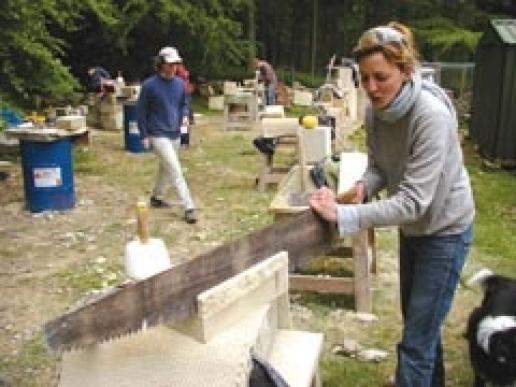 Stephen Davis is Chairman of the National Heritage Training Academy South West. Here he writes about this training initiative in the Cotswolds.
I visited the workshop at Gloucester Cathedral in 2006 and saw the extraordinary work being done there by Pascal Mychalysin's team carving new gargoyles. There was a young apprentice who had walked in off the street and said he was inspired by the Cathedral to want to train as a mason. Pascal explained that the young man had gone off to Weymouth College in Dorset for his classroom training before returning to his home city as an apprentice at the Cathedral.
As Chairman of Woodchester Mansion Trust, which has been providing on-site training to student masons since 1989, I was aware that our training was inspiring young masons but offering no formal accreditations.
It seemed to me then that there was every reason to try to bring a coherent programme of stonemasonry training as part of a spectrum of traditional skills tuition to the area.
Already we were in possession of startling facts about the depth of the shortages in traditional skills across the UK, and the National Heritage Training Group's report, Traditional Building Crafts Skills, of 2005 also highlighted the fact that the South West has the largest stock of listed buildings in the UK.
In 2005 we held a conference at Woodchester Mansion (www.onebigroom.org.uk) that was a catalyst for the movement to assemble new solutions to the traditional skills crisis.
The National Heritage Training Academy South West (NHTASW) has grown from the Cotswolds Heritage Academy and now has a remit for the South West region, where it is co-ordinating a growing partnership of education providers such as colleges and universities, employers, heritage sector stakeholders, and heritage sites such as Woodchester Mansion that can provide 'living classrooms' to help us grow the next generation of craftsmen and women.
With funding from ConstructionSkills and the Prince's Foundation for the Built Environment, the NHTASW also generates subscription income and grant support, and provides a cross-over for charitable sector funding to be allied with education sector cash.
Our start-up projects include a Construction Heritage Ambassadors Scheme, co-funded with English Heritage; an employer engagement programme to help shape a foundation degree in heritage, funded by Foundation Degrees Forward; a printed prospectus for schools, funded by Gloucestershire First; and most recently we won a £319,000 training funding bid in partnership with the Prince's Trust to deliver Get Into Heritage & Get Into Rural Skills training to young people over the next three years.
We have held strategic meetings with the Stone Federation and the Cathedrals Workshop Fellowship. We work with our colleagues in Scotland who have successfully rolled out the new Scottish Qualifications Authority (SQA) qualification in masonry.
Our aim is to see our further and higher education colleges across this region adding traditional building skills courses to the construction courses already available, designed to add versatility to the young person who will go into the mainstream and also attract those who are drawn to the traditional crafts and want to build careers of their own.
The weakness in vocational training that has become endemic in our educational system is such that we can no longer rely on worthy but isolated training initiatives and taster courses to turn things around. We need to demonstrate progression and sustainability to new trainees, which is why career incubation is at the heart of the programmes we are running and planning, alongside hands-on training.
Our founding partners include Cirencester's Royal Agricultural College, Stroud, Gloucestershire and Wiltshire Colleges, and recent joiners include the National Trust and the Dry Stone Walling Association. Employers involved include Symm Construction of Oxford (of which APS Masonry are part), Nimbus Conservation, Apex Architecture, AL King Roofing and many more who are supporting the foundation degree employer engagement programme. A number of them are stonemasons in business on their own account.
The Academy movement is gathering pace with the announcement of a National Heritage Training Academy Yorkshire & Humberside. A national network of such academies could provide a coherent grass-roots counterpart to the work of the National Heritage Training Group at the centre.
We must never lose focus of our core audience – the next generation – while at the same time not turning aside career changers, up-skillers, and home-owners and clients across the spectrum.
We seem to have won many arguments, not least about the importance to the UK economy of the heritage sector in construction, tourism and cultural life, but bringing an end to the skills crisis means nothing less than transforming the image of the craftsman in modern society. In this sense, we are resuming the mission of the Arts & Crafts Movement, so important to my Cotswolds region. But we are doing it in ever more challenging times. In partnership, we can make it happen.
Stephen Davis also chairs The Woodchester Mansion Trust (www.woodchestermansion.org.uk) and The Prince of Wales's Building Crafts Apprentices Scheme ( www.princes-foundation.org).
NHTASW's newsletter can be downloaded from the website below.