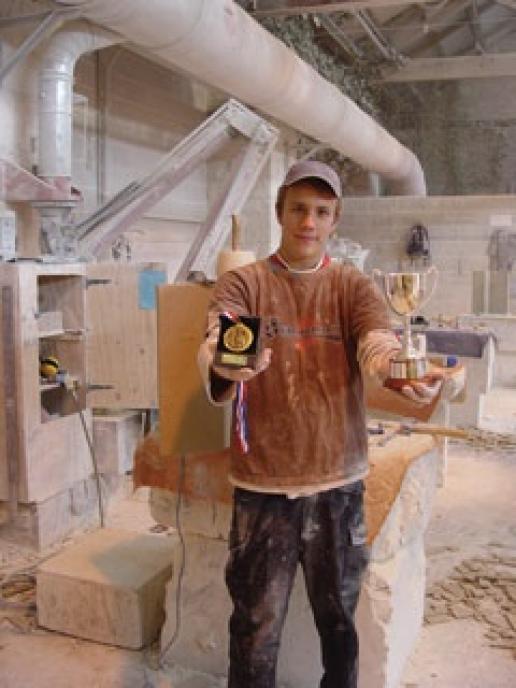 Skills : Training
Apprentices will be leaving colleges in the future with a Construction Diploma rather than a Construction Award. With the change should come a broader knowledge of the industry – which is just what companies wanted

The new intake of students at colleges this September will be the first to embark on the new Construction Diploma intended to give apprentices a broader and more rounded knowledge of their chosen craft and the industry in general.
The new qualification replaces the existing Intermediate and Advanced Construction Awards and will form the technical certificate requirement of the apprenticeship framework.
The change means that students will be able to study 'minor' related subjects alongside their main discipline. For example, a stonemasonry student might also study bricklaying, as there can be an element of bricklaying associated with site masonry work. Core aspects of planning and estimating will be included as well.
The changes have been implemented by ConstructionSkills as a result of discussions with industry in 2005 and are intended to improve the overall level of skill and knowledge of apprentices.
By and large the colleges seem to like the move. As Paul Maggs at Bath College says: "It's going back to more of a traditional idea – the sort of thing I had back in the '70s."
These Construction Diplomas, available for various construction skills, should not be confused with the Construction & Built Environment (C&BE) Diploma that is also being launched in September.
The C&BE Diploma is intended to give 14-19 year olds education that includes a work environment. With a month still to go, there were 276 construction firms signed up to offer work experience to the youngsters and the number was growing daily. The hope is this will make it easier for the industry to recruit more youngsters.
C&BE is one of five diplomas the government has introduced for this age group as mainly vocational alternatives to GCSEs and 'A' levels.
In spite of the economic downturn, especially in the housebuilding sector, the established stonemasonry colleges and courses (for contacts see page 30) are reporting a good level of enrolment this year.
Nigel Gilkison at the Building Crafts College in London says they expect to get about 40 stonemasonry students this year, roughly half and half between those who already have jobs in the industry and those who do not.
"That will be the best we have done for many, many years," says Nigel. He attributes that success to the power of promotion (the courses were advertised in this magazine earlier in the year and the college has held open days and approached industry directly).
As well as the various established stonemasonry courses, albeit with the new Diploma, developments at the Building Crafts College this year include evening classes in lettering and a multi-skills course in construction running one day a week for 10 weeks. Like several other colleges, they are also offering Train to Gain on-site assessment.
Stonemasonry at Weymouth, Dorset, is on the up again, as it demonstrated at the UK Masonry Skills Challenge contest at York College when its students took the individual Gold, Silver and Bronze medals and, therefore, the team prize – see the panel (right) about Gold Medal winner Nathan Smith.
The college had 12 stonemasonry students on its courses when the term ended in July, which Richard Mortimer says is more than there have ever previously been while he has worked there – and that's 26 years in October.
Stonemasonry is on the move in more than one sense at Weymouth because the courses there are just relocating to new workshops at the extension to Weymouth city being built on Prince Charles' land at Poundbury.
At Bath, another of the established stonemasonry colleges, the large number of students last term meant they were able to introduce a short carving course run by Lawrence Tyndall towards the end of the year that 14 of their 50 masonry students attended. The intention had been to limit the numbers to 12, but they allowed it to stretch to 14 because they did not want to disappoint anyone. As it was so popular, they plan to have some more in the coming terms.
Bath were still interviewing for next year's intake when NSS spoke to them but it was looking busy and they already had enough students for two stonemasonry courses again. Most start the full-time courses without jobs, says Paul Maggs, and secure jobs during the course because companies use the college as a source of recruitment.
The Building Conservation Masterclasses (BCMs) at West Dean College in Chichester, Sussex, have been attended by more than 1,000 students since John Ashurst transferred his famous 'ruinettes' to the college when English Heritage closed its training centre at Fort Brockhurst in 1997.
John died a few months ago, but the courses continue, providing a strong continuity of training based on the original concepts presented by English Heritage at Fort Brockhurst.
BCMs are delivered through a combination of lectures and practical workshops, with laboratory and site visit supplements where appropriate. The full scale ruinettes are still used. They replicate a ruined masonry structure of composite wall construction with a wide range of masonry types and conditions built into the design.
The Orton Trust in Rothwell, Northamptonshire, is another popular training establishment for short courses. It was founded in 1968 to encourage the traditional stonemasonry skills used in the restoration and conservation of historic buildings, lettering and carving.
It has always managed to attract leading practitioners of their crafts to present the courses, which are normally held over long weekends to reduce the amount of time those in full-time employment have to take away from the workplace.
The courses are subsidised by the Trust and for the three days that most of them last there is a charge of just £150 including a hot meal and plenty of tea and biscuits, but not accommodation (available at reasonable rates in local bed & breakfast establishments). There are discounts for small firms and the courses are approved for ConstructionSkills grants for levy payers.
Growing in stature for training is the Lichfield Centre for Master Crafts established in a unique business/education partnership by Tamworth & Lichfield College and conservation specialists Linford-Bridgeman in 2004. The college works with local schools to provide vocational education for pupils, but offers training to students of all ages across the country.
Another new resource is the National Heritage Training Academy South West that has grown out of the training that started with the saving of Woodchester Mansion, an extraordinary never-finished 17th century mansion.
The National Heritage Training Academy South West started as The Cotswolds Heritage Academy. It is co-ordinating a growing partnership of colleges and universities, employers, heritage sector stakeholders, and heritage sites like Woodchester Mansion that can provide 'living classrooms' to help grow the next generation of craftsmen and women.
With funding from Construct-ionSkills and the Prince's Founda-tion for the Built Environment, the NHTA SW also generates subscription income and grant support, and provides a crossover where charitable sector funding can be allied with education sector cash.
Their start-up projects include a Construction Heritage Ambassadors Scheme, co-funded with English Heritage, an employer engagement programme to help shape a foundation degree in heritage, funded by Foundation Degrees Forward, and a printed prospectus for schools, funded by Gloucestershire First.
Most recently they won a £319,000 training fund bid in partnership with the Prince's Trust to deliver Get Into Heritage and Get Into Rural Skills training to young people over the next three years.
They have had strategic meetings with the Stone Federation and the Cathedrals Workshop Fellowship and aim to see further and higher education colleges across the South West adding traditional building skills courses to the standard construction courses already available.
It is another example of how, at long last, those providing and facilitating training are coming together for the benefit of students and the industry.
The specialist contractor section of ConstructionSkills, as the Construction Industry Training Board has become, has re-focussed under the direction of Alistair Collin and it, with the National Stone Industry Training Group (NSITG) and the National Heritage Training Group (NHTG) that it has set up, are talking to the industry and providers of further education.
The establishment of the two training groups – for heritage in 2002 and for stone in 2004 – has been instrumental in bringing a level of co-ordination and co-operation to training in the sectors.
In 2006 Stone Federation GB, which played a major role in getting the NSITG off the ground, set up its own training organisation, Stone Train, to provide specialist training in areas identified by NSITG as needed and that the colleges do not service because of lack of numbers – such as a Facade Cleaning & Restoration NVQ at level two for experienced workers.
There are currently nearly 40 people on the course, which takes upwards of six months to complete and involves building up a portfolio of work with on-site assessment.
Stone Train also has its first six apprentices due to complete their two-year training in October and there are nine people on the Stone Masonry (Fixer Mason) NVQ level two course that is being assessed by Lee Saunders.
A design and drawing qualification is being developed by NSITG and Stone Train will deliver the training for it.
NSITG is also developing a two-year modern apprenticeship for stone fixing, including marble and granite fixing.
ConstructionSkills grants are available to levy-payers for Stone Train courses.
David Priestman, who manages both the NSITG and Stone Federation's Stone Train, told NSS: "Stone Train is developing all the time and there will be more courses as the industry requires them. It's complementary to the colleges. We don't compete with them.
"NSITG is always looking to fill any training gaps in the industry. Your readers can come to me and say we need a course in a particular area and we will look at it."
The NSITG goes beyond facilitating training, it is also involved in promoting stonemasonry as a career opportunity. This autumn it will be participating in skills festivals for secondary school pupils in Derby, Chesterfield and Bournemouth and in college careers workshops. Last year, through similar events, it reached 20,000 youngsters.
The NSITG has also lately been involved with the National Heritage Training Group regarding their proposals to develop an NVQ in heritage stone masonry.
The Stone industry wants the qualification to be an addition to stonemasonry, not an alternative. David Priestman says: "The big danger is we're reinventing the wheel. Stonemasons have worked in conservation for donkey's years. As far as I'm concerned a mason is a mason. If the heritage qualification is for someone who is already a mason and wants to go into heritage, that's fine. But to get someone to enter the industry and go to college as a heritage mason doesn't make sense to me."
The NHTG's new Traditional Building Craft Skills in England report that updates their 2005 report of the same name that identified heritage skills shortages was launched at The Prince of Wales's Foundation for the Built Environment in Charlotte Road, London, in April. The new report identifies some successes in reducing skills shortages and includes some aims for reducing them further.
One of the benefits to have grown from NHTG is the Traditional Building Skills Bursary Scheme that was established in 2006 in co-operation with English Heritage, the National Trust, Cadw and ConstructionSkills with a £900,000 contribution from the Heritage Lottery Fund towards its £1.2million funding.
It makes bursaries of up to £15,000 available to place people who want to further their traditional skills, including stonemasonry, on to live conservation projects.
The Scheme has facilitated some stonemasonry placements. Ian McMaster is undertaking a 12 month placement with Historic Property Restoration Ltd in Newcastle upon Tyne, working on projects such as Hadrian's Wall. Mathew Hodgkinson and Stephen Coupland have gained six-month stonemasonry and carving placements with York Minster Works Department. Stephen is now working at York Minster on the East Front and Mathew, having completed his placement earlier this year, is now employed as a full-time carver.
Three other trainees – Henry Skinner, Lizzie Bryant and Peter Parnell – are working on The White Tower project at the Tower of London alongside contractors Carrek Ltd.
Peter says: "This is such a great opportunity. I have worked in the construction industry for most of my adult life and I've been studying stone masonry and carving on an ad hoc basis for a few years now. This training opportunity gives me a real chance to make the step to seriously move into the built heritage sector, which is something I've been wanting to do. It's also a privilege to be able to work on such a prestigious building."
Placements will continue to be available at the White Tower and there are also one-month placements available at Hardwick Hall in Chesterfield, Derbyshire.
Clara Willett, who manages the Bursary Scheme, says she wants companies to come forward with placement opportunities and she wants people wishing to further their skills to apply for the bursaries available. However, a prerequisite is a level three NVQ.
A more established source of funding for masons who want to further their skills is the Queen Elizabeth Scholarship Trust (QEST).
QEST, the charitable arm of the Royal Warrant Holders Association, was established in 1990 with money contributed by its members to mark the 90th birthday of The Queen Mother and the 150th anniversary of the founding of the Association.
Anyone can apply for a scholarship. In the applications the Trustees look for well thought out projects that will contribute to the pool of talent in the UK and reflect the excellence of British craftsmanship.
A £3,000 scholarship has just been awarded to stone sculptor Andrian Melka, who has already carved works in traditional styles for clients including the Prince of Wales' Highgrove Estate, Selby Abbey and Doncaster Minster. The QEST money will allow him to continue his studies in Carrara, Italy.
And with an even longer pedigree is the Society for the Protection of Ancient Buildings (SPAB), which, through its William Morris Fellowship Scheme, gives £5,000 bursaries to enable craftspeople to visit conservation sites on three assignments of two months each. They also have the £7,500 Lethaby Scholarships for professionals. These last for nine months continuously.
All their training follows their philosophy that the best way to learn something is to go out and do it. As Rachel Bower, their training officer says, they are jamming 30 years experience into less than a year.
They are able to do so because a quarter of SPAB's 9,000 members are involved in historic building repair and maintenance, enabling them to find placings for the people on their Fellowships and Scholarships.
They select and arrange the visits for the people on the schemes and, says Rachel, they aim to give those on the schemes the chance to visit a wide range of buildings, from a privy in a back garden to a cathedral. n
Building Crafts College: www.thecarpenterscompany.co.uk
CITB-ConstructionSkills: www.cskills.org/grant
City of Bath College: www.cityofbathcoll.ac.uk
Edinburgh's Telford College: www.ed-coll.ac.uk
Glasgow Metropolitan College: www.glasgowmwt.ac.uk
Learn Direct: www.learndirect-advice.co.uk. Tel: 0800 100 900
Lichfield Centre for Master Crafts: www.tamworth.ac.uk
Moulton College: www.moulton.ac.uk
National Association of Memorial Masons: www.namm.org.uk
National Heritage Training Academy SW: www.nhtasw.org.uk
National Heritage Training Group: www.nhtg.org.uk
Stone Industry Training Group: www.stone-federationgb.org.uk
[email protected]
The Orton Trust: www.ortontrust.org.uk
Queen Elizabeth Scholarship Trust: www.qest.org.uk
Society for the Protection of Ancient Buildings: www.spab.org.uk
Scottish Lime Centre:www.scotlime.org
Building Skills Bursary Scheme: www.buildingbursaries.org.uk
West Dean College: www.westdean.org.uk
Weymouth College: www.weymouth.ac.uk/stonemasonry
York College: www.yorkcollege.ac.uk
Get your share of £170m

Employers can now apply for a slice of a record £170million of training grants available from CITB-ConstructionSkills.
And you can now claim grants for adult training courses and courses in sustainability and innovative methods of construction, as well as for traditional construction, health & safety or apprenticeship training.
The CITB-ConstructionSkills Grants Scheme is constantly reviewed and the process of getting a grant is currently being simplified even further.
Already, employers can access grant statements on-line and arrange visits from Company Development Advisors who will provide face-to-face guidance on training and the funding that is currently available for it.
Douglas Matthew, the Head of Finance at ConstructionSkills, said: "Smaller businesses lose thousands of pounds a year just through materials errors, skills shortages and on-site accidents – that's why training is a must for employers of any size."
A booklet summarising this year's grants is available, along with information on the benefits of training and the types of support on offer from ConstructionSkills.
Top student
Nathan Smith (pictured above), an apprentice with Portland stone company Stone Firms, has just finished three years of studying stonemasonry at Weymouth College. But he does not consider his education is over.
"In stonemasonry you're always learning something different," he says. It is one of the attractions of the craft to him. And, he says, he likes the fact that although you can be taught techniques you also have to find solutions for yourself because there is always something new with every job.
Nathan has been one of Weymouth College's and Stone Firms' star students and gained another Gold Medal (and a £300 cheque) for his work before the academic year came to an end in July, this time as winner of Stone Federation's UK Masonry Skills Challenge held at York.
Last year he won the Gold Medal (and a £300 cheque) in the SkillBuild competition, having been Bronze winner the year before. In gaining the Gold he also became the first masonry student to win the Frank Eaton Trophy (and £1,000) for being best among all the trades in the SkillBuild contest. And he was invited to join the British WorldSkills team in Korea last year as an observer as well as being short-listed to be in next year's WorldSkill's competition as a competitor.
Nathan entered the stone industry on the saw at Purbeck quarry company D&P Lovell but was fascinated by the work of the masons and persuaded them to teach him in his spare time. Lovells enrolled him at Weymouth College, where it was apparent he had a natural talent for stonemasonry – on his initial attempt to square up a block it actually was square first time.
One of the lecturers at Weymouth, Darren Lawrence, had a brother working at Stone Firms on Portland and Nathan moved to Stone Firms, where he had the opportunity to work on a much more varied range of masonry that allowed him to develop his skills in line with his college work.
The opportunity of going to Korea with the British World Skills team has given him an enthusiasm for seeing more of the world. Although he says he doesn't fancy working on the floor like the Koreans, he would eventually like to work somewhere such as Australia, where skills such as his are in short supply.
Nathan liked stonemasonry straight away. "I've always been good at practical work – I get bored quickly just sitting in an office. I don't really watch any TV. I like to be doing things."
Andrew Lelliott, his production supervisor at Stone Firms, says Nathan has a natural talent for stonemasonry. "I'm a stonemason – I've been in the trade 20 years – and I could spot straight away Nathan was good," he told NSS. "He's got a natural knack of understanding the stone. He's good at reading drawings and making moulds.
"You have to get your mason's eye and some people are better at it than others. Nathan can see what's straight. It's about reading the stone. Nathan can see the finished job before he's started."
Andrew has allowed his star apprentice to have the pick of his tools for the competitions. "He's making a blooming fortune from it – all those cheques he's getting."
But Andrew is also making sure Nathan does not get carried away with his success. "It's my job to keep him in check here and make sure he doesn't get too big headed."
Stone firms also have two trainees who will be starting their second years at Weymouth in September. And no doubt they will be attempting to knock Nathan off his pedestal.