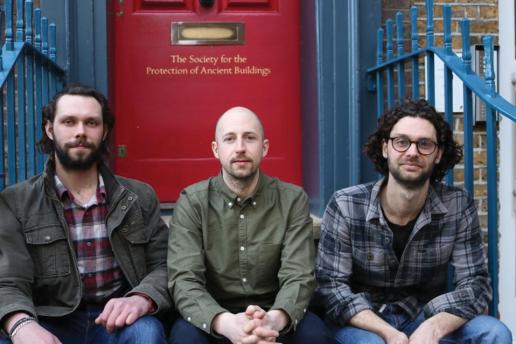 The 2018 SPAB Fellows (left to right): Naz Dmiuterko, Gary Holliday, Ross Buckley.
Two of the three people on the Society for the Protection of Ancient Buildings (SPAB) William Morris Craft Fellowship this year are stonemasons.
They are Naz Dmiuterko and Gary Holliday. They are joined by metalworker Ross Buckley.
Naz works for Cliveden Conservation, having achieved NVQ Level 3 and Advanced Stonemasonry from the Building Craft College. Gary works at Durham Cathedral, having achieved City & Guilds NVQ Level 3 in stonemasonry.
All three men have now begun their countrywide 'grand tour', during which they will get hands-on practical experience of various heritage conservation projects, learning from some of the highly skilled craftspeople in the industry.
The William Morris Fellowship runs in parallel with SPAB's Scholarship programme for architects and building professionals. This year's Fellows and Scholars began their six-month itinerary of site, workshop and studio visits at Westminster Abbey and Hampton Court Palace, also visiting some smaller projects in London.
Their tour will go on to include castles in the Inner Hebrides, timber-framing in Sussex and slating in Lincolnshire.
Craft building skills are in strong demand as there is a growing tendency for more sustainable and traditional methods of construction, as well as conservation. Yet these skills are under threat as fewer young people choose careers in these areas, making SPAB's Fellowship more relevant than ever.
Three or four Fellowships are awarded each year. If you would like to try for one of the places you can download the PDF at bit.ly/SPABfellows.