Market Intelligence
The latest news from the Stone Industry
Last year, Grants Group purchased Blockstone. Now it is offering to invest in other stone companies in need of support (not just quarries, either). CEO Lee O'Connor explains.London-based Grants...
Moves are being made by the aggregates and minerals side of quarrying to encourage more youngsters to embark on a career in primary extraction.The average age of workers in the industry now is about...
It's here. It's now. And you're part of it. It's the fourth industrial revolution. It gets bundled together as i4.0 because the term is snappy and sounds modern. The driver is...
Paul Scott worked in construction sales and marketing for more than 20 years before setting up Front Elevation in 2011. His company specialises in UK-wide project and product photography and...
Mark Priestman has more than 20 years' experience in the natural stone sector. He plays an active role in the development and delivery of training in this specialist environment. Along with his...
Robert Merry is an independent stone consultant and project manager who ran his own company for 17 years. He also acts as an expert witness.The demise of Pisani PLC and its exit from London is very...
If you want to keep your customers satisfied, don't be late.Being late is what most annoys customers, according to research carried out for Plentific.com, which aims to connect homeowners with...
The landscape of stone wholesaling changed in June when Pisani appointed Administrators. But as Pisani goes, others are rising. And even the Pisani name survives in Derbyshire as a new company called...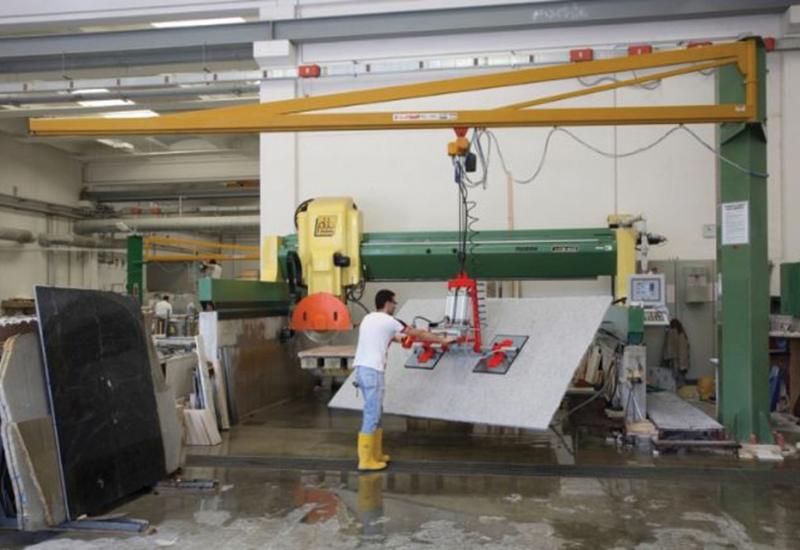 From Stone Equipment International, an Elephant floor mounted crane with a 5m boom, 270º turning capability, 1,000kg lift capacity, two speed electric rise and fall hoist supporting an Elephant vacuum lift. The crane is 4m high as standard but can be any height required to suit your factory.
Small investments that improve the flow of materials into, through and out of your premises can improve your productivity, staff retention, health & safety record and reputation. And that shows...
The stock at Pisani's Feltham warehouse near Heathrow airport is being sold by the Administrators appointed by the company on 8 June. The sale involves around 700 slabs of marble, granite,...
A funeral service was held for stone carver and conservator John Green at All Saints Church in Sproughton, near Ipswich, close to where he lived and worked, on 26 July.Always a keen motorcyclist,...
Production by UK manufacturers in the three months to July grew at its fastest rate since January 1995, according to the latest quarterly Industrial Trends Survey from the CBI.The survey also found...
There are some fun floors in the five-star Kaya Hotel, Cyprus, in a variety of stones, including Carrara marble, Volukas white, Arabescato and Nero Marquina. They were designed, laid out and supplied...
Archie Stoke Faiers has been presented with a new set of tools to take with him to Abu Dhabi in October when he represents British stonemasonry at WorldSkills, the world's biggest skills...
The famous diplodocus dinosaur fossil in Hintze Hall at the Natural History Museum in London has been replaced by the skeleton of a Blue Whale (which is bigger than the dinosaur was).'Dippy...
Pages