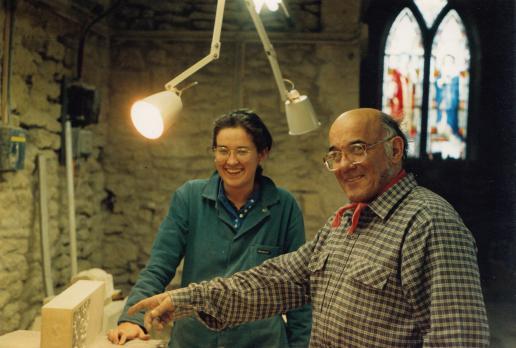 John Green teaching at the Orton Trust in the early 1990s. His student is Antonia Hockton, now a celebrated sculptor in her own right.
A funeral service was held for stone carver and conservator John Green at All Saints Church in Sproughton, near Ipswich, close to where he lived and worked, on 26 July.
Always a keen motorcyclist, John's hurse was a Harley Davidson motorbike with a coffin-carrying sidecar.
John was one of the people who established the Orton Trust in 1968, the training centre in Northamptonshire famous for its long weekend courses for stone workers. He taught carving and lettering at Orton Trust until 2004 and there were many of his former pupils among those at the funeral. Paul Bruce, a student who became a friend, gave a valediction. Another student who had become a friend, Graham Jay, will be cutting the inscription on his tombestone. John wanted it to have his name, dates of birth and death, and the simple explanation: Sculptur, Letter cutter, Teacher. The intention is to add it to the reverse of a memorial he made to mark the grave of his wife.
John taught some of the carvers, lettercutters, masons and conservators who have gone on to become among the most celebrated exponents of their crafts.
He was born in 1932 and lived much of his life where he was born, in Washbrook, Suffolk. A Master Mason, he attended St Joseph's College, Ipswich, and served a five year apprenticeship with a stonemason before studying for his design diploma in sculpture at Ipswich School of Art 1951-1954. He gained a first-class Diploma and a Silver Medal. He went on to study at the Royal College of Art 1954-1957, achieving a first-class Diploma for stone carving and a Silver Medal for lettercutting.
He assisted Jacob Epstein 1955-1959 and as well as being one of the founders of the Orton Trust, taught part-time at Ipswich School of Art 1957-1971 and again 1984-1988. He was Senior Tutor at Orton Trust from 1969 until 2004 and Director of Monument Conservation at Croydon College of Art & Design from 1979.
His largest sculpture commissions included works for churches at Bushey, Poole, Welwyn Garden City, Kuching Cathedral in Sarawak, Malaysia, Ipswich Civic Centre and Witham Shopping Centre. He had a solo exhibition at John Whibley Gallery in 1971 and frequently exhibited at Chappel Galleries, Essex.
He leaves a daughter, Samantha.
At the funeral service a eulogy to John Green was presented by Paul Bruce, once a student of John and always a friend. He kindly gave us permission to reproduce it. It follows.
In 1958 when I was a schoolboy in Ipswich I remember seeing an enormous stone figure emerging into the sky at what was then Saunders stonemasons' yard on Hadleigh Road, where Sainsbury's supermarket now stands.
I was so intrigued by this work of art I regularly cycled there to look at it after school, looking across Yarmouth Road and the River Gipping at this incredible sculpture taking shape.
I often thought to myself that I would give anything to meet the man responsible for creating this wonderful figure of Christ.
Some years later when I was a student at the Ipswich School of Art, in my second year, John was appointed to the staff to assist Bernard Reynolds in the sculpture department at the old annexe in St George's Street. He remained on the staff for 13 years, teaching his students how to use tools in the way he had been taught by his father – and you were not popular if you didn't conform.
Not only did I get to meet my schoolboy hero but John also became my tutor and a lifelong friend.
The 15-foot figure of Christ carved from 10 pieces of Portland stone was commissioned for a church in Bushey, Hertfordshire. This was some Herculean task. I'm sure any of the Renaissance sculptors would have been happy to have put their name to it.
During my time as a student, John secured a commission for a church in Sarawak, Borneo. Stone was too heavy for logistical reasons, wood was not suitable because of the humid climate, so John decided to model the figures in clay and cast them in glass fibre. This was much easier for transportation and to withstand the conditions in Borneo. This, of course, was when glass fibre was in its infancy but this didn't deter John. He cracked the new medium and, as usual, made a wonderful job of it. I was privileged to assist John with these sculptures, digging out the clay ready for casting these life-sized figures. Although a little laborious, I remember thinking it was somewhat better than doing a paper round.
During the mid 1950s, when John was studying at the Royal College of Art, he met Sir Jacob Epstein, one of the most celebrated sculptors of the 20th century. John assisted Sir Jacob in 1956 on a large carving for the Trade Union Congress building in London as a memorial depicting trade unionists killed in both of the world wars.
This sculpture was carved in Nebrasina stone. John always claimed that this was the hardest piece of stone he had ever work with. As it is not appropriate for me to swear in Church, those of you who knew John might well imagine him introducing a few different words as well as 'hard' to describe this piece of stone.
On a dark, cold November day John took me and some fellow students for afternoon tea with Lady Epstein, who was then living at Hyde Park Gate next door to Sir Winston Churchill. John had restored a bust for Lady Epstein and was returning it for an exhibition that was being put in place at the Tate Gallery following Sir Jacobs' death.
John carved Sir Jacobs' memorial headstone.
I recall Lady Epstein taking us into the basement to show us about 100 pieces of sculpture by the great master. At the time, as wild art students, did any of us appreciate this visit enough? However, as one grows older and becomes more and more interested in the history of art I certainly appreciate this visit and look on it as a most memorable, treasured and cherished occasion and will do so for the rest of my life. (Thanks mate.)
Sculpture, as far as John was concerned, had nothing to do with making vague hanging objects stuck together with Sellotape (just as well, John, you didn't attend my last exhibition… only joking.)
Following further commissions John also worked on some of our great cathedrals, including Lincoln. His knowledge of stone was unbelievable and he continued to carry out many public and private commissions as well as gaining a national reputation as a conservator and restorer of ecclesiastical sculpture and monuments.
He took a group of us students to the Clipsham quarry in Lincolnshire and explained in great detail how the stone was being quarried and what to look out for in each piece of stone. Some 25 years later I went with John to the Ancaster quarry to select some stone for a course he was taking at the Orton Trust. The courses are held in a redundant church in Northamptonshire, set up for the stone-carving courses that John took for 39 years. All the quarrymen knew John. And he knew all of them by their Christian names. He was highly respected.
A few days ago I spoke with John Tiranti, one time owner of Alex Tiranti, the leading suppliers of sculpture materials and tools. John Tiranti couldn't speak highly enough of John's craftsmanship and felt John had contributed an awful lot to the art of stone carving. We discussed the polyurethane mallet that was designed to move away from lignum vitae to enable faster production of the mallet. John was passionate about the weight and balance of this mallet but this only indicates the man's zest for his craft and attention given to the finest detail.
A fellow student at Ipswich, John Chipperfield, and I were discussing our memories of John. 'Chip' remembered John giving a lecture on Clipsham stone. On one slide a pair of glasses appeared on the stone face.  "There are those b……. glasses that I lost 10 years ago!" Again, words were introduced to the lecture very similar of the description of Nebrisina stone. He was as mad as his students, that's why we all loved him.
John was always ready to offer anyone help and assistance. Nothing was ever too much trouble, however busy he may have been.
A few years ago I co-wrote a book on the History of the art of Ipswich entitled 'High Street Heyday – Memories of the Ipswich School of Art'.
This is the final paragraph I wrote under 'biographies': "Over the years, John became a great asset to the sculpture department, especially as he had a tremendous and unbelievable knowledge of stone. His ability to carve was outstanding and it was a great privilege and pleasure for any student to have studied under him."
As we all know, he was a humorous and wonderful person and a truly talented craftsman. He would tell people (and I quote) "If I cut myself I would bleed stone dust."
You were a one-off, John, and we shall all miss you. May God bless you and may you rest in peace.
A sad loss to the stone industry. A man admired by so many, a truly talented craftsman, who touched the lives of so many. There will never be another John Green.