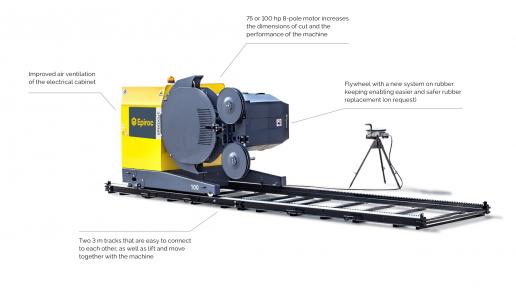 The SpeedCut 100 wire saw from Epiroc, with a wire at speeds of 45m per second, is on show this week (26-28 June) at the Hillhead heavy plant exhibition and demonstration in Derbyshire.
Making its debut at the Hillhead heavy equipment exhibition and demonstration in Derbyshire this week (26-28 June) is the Epiroc SpeedCut 100 wire saw, which can cut dimensional stone blocks from the face at wire speeds of up to 45metres per second.
The Epiroc SpeedCut 100 prioritises production speed and safety and can be seen on the Epiroc stand (M3) at the exhibition. The unique wire tensioning system is what makes it possible to combine the high cutting speed with low wire consumption using load cell techniques.
The wire speed of 45m/s can bring significant benefits to dimensional stone quarries. SpeedCut creates a smooth face on the block for easy processing. It cuts vertically and horizontally, including close to ground level.  The main flywheel can be rotated through 3200 degrees, making parallel cuts at a maximum distance of 2m without the need for repositioning.
The combination of the 8-pole energy saving inverter motor and the software developed by SpeedCut is key to the high performance. The motor provides the necessary torque to adapt the one metre flywheel with high surface contact, particularly when starting the cut.
Running water dust suppression on the cutting line greatly improves the working conditions for the operator. 
Epiroc UK & Ireland is also showing its hydraulic attachment demolition tools developed and supplied by factories in Germany and Sweden, including hydraulic breakers from the SB range right up to the HB 10000, the largest serial hydraulic breaker in the world.