Latest News
The latest news from the Stone Industry
Wishing everyone a most enjoyable winter break and looking forward to seeing you all at the Natural Stone Show and Hard Surfaces exhibition at ExCeL London, 30 April-2 May 2019.Eric Bignell,...

The House of Lords will today (Wednesday, 12 December) debate the Science & Technology Committee's report Off-site manufacture for construction: building for change, which says offsite...
The Health & Safety Executive is considering charging for all contact it has with industry.In 2012, faced with swingeing Government cuts, the Health & Safety Executive (HSE) introduced fees...
The statistics are grim: two construction workers take their own life on average every single day. Stress, anxiety and depression account for a fifth of all work-related illness, especially among...
The Natural Stone Award trophies were made in Kentish Ragstone from Gallagher's Quarry near Maidstone in Kent. There was a record number of entries in the Natural Stone Awards this year,...
CITB is looking for help to ensure the right courses are available for training stonemasons.As reported from the Natural Stone Industry Training Group (NSITG) annual meeting (read more...), CITB is...
There is a sense of déjà vu about it, but MPs of Parliament's Business, Energy & Industrial Strategy Committee are calling for maximum 30-day payment terms to be made law.A report from the...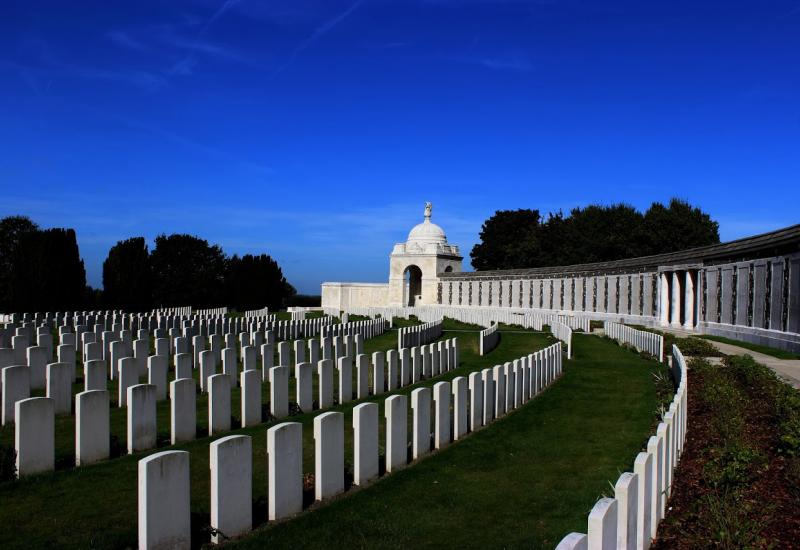 The Tyne Cot cemetery in Belgium where 3,605 British and Commonwealth soldiers are buried, each grave marked by a Portland limestone headstone without favour for rank or social position. Find out more by visiting the Commonwealth War Graves Commission's new online exhibition at https://shapingoursorrow.cwgc.org/

All photographs courtesy of the CWGC.
The four years of World War I centenary commemorations came to an end on 11 November with Armistice Day services at war memorials up and down the country as well as at the Cenotaph in London. But...
IDM Properties has renovated and restored the landmark Art Deco Hoover building in London, creating 66 luxury apartments with Hi-Macs solid surfaces.The Hoover Building on Western Avenue was listed...
Stone and tile specialist Lapicida has helped out its local under-10s football team by sponsoring their kit. The Knaresborough-based design-led company's name will now appear on the shirts...
In order for CNC machines to cut accurately and efficiently they need to have the precise dimensions of the tools they are using.Now they can - and quickly - thanks to the ClearCut Tool Setter, the...
Neolith has opened a showroom in the Business Design Centre in Islington, London, strategically placed to reach the capital's architectural and design community. The sintered stone company...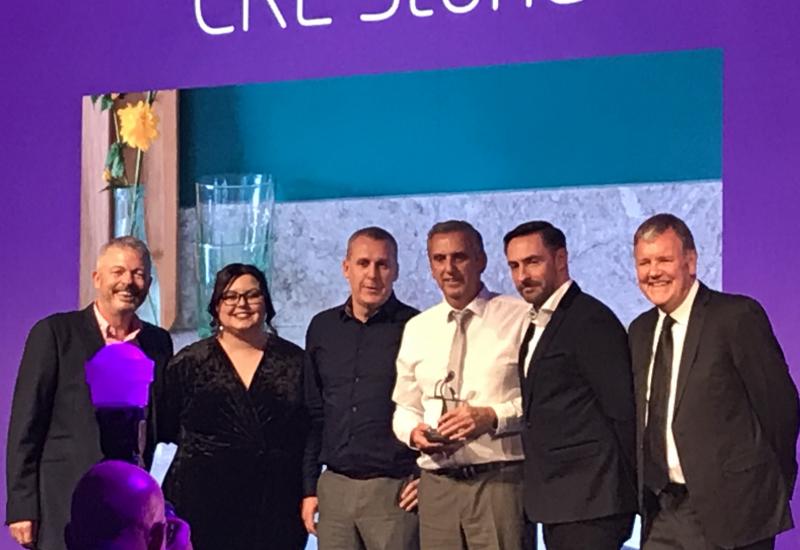 CRL Stone Sales Director Dave Beckett collecting the Best Surface Award for the Renaissance Collection from CRL Quartz at the EK&B Business Awards. In the picture are (left to right): Darren Summerfield (EK&B Business publisher); Leigh-Anne Roberts (EK&B Business Editor); David Inwood (Sales Manager, CR Laurence Of Europe Ltd); David Beckett (Sales Director, CR Laurence); Steve Tough (Commercial Sales Director, Masterclass Kitchens, sponsors of the Award); sports commentator Clive Tyldesley, who was the guest host.
Topping off another successful year, CRL Stone was the proud recipient of the Best Surface accolade at the EK&B Business Awards presented in the Porter Tun room at The Brewery in the City of...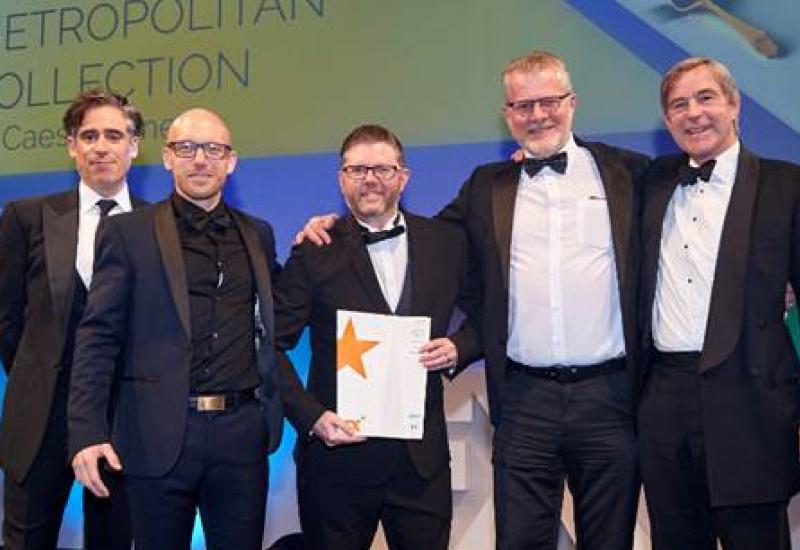 Caesarstone collects the FX Award 2018 for Surfaces. Pictured (left to right) are Comedian Stephan Mangan; Ian Clark, Commercial Specification Manager Caesarstone UK; Steve Gibbs, Commercial Manager Architects & Designers Caesarstone UK; Gareth Lowden, Commercial Manager Housebuilders & Developers Caesarstone UK; Christopher Newton, Director Surface Design Show (sponsors of the Award).
Caesarstone, the manufacturer of quartz surfaces, enjoyed a victory at the FX International Interiors Design Awards, winning the Surfaces category.The Award went to Caesarstone's Metropolitan...
Tariffs of up to 178.45% imposed by America on Chinese quartz imports (read more about that here) seem to be taking their toll. In September, imports were 30% down on their August all-time high of 1,...
Pages