Latest News
The latest news from the Stone Industry
The Office for National Statistics (ONS) has come up with some figures on the impact of labour from overseas on the construction industry in the UK. It says that 35% of workers in London come from...
Contractor Balfour Beatty Utility Solutions has been fined £500,000 with costs of £195,000 for exposing workers to Hand-Arm Vibration Syndrome (HAVS) over a nine-year period and failing...
The more you look, the more you see at 'on form', an exquisite exhibition of sculpture, mostly for the garden and all in stone, at Asthall Manor in Burford, Oxfordshire.Even objects that do...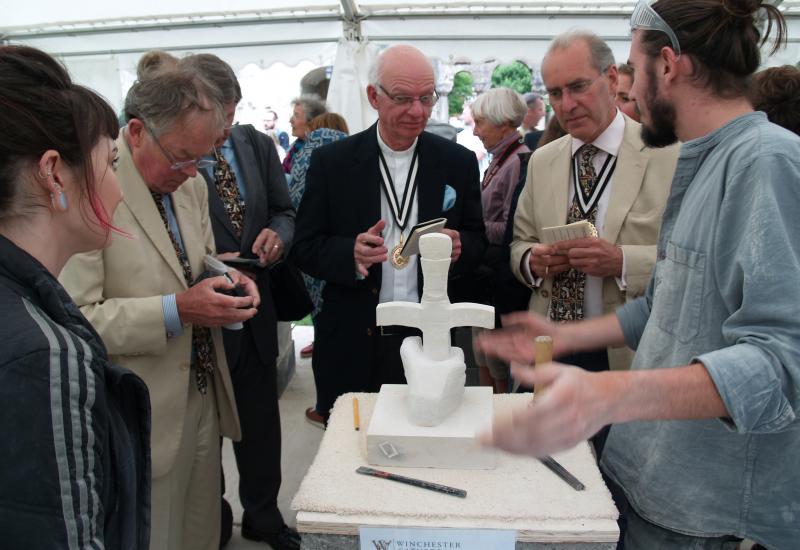 Judging in progress during the Winchester Cathedral Stone Festival on 17 June. The judges were led by Andrew Bowles, Master of the Worshipful Company of Masons that provided prizes for first, second and third place works. The other judges were Adrian Munns, Administrator of the Cathedral Fellowship, John Crook, Winchester Cathedral Archaeologist, and Cannon Nick Fennemore, the Cathedral Chaplain.
The second of England's stone festivals in 2018 was held at Winchester Cathedral, 15-17 June. The theme was Kings & Scribes, which gave the masons and carvers plenty of scope to stretch their...
Rapidly growing hard landscaping product supplier Talasey Group (previously Natural Paving) has appointed Chris Whitlock as its new Managing Director. The company founder, Mark Wall, who was the MD,...
Everyone involved in last motnh's (May) SkillBuild competition in Bath, run by Stone Federation Great Britain in conjunction with CITB, had been sworn to secrecy about the result until the...
International quartz brand Cambria has helped Granite Granite continue its expansion as a major national supplier of stone to the UK processing market.All the internal walls of the offices of stone...
Johnston Quarry Group has become a major supplier of Bath Stone following its purchase of The Bath Stone Group and Hanson Bath & Portland last year. Added to its existing reserves of other...
In the past two years, Bloom Stones London has grown by 50% a year, establishing its name not just in London, but as a national supplier of a range of top quality natural and engineered stone.Bloom...
Taking action to get paid is getting easier thanks to a new online service from HM Courts & Tribunals Service (HMCTS). It can be used to start a claim against anyone in England and Wales and...
British stonemasons and carvers Alex Wenham and Mark McDonnell have once again taken top honours at the European Stone Festival, held this year at the Parc of Rohan Palace in Saverne, France, 25-27...
The City & Guilds of London Art School in Kennington Park Road, London, is the country's best known centre of excellence for teaching stone and wood carving. This year, for the third time...
Anton Matthews, who makes the Stone-Safe memorial fixing system, here responds to a comment by David Francis in his 'Grave Concerns' column in Natural Stone Specialst magazine, May 2018 issue...
Figures just published by the Land Registry show house prices in London fell in March for the first time since the 2009 crash. Prices in the UK as a whole increased 4.2% but in London they fell...
Dry stone wallers from across the UK (and even further afield) gathered in a field at Kirkby Lonsdale in Cumbria on Sunday (20 May) to compete with each other for the honours in a competition to mark...
Pages