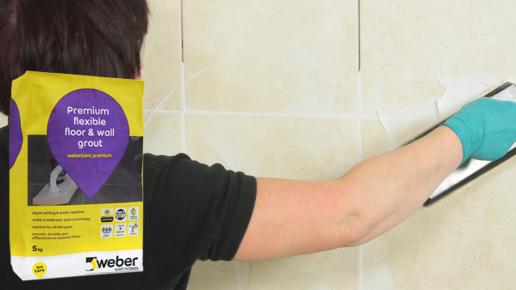 A new premium grout for interiors and exteriors from Saint-Gobain Weber.
Saint-Gobain Weber has launched a premium tile fixing grout called Weberjoint Premium that it says gives a high quality finish with long lasting performance.
It is scratch-resistant, water repellant, extra-flexible and can be used for interior and exterior tiling on to walls and floors, including areas where some movement or vibration is expected.
Weberjoint Premium is suitable for all types of tiles (ceramic, porcelain, mosaic, quarry, natural stone, terrazzo and terracotta). It can even be used for wooden floors and is recommended for use with underfloor heating or warming.
It  includes Weber's new Pure Clean anti-stain technology that reduces the appearance of patchiness and greatly improves resistance to staining and discolouration, as well as Mould Stop to give it lasting protection from mould growth.
Weber says it has introduced this new cement-based grout in response to what its customers said they wanted.
It is easy to apply and suitable for joint widths of 1-20mm. It achieves a smooth, durable and efflorescence-resistant finish. It is available in a range of 18 colours (with matching silicones) in 5kg sacks. If you are in the Weber Reward Points scheme you will earn 200 points for each sack bought (if you are not in the scheme you might like to look at www.loveweber.co.uk).
For architects, specifiers and professional applicators, Weber has introduction WeberSpec, an online tool that allows the creation of technically accurate tiling specifications. Check it out at www.weberspec.co.uk. A full M40 specification to NBS standards is automatically generated, including all necessary components and ancillaries.
Weber also has a team of experienced technical advisors available to provide advice both at the specification stage and during application. Detailed specifications can be provided for specific projects while site visits and on-site support can be arranged. 
For more information about this product and for technical support, including award winning training courses, contact Saint-Gobain Weber.