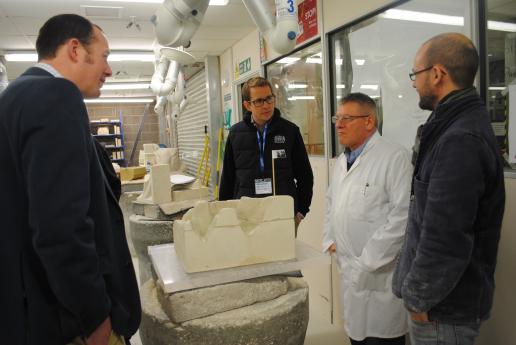 Simon (left) and James Lovell with Paul Maggs (in the white coat), who lectures full-time students at Bath, and Sam Flintham (on the right) the love2learn tutor during the selection of four of the student's carvings to go to the Natural Stone Show at ExCeL London 25-27 April.
 
Lovell Stone Group, the quarry and mining company that extracts Purbeck and Hartham Park Bath limestones (among others), has been working with Bath College ahead of the Natural Stone Show, supporting a competition for the college's masonry students.
Lovell has supplied the Hartham Park Bath stone given to the students for the competition. The students then have to carve something they feel best represents the City of Bath.
In March, Lovell chose four of the sculptures to display on the company's stand at the Natural Stone Show in ExCeL London 25-27 April. Visitors to the stand will be encouraged to vote for their favourite. The winner will be announced at the college after the Show.
Visitors to the Forest of Dean Stone Firms' stand will also be greeted by a sculpture – created from layers of Forest of Dean Pennant sandstone, highlighting the naturally occurring variations in the colour tones of the stone.
It will be one of the features on the stand to demonstrate the possibilities available from Forest of Dean Stone Firms and its commercial brand, Forest Pennant, whether it is used for horizontal or vertical surfaces, with natural or precise finishes, in modern or traditional styles.
As well as the sculpture, there will be a Pennant sandstone table to provide an informal meeting point while showcasing the skill, technology and precision of the stoneworking skills available from Forest of Dean Stone Firms.
The stand has been designed to create a networking space, with the stone company encouraging visitors to enjoy a complimentary coffee while they are there. The company's team will be on-hand to discuss visitors' requirements and advise on the use and specification of its stone. Among them will be Kirk Imm, as he steps into the role of Forest Pennant sales manager.
Forest Pennant is one of the sponsors of the Architects' and Designers' Day on Tuesday 25 April. Architects and designers taking part will receive a limited-edition reprint of the United Stone Firms book and a Pennant coaster.
The Gloucestershire-based business will once again be sharing stand space with Portland stone company Albion Stone. The partnership by these two leading UK stone suppliers has proved highly beneficial to show visitors in the UK and abroad wishing to discuss material and product options.