Marmo+Mac returns to Verona with Covid security
Marmo+Mac, the big international Italian stone exhibition, was back in the fairground in Verona 29 September–2 October after being online only in the face of the coronavirus pandemic last year.
It wasn't quite up to its pre-pandemic size, although the organisers say there were more than 30,000 visitors, nearly half from 120 countries outside Italy. They came to see 756 exhibitors, 329 from 39 countries other than Italy. The online event last year attracted 210 exhibitors and some 5,000 visitors. For comparison, in 2019 Marmo+Mac saw nearly 70,000 visitors, 62% from 154 countries outside Italy. They came to see 1,650 exhibitors from 62 countries, including Italy's own extensive contribution.
Some people from the UK visited this year, although others stayed away. Carl Sharkey's LPE Group, which sells mostly American products into the European mainland markets as well as to the UK, exhibited with its largest ever stand, on which it showed for the first time three of the American Baca robots it now sells, as well as its other products.
Carl says he was approached by a number of companies who wanted to be agents for the Bacas in European countries and he picked up more agents for the Laser Products digital templaters (again American) he represents in Europe and the UK.
He says the show lived up to his expectation of having fewer visitors but those who went being more serious about making a purchase. He believes sales at the show itself exceeded the cost of the stand, "which gives you confidence it was worth being there", and, of course, there are leads to follow up afterwards. He says he only saw about 10 people from the UK but has sold an Italian Comandulli edge polisher, for which he is agent in the UK.
Most of the machinery companies that exhibit at the show annually were there. Some (like Breton and Thibaut) had downsized their stands while others (notably Intermac, which usually has one of the biggest stands, showing Donatoni bridge saws and Montressor edge polishers as well as Intermac CNCs and waterjets) was even bigger.
Not all the UK agents who normally support the Italian manufacturers at Marmo+Mac were there this time, although the exhibition organisers had made it easier for those travelling by having a Covid testing centre on-site at the exhibition, with tests costing €15 a time - necessary for those returning to the UK and other countries.
Covid security included temperatures of visitors being taken at the entrance to the show, with anyone over 37.5ºC not being allowed in. There was also video surveillance while 'Covid police', clearly identifiable by their uniforms, made sure people kept their masks on.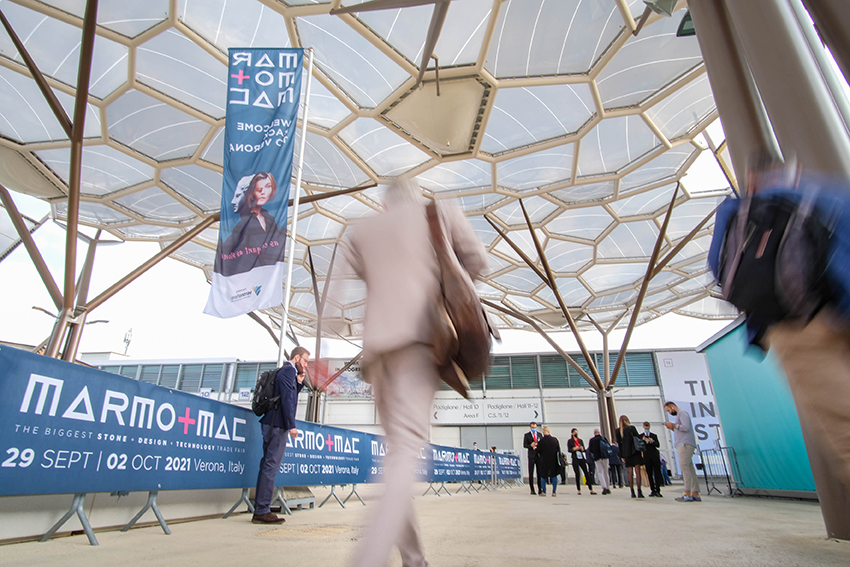 Maurizio Danese, President of Veronafiere, said at the end of the four-day event: "This edition of Marmomac overcame a challenge whose outcome was far from obvious: maintain the high profile of internationality and satisfaction of operators that has always characterised the event. We can draw two considerations from this: first, that the show has an appeal for the stone sector capable even of overcoming the difficulties still associated with the pandemic; and second, we have proven that major international exhibitions can be organised and attended in person in total safety, thereby ensuring important opportunities for business and relationships while highlighting once again the fundamental role of trade fairs in promoting industrial supply chains."
Giovanni Mantovani, CEO of Veronafiere, said the fair went "far beyond our expectations". He said: "The halls breathed an atmosphere of emotion and optimism. All the operators and companies we spoke to expressed their appreciation of the return of Marmo+Mac as an in-person event and this new format that combines business with even more design, architecture, events and promotion of natural stone with a precise identity on an international scale in business and cultural terms."
The next edition of Marmo+Mac in 2022 is dropping the Saturday of the exhibition, which has traditionally seen a lot of Italian householders come to have a look. It is an element of the show that has become of less interest, and in some cases even an irritation, to exhibitors over the years. In 2022 the show will run from Tuesday to Friday, 27-30 September.
If you did not attend Marmo+Mac this year but would like to get a flavour of it, you can still join Marmo+Mac Plus online - click here to go to Marmo+Mac Plus.