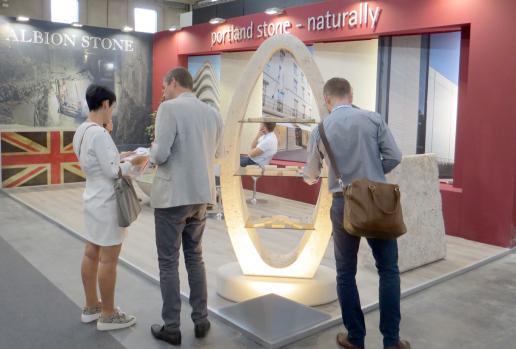 Portland limestone mining company Albion was the sole representative of British stone at Europe's major international stone exhibition of Marmo+Mac in Verona 25-28 September.
The international world of stone once again met in Verona for this year's Marmo+Mac exhibition from 25 to 28 September.
British machinery suppliers in Verona supporting the companies whose products they sell in the UK and Ireland reported fewer British companies attending this time than in recent years, but said those who made the trip did so because they had an investment to make. Cancelled flights by British Airways in the face of threatened industrial action that was called off, and industrial action by Ryan Air pilots that did not seem to impact many flights, could not have helped.
With the European economy struggling, no doubt there were fewer visitors from the rest of Europe as well, although the show was still busy.
There were more than 1,650 companies exhibiting from 60 countries occupying 80,000m2 of exhibition space in the 12 show halls. There were major contingents from Turkey and China. China is looking for markets other than America, where tariffs of as much as 500% have been imposed on their stone and quartz. 
There will be a report from the exhibition in the next issue of Natural Stone Specialist magazine (the November issue, because the October issue was being printed as the show opened).
You can read the preview of the exhibition in relation to machinery here or take a quick tour of the exhibition by viewing the video below.