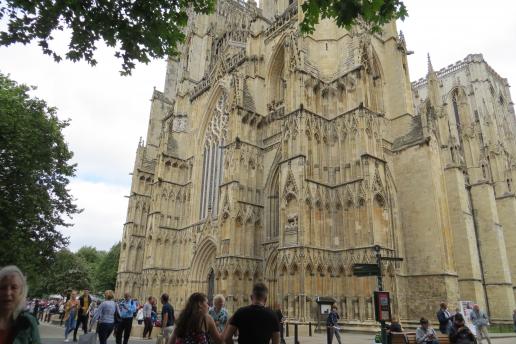 You could own a piece of historic York Minster. Masonry is being auctioned on Wednesday 22 August.
On Wednesday (22 August) historic masonry from York Minster that has been replaced as part of the restoration work currently in progress will be sold by auction. And for the first time, bids can be made online as well as at the live auction at the Minster.
There are 140 pieces of the medieval cathedral's stone for sale. You can see the lots and make your bid at bit.ly/Yorkauction.
Lots range in date from 14th century stones to Victorian replacements, with highlights including grotesques, finials and 10 lots that together form an 18th century pinnacle.
Just one of 140 lots being auctioned on Wednesday 22 August.
The auction concludes a four-day celebration of the ancient craft of stonemasonry at the Minster, which starts on Friday (17 August) with the annual Stoneyard Open Day, followed by a Stone Carving Festival in Dean's Park on Saturday and Sunday (18 and 19 August).
The Stone Carving Festival sees more than 60 stonemasons working for two days to crave their creations on the theme 'All creatures great and small'. Those taking part have come from as far away as India, Iceland, Norway and Cyprus, as well as from the UK.
The auction of the historic stone starts at 12noon on Wednesday 22 August in Dean's Park. Lots can be viewed in advance on the website provided by auctioneers Stephenson & Son and is now open for bids. Five preview events will also take place in Dean's Park on Saturday 18 August 1pm-3pm, Sunday 19 August 2pm-3pm, Monday 20 August 5pm-7pm, Tuesday 21 August 5pm-7pm, and Wednesday 22 August 10am-12noon.
The Stoneyard Open Day runs from 9.30am until 3pm on Friday 17 August in the Cathedral's stoneyard in Deangate. Visitors can see the cathedral's craftspeople at work in their workshops and learn how they repair, restore and protect the Minster's historic fabric, as well as joining tours of the cathedral's South Quire Aisle scaffolding and plaster cast museum and drawing office. 
The Stone Carving Festival runs from 8am-6pm on Saturday 18 August and from 8am-5pm on Sunday 19 August. It will be officially opened at 11am on Saturday 18 August by the Sheriff of York, Verna Campbell. The two winners of a school competition, which attracted nearly 120 entries, to design a carving for York Minster stonemasons to create will also be presented with their finished pieces.
The festival will conclude on Sunday 19 August at 3pm with the presentation of four prizes for 'Best Carving' and 'Best Apprentice Carving' (both voted for by participants), 'People's Choice' and 'Worshipful Company of Masons Choice'. An auction of the works carved during the weekend will then take place from 3.30pm.
All the events are free to attend.